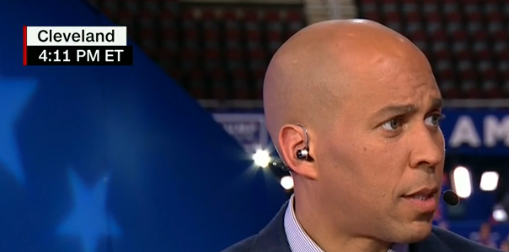 Tom Vilsack
Why he's on the short list: The former governor of Iowa could show up in suspenders at a woodchopper's
jamboree anywhere in the country and probably not look like a Jerry Lewis caricature. The Department of Agriculture veteran can utter words like "crops," and "hay' convincingly. He's a native of Pennsylvania, a swing state, and has long been a dutiful water carrier for the Clintons.
Where you might have seen him before: Vilsack ran for president once in 2008, an effort that prompted him to plod around to a few public events looking confounded by his own candidacy, and stand glumly at the podiums of a handful (if that) debates. Outworked by octogenarian former U.S. Senator Mike Gravel, Vilsack gloomily bowed out early. He quickly surfaced as an impassioned Hillary Clinton surrogate, appearing in an ad twisting and grooving on a disco dance floor, and demonstrating energy no one ever knew he possessed.
Excitement Factor:
The downside: On the Chris Matthews "feeling running up my leg" meter, he rates in the negative numbers. If he dyed his hair white, he could be mistaken for Mike Pence. Who is Mike Pence? Exactly.
The upside: This fast-paced age constantly makes the mistake of equating motion with excitement. A flurry of activity doesn't necessarily mean the same thing as generating something close, for example, to ineffable cosmic spiritual energy. Look at Stonehenge. It is possible that Vilsack may be able to generate that kind of excitement, akin to the centuries-immobile statues on Easter Island.
Tim Kaine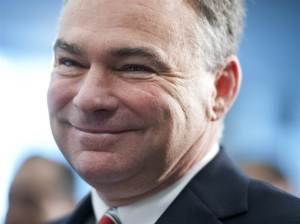 Excitement Factor: None. He's been squirming around for weeks now as Clinton's likely top pick, and offers only the breathtakingly compelling American narrative of being able to vacate a senate seat that would give a safe landing spot to old Clinton pal, the perennially furtive Terry McAuliffe, an embattled governor of Virginia who would be able to slap himself into the vacancy. Get that hammer and chisel ready for Rushmore.
Where you might have seen him before: In 2009, Kaine rushed into New Jersey on the eve of the general election to try to boost the sagging political fortunes of Jon Corzine. Kaine was Democratic National Committee chairman at the time. The Harvard-educated nice guy with a diet Coke in his hand looked completely comfortable in a crowd of surly Hudson County crumbums.
The downside: The VP is supposed to be an attack dog, and Kaine radiates the sense that the only dog around might be the cozy collie at his feet alongside the roaring fire as the goodly senator sports a Charles Dickens-like nightgown and sips from a snifter of brandy.
The upside: He speaks Spanish, a nod to the largest growing demographic in the country. Of course, he's a white guy with a middle American accent who speaks Spanish, so get ready for a lot of channel surfing whenever you see Kaine positioning himself in front of a TV camera. He's boring in English too, which Hillary Clinton has already said is one of the reasons why she likes the guy.
Cory Booker
Excitement Factor: The kids love him. Or so we're told. Vilsack speaks with an unrehearsed, skeet shoot-ready twang, Kaine speaks Spanish, and Booker (see more in-depth biographical information here) speaks Spanish and has perfected the art of tweeting to the point of needing no other means of communication. The junior senator's also from New Jersey, which the rest of the country hasn't yet quite recognized as the true center of the political universe, and the most accurate reflection of the proud beating heart of America. Think about it. RNC Chair Reince Priebus: Jersey native. Chris Christie (down in front at the RNC): Jersey native. Nick Sacco (the quiet  Machiavellian successor to Frank Hague, who once put FDR in the White House): Jersey native. And now Cory Booker: who was born in Washington, D.C.
Where you might have seen him before: He's everywhere, but mostly in cyberspace. Kaine and Vilsack are still living in the 20th century, both of them apparently convinced that where they really are is what matters. They stand at a lectern and believe that space constitutes a hallowed sphere of public power. But as the Democratic Party faces the ultimate TV personality at the top off the opposition ticket, Booker presents himself as a twitter combat-ready reanimation of Jeff Bridges in the 1982 cult classic Tron.
The downside: Booker was an Obama guy, so there's no deep loyalty to the Clintons, who still feel humiliated and on guard whenever they have to relate to Generation X.
The upside: He may be the only one of the finalists with a pulse, albeit a virtual pulse. He's also probably the only one of the candidates to have read Richard Bachs' The Bridge Across Forever in its entirety.
Tom Perez
Excitement Factor: The fact that the Latino labor secretary looks perfect to be cast in the role of Smerdyakov in a community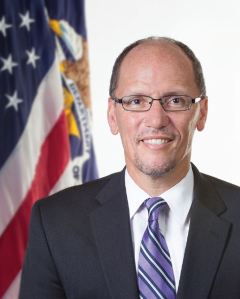 theater production of The Brothers Karamazov belies lefty credentials that have progressives' pulses somewhat racing. One late report identified Perez as "the last liberal standing" in Clintons' veep field.
Where you might have seen him before: He made an uncomfortable and unmemorable appearance on Bill Maer's show.
The downside: He appears so mild mannered, he makes the constantly peace accord-seeking Booker look like a fire breather.
The upside: Clinton could recast herself as exciting when standing next to Perez.