"More people are on Facebook than the population of China," said JiaJia Fei, Director of Digital at the Jewish Museum, moments before last week's POWarts (Professional Organization for Women in the Arts) panel began. "[Social Media] is kind of the best way in which people, a museum or a cultural institution can connect with the rest of the world."
Moderated by Fei, her thoughts served as the starting point to the panel, titled "Social Media Evangelists: Elevating Art and Culture Online." Made up of panelists Kristen Joy Watts, Instagram's Art and Fashion Lead, Ariel Adkins, Twitter's Arts and Culture Liaison, Victoria Rogers, Kickstarter's Senior Art Outreach Lead and Valentine Uhovski, Tumblr's Fashion and Art Evangelist, the evening covered everything from the origins of their jobs to insider advice for maximizing user platforms.
"I'm very committed to working with other women," Fei told the Observer. "And also empowering everybody who works at cultural organizations to share knowledge and exchange stories." After a colleague introduced Fei to POWarts, which was founded in 2008 to "champion the professional lives of women in the art world," the organization recruited Fei to conduct two panel discussions as part of its summer series.
As someone who has amassed over 57k followers on Instagram, Fei is an expert when it comes to analyzing the implications of social media. "I wanted to get all of them together to really talk about the intersections of their projects," she said of the panelists. "[And] why it's so urgent at this point in the world to make sure that certain narratives, especially in the cultural sector, are preserved and maintained."
Some of those panelists titles, while at times unconventional, are a sign of the times. Uhovski's is a nod to the social media's growing role within the art world. As an "Art Evangelist," he offers creative and editorial assistance to artists, galleries and organizations. His job enables discovery; Tumblr aims to promote and inspire artists, distributing their works to new audiences.
"I think I'm probably the only person that actually originally had Evangelist in their job title," Uhovski said, eliciting the first of many laughs. "It actually was a real title."
Nowadays anyone can discover works from the MoMa to the Guggenheim, expanding their artistic horizons with a simple tap of their fingers. Recently though, unprecedented opportunities have been created for artists.
"We can tell a story like [Instagram's chiliphilly] and get it to a much wider audience," said Watts, whose job entails elevating artists from unknowns to social media sensations. Simply by posting about chiliphilly on Instagram's editorial channel, Watts turned the Melbourne burger-shop worker into a widely-recognized crocheting sensation with 144K followers.
"[Without adapting to technology], we're preventing people from accessing knowledge that's really important to the way museums have been designed to function," Fei said. "If that information doesn't translate to a digital format, it might as well not exist."
Jobs like Rogers' at Kickstarter have become especially valuable.
"I really occupy this space of connecting artists and institutions to Kickstarter," she said, touting artist Tania Bruguera, who raised over $114,000 through the platform, as a success story. "It was just exciting for us to see Kickstarter used in a way that's really empowering out of a place of need."
While artists and institutions have connected with social media, there's still a long way to go in terms of optimizing platforms.
For Kickstarter, the key is in the mind, rather than the money. "People need to think of us more as an engagement tool, as a marketing tool, and not just as a fundraising tool," Rogers advised.
In regards to Twitter, Adkins ensured that passivity is more than okay. "A common misconception is that you have to tweet," she said. "You can just tune in when you are wanting to find out and engage with what's happening around you."
Uhovski—who confessed he has nine Tumblr pages—encouraged tagging posts. As Tumblr enables users to search specific content, potential followers may encounter posts from years ago, eliminating any time limit for Tumblr success.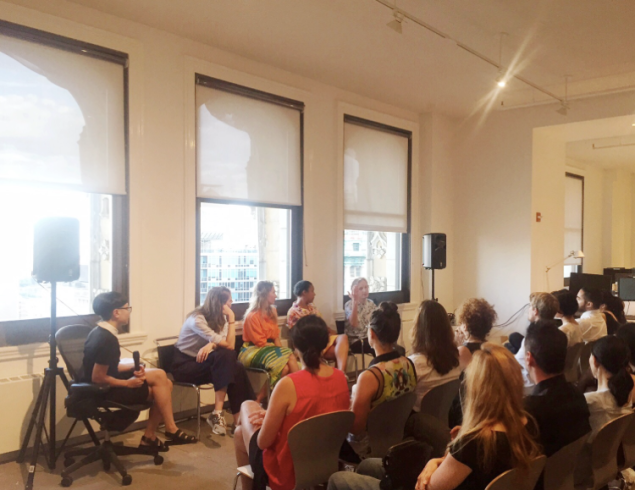 And when it comes to Instagram, Watts recommended enabling two-factor authentication to protect account security, and highlighted the platform's ability to hide and adjust the strength of filters in accordance with personal preferences. She then urged users to consider follower information: in the art world especially, followers may lack the knowledge of an organization's overall content so the Instagram account should supply enough information.
"Write a few sentences about how something came together or why this is exciting," Watts suggested.
The advice certainly resonated with panel attendees, as many of them meandered towards the room's windows overlooking the Brooklyn Bridge. They took turns snapping photos of the view … before inevitably uploading them to Instagram.