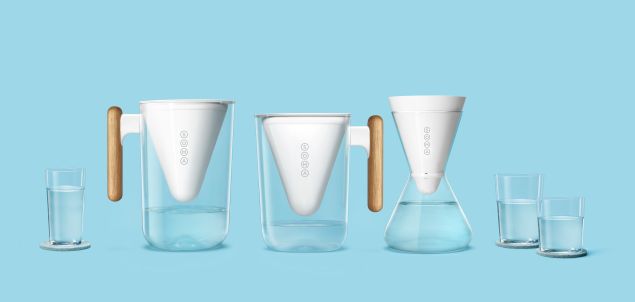 In January, when President Obama declared a state of emergency in Flint, Michigan, due to reports of the city's water contamination, Mike Del Ponte, the founder of Soma knew he wanted to help. With the long-term effects of Flint's water crisis still unknown, the impetus to be a part of the solution became clear to Del Ponte, the founder of a water filtering company.
Soma, known for its chic purifiers and plant-based water filters, partnered with Los Angeles based hotspot Juice Served Here for a collaboration of Soma filtered water, aloe and rose essence. With a catchy hashtag and pretty pale pink bottle to match, Soma pledged to donate $1 of all the alkaline rose water sales to the Community Foundation of Greater Flint in an effort to aid the Michigan victims.
This commitment to hydro-based philanthropy has come to define Soma. The thoughtful company, now in its fourth year, is partnered with charity:water, a nonprofit aimed at providing clean drinking water for individuals across the world. Over his tenure, Del Ponte and his small team of 11 at the San Francisco based startup have already funded public water projects in six different countries through charity:water.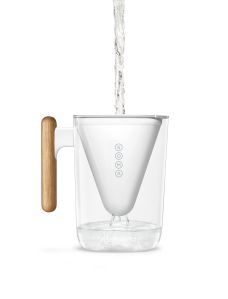 "We wanted to bake this into the DNA of the business," Del Ponte said of the brand's effort to reduce the worldwide consumption of unsafe drinking water. Promising to donate a minimum of one percent of the brand's total gross revenue to charity:water, Soma has offered a series of limited edition one-for-one style missions over the past few years. For every special edition filter that's been sold, the brand has committed to hydrating individuals with clean water through a donation to the nonprofit. For each year his employees work at the office, Del Ponte personally donates $100 to charity:water; he has pledged to fund a matching $100 donation from his company, as well.
Soma's growth as a brand has been largely unpredictable considering Del Ponte's background in religious studies. "I never thought I'd be a water filter salesman," the founder said. Hydrated with a love for simplistic design and an appreciation of all things aesthetically pleasing, Del Ponte and his close friends set out to create a brand of filters that he wouldn't be embarrassed to put on a table at his next dinner party.
Soma, which means "drink of the gods" in Sanskrit, has succeeded in Del Ponte's objective of aiding the global water crisis through simplistic and sustainable product designs.
"Water is one of the greatest things in the world yet it is one of the simplest elements and we wanted our product to reflect that."
Del Ponte who has "always been obsessed with great designs," has only four products under the Soma umbrella: a 10-cup pitcher, an elegant glass carafe, a coconut carbon water filter, and the newest addition, the slim six-cup pitcher. Plus, his creations are a chic and shatterproof alternative to the banal and visually unpleasing aesthetic of its main competitor, the classic Brita filter.
"Water is one of the greatest things in the world yet it is one of the simplest elements and we wanted our product to reflect that," Del Ponte said. "So we're always thinking how do we make it simpler and simpler."
The Soma Slim, the company's newest product, launched just last week and features the company's signature white oak handle and BPA plastic. Now sold in both Target and Amazon, in addition to its direct to consumer e-commerce site, Soma is bracing itself for a blossoming and predictably hydrating future.
The brand will launch in Bloomingdale's come September.