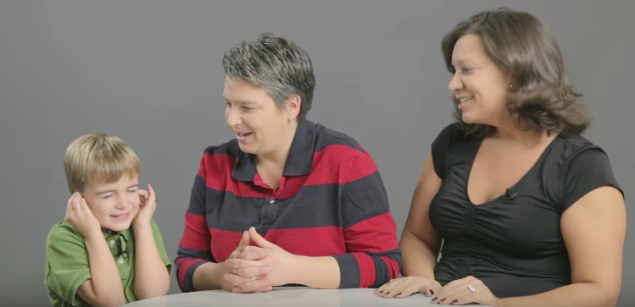 Do you remember having "The Talk" with your parents? Birds and the bees? The ABC's o' Fuckin' (as my father called it)? Wasn't it super awkward? Oh, man, remember when your mother and father got into the part where they described the night you were conceived? Like, the location, circumstance, and possibly positions used? Oh, jeez, remember when a full camera-crew was there to film your reactions as a studio audience in a frigid film studio just laughed and laughed? God, so super awkward.
O.K., sorry, what I'm trying to say here is that Spike TV is about to mess some poor kids' heads up for life. According to Deadline, the network ordered 11 episodes of That Awkward Game Show from A. Smith & Co. Productions. The full synopsis deserves to be read in full:
As if having 'the talk' with your children wasn't bad enough, imagine having to explain to your kid the details of the night they were conceived, or revealing to your parent that you secretly married the boyfriend they've never approved of. All of the skeletons are about to come out of the closet on That Awkward Game Show.
Each installment of That Awkward Game Show will feature three teams–each made up of one parent and one child–who must correctly guess which "embarrassing factoid" about their partner is true to advance through the game. No word yet on what ultimate prize the series will offer winners, nor whether it is a cash amount great enough to erase the reoccurring nightmares about the time you advanced to round 3 of a Spike TV game show by describing your masturbation habits to your mother.
That Awkward Game Show debuts in the fall.
UPDATE: A Spike TV representative reached out to clarify "the show features parents and their ADULT children." So, just to make things clear, *Spike TV is about to send a whole lot of adult children into therapy, probably.