"I'm influenced by streetwear but I'm not sure what you categorize as streetwear nowadays," Chris Stamp of Stampd told the Observer Saturday via phone. "For me it's about giving something at a competitive price that feels nicer."
On Tuesday, Stamp debuted his second collection at New York Fashion Week: Men's. As with last season, models stood on platforms, this time situated amongst raked stones as opposed to rolling fog (Snarchitecture designed both sets) wearing grey, olive and black shorts, bombers and knits. "Streetwear is currently categorized with graphics [printed] on Fairfax tees but I think we are kind of defining a new category almost that sort of bridges the gap between what streetwear is and what luxury is almost."
Stamp isn't alone in that nebulous area between streetwear and luxury in sort of an elevated contemporary for men's. Others like Public School and Kith (whose designers are both friends of Stamp) round out the market. And with Stampd having obtained Vogue's seal of approval via their recent CFDA / Vogue Fashion Fund nomination, this doesn't seem to be changing any time soon. "I think the market as a whole understands where fashion is going for men," Stamp says of the nomination's meaning.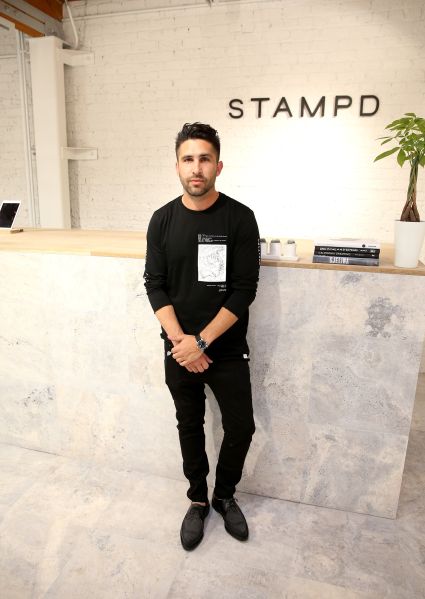 Stampd as a business got its first iteration in 2009 when Stamp and a business partner started doing footwear, but it didn't last long. In 2011 Stamp relaunched the business alone focused on limited edition accessories, targeting the men's market. Now, the brand spans the gamut, including an apparel business of denim, knits, basics and outerwear, a footwear business out of Portugal, Mexico-made leather goods and headwear sourced from both Vietnam and Los Angeles. There's even an ongoing Puma collaboration that's set to continue "indefinitely." Come August 6, the third range out of that partnership will hit stores with an Los Angeles-based fete.
https://www.instagram.com/p/BHxGxVlAhar/
"Over the last two years our denim has been really popular," Stamp revealed. At this week's show, a model stood in a shearling lined, faded denim jacket and light wash, destroyed jeans. Paired with one of the brand's double layered shirts, it was a solid look; no doubt more palatable to fans of the brand who don't feel they can pull off the technical bombers the label hocks. This season, the aforementioned bomber came in multiple iterations.
What seemed new in the range was Stamp's interpretations of a suit. As brands like Gosha Rubinchinskiy and even the Balenciaga men's range put tailoring at the forefront, it was certainly on trend. Stamp's efforts included a single breasted blazer with skinny lapels, shorts and tees. It was relaxed to say the least.
https://www.instagram.com/p/BHxGxMjDxbr/
Twenty percent of Stamp's business is women purchasing accessories or the smallest sizes of his men's pieces. In 2015, in an effort to dedicate something to that audience, Stamp released a capsule collection of womenswear that sold out. For the most part, the label hasn't returned to that category though it plans to. "For me it's really important that we build the right team and the right infrastructure for that. Before we release a full women's collection and show it, I want to make sure our backend is really organized and it's done intelligently from the get go."
It's a smart plan; this year alone, not only has the company opened their first permanent retail location in Los Angeles but this show sees the designer juggling a see-now, buy-now approach wherein five looks from the show will be available for sale for the rest of the month. It's a strategy that though likely beneficial, has added a bit of complication to the showing.
But what is the fashion business, if not a little bit complicated?