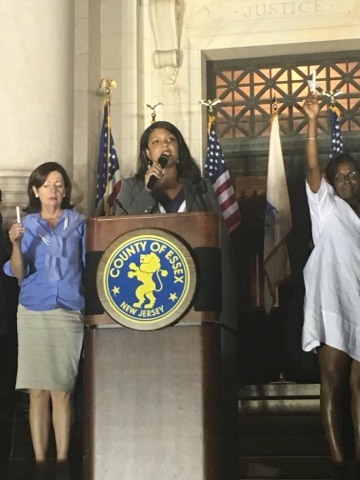 Tensions and emotions are running high throughout our nation for several reasons; whether it is the atrocity that occurred in Orlando, this presidential election, or the reason we have gathered here in front of the historic courthouse tonight.
What occurred in Louisiana and then again the very next day in Minnesota with the murders of Alton Sterling and Philando Castile invoked a response of deep rooted mourning and sadness throughout our communities. The headlines read, "Two police shootings, two videos, two black men dead". Unfortunately, this was not the first time we are reading similar headlines and are feeling these emotions.
It seems as if every summer we are forced to speak out by way of social media, in conversation with our friends, or at a vigil liken to this, to say, racial profiling is wrong, while trying to wake others up to the fact that it even exists. Too many times this pain has been felt by the community, too many times have we witnessed unjust actions of enforcement, and too many times have we seen those committing these acts not being punished.
What is the message to our children? Must we live in a world where black and brown youth are taught to dim their light, lower their eyes, and bow their head when police are around? Must we live in a world where my family members just like many others are viewed as threatening simply because of their undeniable height and the beautiful rich pigment of their skin? Must we live in a world where on social media people of all ages can publicly witness the unjust murder of two men, images that can never be burned out of our minds? Must we live in a world where unjust murders can even occur?  We are gathered here today to recognize that this issue exists. I have experienced its existence. We are gathered here today for us to say that no more should it exist. The fact that those innocent citizens can never go home to their families is wrong.
Now, if you really think about it, like a Greek tragedy, the unjust actions of those officers unfortunately inspired the unjust murder of those five Dallas Police Officers: Lorne Ahrens, Michael Krol, Michael Smith, Brent Thompson, and Patrick Zamarripa
Let's pause for a minute, the Dallas Police Department, liken to Essex, is one of the most progressive departments. Their leader was working hard to rid the department of rogue officers. As Dallas Mayor Mike Rawlings said, "The Dallas police department trained in de-escalation far before cities across America did it. They were one of the premier community policing cities in the country and this year had the fewest police officer-related shootings than any large city in America." An article reported that among the changes the Dallas police have made since 2012: were a new foot chase policy aimed at discouraging officers from making risky decisions while pursuing suspects, new guidelines for reporting encounters involving the use of force, and a policy of bringing in the FBI Civil Rights Division to review all police-involved shootings.
Must we live in a world where bad apples spoil the whole bunch and good officers have to pay for the actions of bad officers? The fact that those innocent officers can never go home to their families is wrong.
To all those listening, now is the time to hold your peace. Two wrongs never make a right, and as Dr. Martin Luther King, Jr., said, "Hate cannot drive out hate, only love can do that." We all must work together to do better, view each person as a human being, and treat one another with dignity and respect.
Doing better has long begun in Essex. I stand here today with our prosecutor and sheriff's office. They are here in solidarity not only for those Dallas police officers who we are honoring, but they are equally here to recognize and mourn the loss of Sterling and Castile too. Here in Essex, we have great leaders who hold the vision of a safe and healthy community, the Freeholder Board worked with Sheriff Fontoura and Prosecutor Murray to get body cameras. I watch as our Prosecutor and Sheriff lead their departments in progressive ways.  Each day, the Sheriff and Prosecutor are working hard to run a safe, just, and efficient operation for the betterment of the community.
Tonight we stand in solidarity to be proactive and band together in Essex County for the sake of humanity. Racial profiling must stop and considering every officer as bad, must stop. We need each other.
Britnee Timberlake is the Essex County Freeholder Director. She originally delivered these remarks at a candlelight vigil on the steps of the Essex County Courthouse on July 19th.