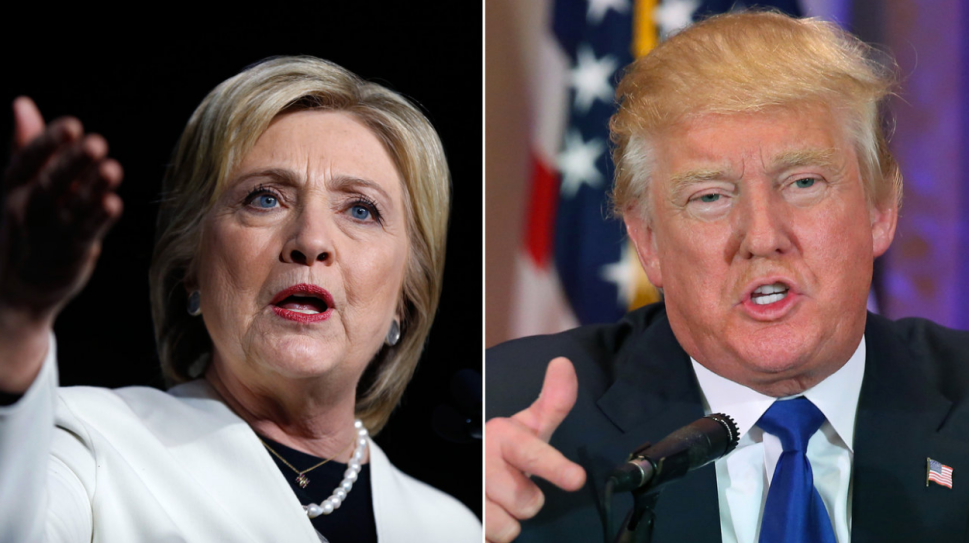 As Donald Trump and the Republican delegates prepare to close out their party convention in Cleveland, a new Suffolk University poll of Ohio voters shows the race a dead heat in the Buckeye State, with Democrat Hillary Clinton and Trump tied at 44 percent and 11 percent undecided.
The battleground state of Ohio has earned a reputation as a bellwether for how the nation votes in presidential elections, with a long history of picking the ultimate winner.
In a four-way scenario, with Green Party nominee Jill Stein and Libertarian Gary Johnson added into the mix, Clinton edges Trump 43 percent to 39 percent in Ohio, with Johnson getting 5 percent, Stein 1 percent and 12 percent undecided.
Both Clinton and Trump are viewed unfavorably by a majority of voters, with Clinton looked on favorably be 41 percent of likely Ohio voters and unfavorably by 51 percent, while Trump had a 38 percent favorable and 53 percent unfavorable rating.
"These largely negative views of the candidates come despite heavy Clinton campaign advertising in Ohio leading up to the Republican Convention and Trump's efforts to humanize his candidacy with multiple primetime speeches from family members," said David Paleologos, director of the Suffolk University Political Research Center in Boston. "The Ohio-based Republican convention might have been expected to give Trump a bump among that state's voters, yet their dislike of both major-party candidates is translating into unease about the upcoming election."
Fifty-five percent of Ohio voters said this presidential election has them feeling alarmed, while 28 percent are excited, and 8 percent say they are bored.
When asked, 57 percent of Ohio voters said they don't agree with Trump's allegation that the rise of ISIS and the recent terrorist attacks in the United States and abroad are due to weak leadership from former Secretary of State Clinton and President Obama. Yet 48 percent of Ohioans agree with Trump's proposing a temporary ban on Muslim immigrants, while 45 percent are opposed. However, 52 percent consider Muslim Americans to be loyal citizens and allies in the fight against terrorism, while 29 percent said that Muslim Americans need special scrutiny because of the threat of terrorism from their communities.
"There appears to be a disconnect between the way Ohio voters see Muslims living in America and those who would like to make their homes here," said Paleologos. "With fear of terrorism high and a majority of Ohioans feeling less safe than they did in the past, they are torn between wanting to exclude Muslim immigrants and placing trust in their Muslim American neighbors."
Asked if they feel more or less safe living in America than they did five to 10 years ago, 55 percent of Ohioans said less safe, 12 percent more safe, and 32 percent said there was no change. Ohio voters said that the number one issue facing the next president is terrorism and national security (24 percent), followed by jobs/economy (17 percent), nominating Supreme Court justices (8 percent), crime/guns (7 percent), health care (6 percent), with taxes, civil liberties, and reducing the national debt tied at 5 percent each.
Fifty-five percent of Ohio voters support Clinton's proposed ban on assault weapons, while 40 percent are opposed, and 4 percent undecided.
Regarding the FBI's investigation into Clinton's email protocol during her service at the Department of State, 45 percent said she should have been indicted, while 44 percent disagreed. This finding did not impact voters' general trust of the FBI, however, as 60 percent said they trusted the FBI overall, while 27 percent said they did not. Two other federal agencies/branches scored higher on a list of eight: the Post Office (83 percent) and the U.S. Armed Forces (88 percent).
History
The final Suffolk University Ohio poll in 2012 showed a tie between Democrat Barack Obama and Republican Mitt Romney, at 47 percent each, with Stein, Johnson, and independent Richard Duncan receiving 1 percent each. The final results were Obama 51 percent, Romney 48 percent, Johnson 1 percent, and Stein with less than 1 percent.