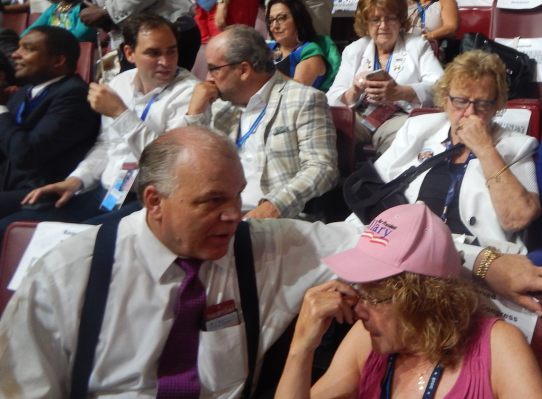 PHILADELPHIA — Two of New Jersey's top Democrats called New Jersey Senator Cory Booker's speech on the first night of the convention a turning point for one of the few young rising stars in the national party on Thursday. Anticipating nominee Hillary Clinton's acceptance speech that night, Senate President Steve Sweeney (D-3) and Senate Majority Leader Loretta Weinberg (D-37) said that Booker had thrown a favorable light on his home state by bridging divides within the party and putting a new face on New Jersey to a national audience.
Booker's speech Monday called for the nation to unite with love and understanding rather than following the confrontational path laid out by Republican nominee Donald Trump. Though Booker faced jeers and chants of "Black Lives Matter" during his remarks, his was one of the least heckled speakers the night after leaked emails suggesting bias on the part of DNC staff enraged supporters of Clinton's primary opponent Bernie Sanders.
"I think that was the turning point to the convention," Sweeney said. "I think his speech actually started bringing people together. I really think that Bernie did a hell of a job, but Cory's speech started the healing process."
Weinberg, for her part, thinks the speech will help Booker's ambitions in the future. She said his remarks could help rehabilitate the state's image following Governor Chris Christie's much-derided early endorsement for Trump. Christie is serving as the leader of Trump's transition team, and could face a chilly reception from other establishment Republicans if the real estate magnate goes down in the general election.
 "II think it certainly increased Cory Booker's profile nationally," Weinberg said. "I think, unfortunately, we have a governor who increased our profile nationally on a  negative basis. So hopefully Cory Booker is somebody that will give a better picture of the people in our state."
As for Clinton's coming acceptance speech, Sweeney expects her speech will complement President Obama's from last night, when Obama took a shot at Trump's slogan of "Make America Great Again" by saying "America is already great."
"I think you're going to hear her vision for moving the country forward, not taking it back, and how they can improve the economy and improve the lives of everyone in this nation."
New Jersey, he said, was a cornerstone of her success in the primary.
"I think that Chairman Currie led the delegation out early in support in their endorsement of Secretary Clinton. I think our numbers were phenomenal when it came to the primary. And we just showed that the state itself is strong and behind Hillary Clinton."
Weinberg said that she is looking forward to seeing the party nominate the first woman to lead a presidential ticket in U.S. history.
"All week long I think Democrats have made the case on the facts that HiIllary is the most trained, prepared, educated person ever to run for the office of president. Tonight she's going to prove that," she said.
"She has a command of the issues, she has the strength of character, she has the ability and the background. And she's going to stand on that stage all by herself to show our whole country from east to west, north to south, that she's going to be the best leader, the best commander in chief.
"And it's true, our country's best days are ahead."