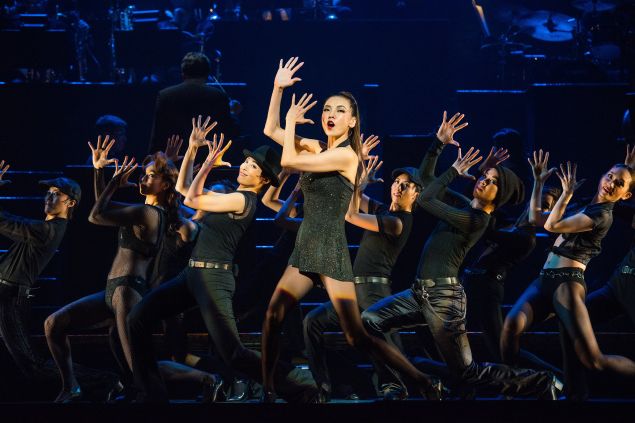 All-singing, all-dancing, all strutting, all emoting—the 300-plus young women of the Takarazuka Revue make up Japan's most successful performance group, as it's been for most of its century-long existence. The crowds inside (and outside) its huge theater (3,000 seats) in Tokyo, right around the corner from Frank Lloyd Wright's famous Imperial Hotel, and the crowds in its equally huge theater in its home town of Takarazuka, testify to the ongoing strength of its sway over young Japanese girls. I remember asking a hostess on a Japan Airlines flight whether she'd been a fan in her youth and her looking at me as if I were nuts: "Of course!" she said. "And so was every one of my girlfriends." This past week at the Koch theater it sometimes seemed as if all those girls (and their mothers and grandmothers) were here, whooping it up for Takarazuka in Chicago.
By Takarazuka standards, this was a small-scale venture. Well, the revival of the Kander and Ebb musical that began as a City Center Encores production and has now been playing on Broadway for 20 years is also small-scale, and the Japanese have essentially reproduced it: a small jazz ensemble rising up from the middle of the stage, and just over a score of dancer/singers. Chicken-feed by Takarazuka standards. But popcorn for the audience. If you never saw the original Bob Fosse production of Chicago back in 1975 (Gwen Verdon, Chita Rivera, Jerry Orbach) or the Encores/Broadway production (Ann Reinking, Babe Neuwirth, James Naughton) or the Oscar-winning movie (Renée Zellweger, Catherine Zeta-Jones, Richard Gere), here it is yet again, as amusing, clamorous—and mechanical—as ever.
The authors called it "A Vaudeville," since it's set in the 1920s, and the numbers and songs are mostly clever riffs on the vaudeville numbers of the day. Since it has absolutely no emotional pull, what you get is bang-bang showbiz, with its publicity-mad pair of murderesses flashing their legs and their chops; some so-so specialty numbers; a bunch of standard chorus boys and gals; and an extraordinary efficiency—this vehicle never slows down or lets up. At heart, it's more Vegas than vaudeville.
Chicago blasts off with the iconic Fosse number "All That Jazz"—and that's its best number. The "Velma" I saw, Notsuki Mizu, is a stunning woman with a glaringly blond cropped-hair wig and fabulous gams: She puts it across with all the zest it demands and deserves. The "Roxie," Yuga Yamoto, is more of a singer, less of a dancer, but she was, as she should be, both appealing and appalling. The weak link was the dynamic lawyer for the defense, Billy Flynn, and here's where the women-playing-men trope broke down. Saki Asaji, the Billy I saw, was too soft, too feminine—a far cry from the swaggering stud he ought to be, so his big number, "Razzle Dazzle," was sadly weak. And the chorus "boys" just didn't look, or dance, like chorus boys. I had no problem with the Japaneseness of this Chicago—it didn't seem particularly Japanese, and the English subtitles up above gave us the original lyrics (and what little dialogue there is) efficiently enough. But the Front-Page atmosphere of the show can't be maintained when you don't believe that these guys are tough—or, for that matter, guys.
Traditionally, Takarazuka performances begin with a long dramatization of a classic book or movie or play, or an event in Japanese history. I've seen their As You Like It; their The Rose of Versailles (Marie Antoinette), their all-time biggest hit except for Gone with the Wind; a medieval samurai confrontation; and—yes!—their Great Gatsby. All of them worked, at least in terms of spectacle; certainly the audience was always ecstatic. And their Chicago works too. We didn't really need it except as a curiosity, but it's harmless, and it made a lot of Japanese-Americans very happy.
In Japan, there's a long second act to every Takarazuka performance—a big, splashy revue, the high point of which is usually a horde of boys and girls tapping up and down a whole lot of stairs. They're the next best thing to our Rockettes, and indeed I saw them at Radio City Music Hall in 1989. But since Chicago itself is in two acts, there wasn't time at the Koch for a full revue afterwards. In a kind of coda, however, the gang made a return appearance in a quick procession of musical bits and pieces of such little originality that you might have been watching standard TV dance numbers from the '60s and '70s, only glitzier. But oh, those giant feathered fans….