We're sure you've heard the Taylor Swift-Kanye West feud that started seven years ago at the 2009 VMAs has reached new heights in the past few days. This next chapter in the seemingly never-ending saga (which is undoubtedly the juiciest of them all) began when Kim Kardashian released a video on Snapchat of the conversation where Kanye called Taylor to discuss the line about her in his new song "Famous," proving Taylor knew a lot more about the now infamous line than she's let the public believe.
Think pieces jump in to declare that Kim K successfully tore down Taylor's good girl facade while memes joked that the famous couple are the bookends to Taylor's career (Kanye starting it in 2009 and Kim ending it in 2016). But while the topics trended in the light on social media, some more discreet jokes were being made on Wikipedia.
After Kim K dropped the bomb earlier this week, people began trashing the Taylor Swift Wikipedia page, editing in jokes about the feud and Taylor's true mean girl persona. One of the biggest changes was to her name itself, which someone changed to "Taylor 'People Will Side With Me If I Sue Kanye, Won't They' Allison Swift."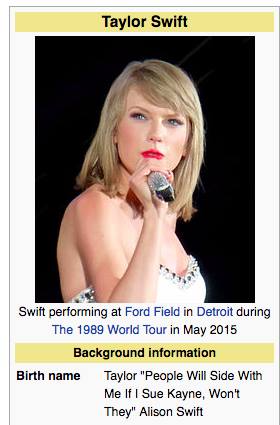 By going into the the revisions and comparing how the page looks today (after all malicious edits have been removed) to how it has appeared over the past few days, we were able to see that so many malicious changes were made, the administrators changed the protection level on the page itself. They closed it down to the public except for viewing and set it so that only administrators could make changes.
One user added an alias field to the background information box and wrote in "Regina George"—using an obvious reference to the movie Mean Girls calling out Taylor, who has been accused of being mean herself in writing about a slew of guys without their approval of the lyrics.
Another user added a race field and wrote "snake." A number of memes, tweets and other Internet jokes have depicted Taylor as a snake throughout the last few days.

Several other edits deemed vandalism have been made unavailable for us to view. The ban on user edits has been lifted, but the page is still set to semi-protected.