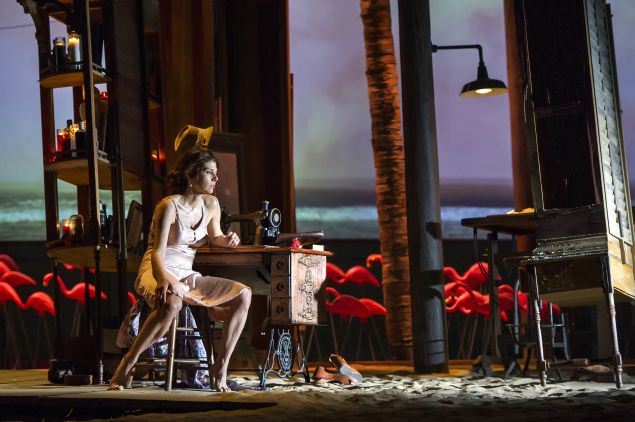 You know summer has officially arrived for East Coast theater lovers when the doors open out onto the lime green lawns of Williams College in the Berkshires, and the curtain rises on the annual Williamstown Theatre Festival. Under the astute new leadership of Mandy Greenfield, the 62nd season has just begun and it's off to a swell start with a beautifully staged and imaginatively directed revival of Tennessee Williams' 65-year-old play The Rose Tattoo (through July 17). People are pouring in from across the globe to see what brash young New York director Trip Cullman has done with this old warhorse, and with a dynamic centerpiece performance by the vibrant Marisa Tomei as the sexually repressed Sicilian widow drying up on Louisiana's Gulf Coast, disappointment is not an option.
Williamstown is a polished forum for theater inhabited and enhanced by the top professionals on Broadway who trek to the leafy welcoming mat of summer in the Berkshires to use the festival as their gym. With two revivals and five premieres in eight weeks, the summer of 2016 will provide quite a workout. Which is exactly what the spirited Oscar-winning Tomei gets as Serafina Delle Rose. The Rose Tattoo is not one of Williams' stellar works, although it did win a Tony award in 1951, but the role of Serafina, a triumph on Broadway for the great Maureen Stapleton and catapulted to greatness on the screen by the volcanic Anna Magnani, is again given a freshness by Tomei that lights up the stage with a one-woman fireworks display.
Serafina is the robust Italian widow of an unfaithful truck driver named Rosario, who is never seen but is so visual in Serafina's memories that we see him clearly, as well as the rose tattoo on his chest. When the play begins, Rosario is killed in a highway accident, leaving Serafina's hysterical mourning as a source of endless irritation to everyone in town who knows he was a womanizing louse except his wife. Now she spends her days irrationally idolizing him, making ends meet by sewing for the local women, and obsessively guarding the innocence of her 15-year-old daughter Rosa, who has fallen in love with a sailor and is secretly planning to run away from home after her high school graduation. The first half of the play centers on Serafina's wasted existence—ranting, screaming, sobbing, her sexual energy dissipating before our eyes. She's a typical female in the Williams canon—ravaged by the brutality of men and left alone to taste the bitterness of rejection. Tomei moves with her own rhythm, lusty and volatile, but she shows you the heart beneath the bombast.  
The second half of the play comes alive with the entrance of an ebullient, cheerful and stupid truck driver named Alvaro Mangiacavallo (Christopher Abbott), who loosens up the widow and teaches her how to get her mojo back. He even duplicates her late husband's rose tattoo to re-awaken her lust—a trick that works. There's more psychological complexity to Serafina than Williams makes clear, and the writing is oddly lacking in the playwright's usual poetic lyricism, but Tomei's multi-faceted performance makes her valid and bursting with life, especially in the seduction scene with Alvaro. What he has to offer is "love and affection in this land that is lonely and cold." She buys it and caves in so fast that her eagerness to forgive her daughter's passion for the sailor and her ultimate blessing to run away with him both seem forced and unconvincing. Some of the supporting roles are weakly cast (especially Gus Birney, who is too old, too tall and too awkward as Serafina's teenage daughter), and the director's use of a barefoot neighbor singing Italian folk songs to illustrate shifting moods every time Serafina has a crisis is pretentious and annoying. But there is much to admire in this production, including the riveting set by Mark Wendland that reveals a stage filled with what looks like hundreds of pink flamingos against a filmed backdrop of widescreen ocean waves crashing against a sandy beach. The Williamstown Theatre Festival 2016 is off to a thrilling start. This is not your grandmother's summer stock.