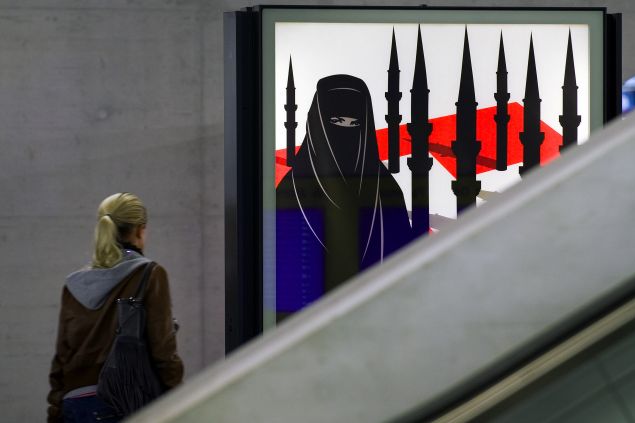 LOCARNO—Even in Switzerland, most citizens don't think much about Ticino. It's the southernmost of the country's 26 cantons—roughly equivalent to American states—and the only one that's wholly Italian in language and culture. Only half a million of the eight million people in Switzerland are Italians, and about two-thirds of them live in Ticino.
For the country's German-speaking majority, Ticino is Switzerland's Sonnenstube (sun porch) due to the canton's notably brighter and warmer climate than what prevails in most of this Alpine land. South of the Gotthard Pass that has divided Teutons from Latins for centuries, Ticino's steep mountains ring the canton at heights surpassing 10,000 feet, their peaks remaining chilly even in the summer heat that prevails on the shores of the beautiful lakes that dot the scenery.
Ticino is one of Europe's loveliest places, combining a very Italian dolce vita with trademark Swiss efficiency. Things work here in a timely fashion as they don't always in neighboring Italy. It's a minor miracle that Switzerland has made Italians work like Germans—while losing none of their fine food, wine and culture. Locals aren't excessively fond of Swiss Germans—they find them stodgy—but they look down a bit on Italians across the border too, who never can quite seem to make their trains run on time. As they do in Ticino.
That said, not much exciting happens in Ticino. The canton seldom makes Swiss headlines—much less beyond this small country. About the only noteworthy thing that happens in Locarno, the canton's second city, situated on lovely Lago Maggiore under the Alps, is the annual international film festival every August. Since 1946, that draws movie stars and therefore press. Not much else gets the international media to Locarno.
Suddenly, that's changed. And the issue is one of the most hot-button ones in all of Europe, indeed across the West right now: the role of Islam in public life.
Islam is not indigenous to Switzerland, of course, just as in most of Europe. But it's arrived here in recent decades due to immigration. There are about 400,000 Muslims in the country—about five percent of the population. Muslims were but one percent of the Swiss population only 35 years ago, so the growth has been sudden.
Roughly half of Swiss Muslims are from the Balkans, Bosnia and Kosovo mostly, and many have assimilated successfully. Assimilation is more challenging with non-European Muslims—from the Middle East, Africa, and Asia—who are arriving in increasing numbers. Most Swiss cities now possess visible populations of Muslims, some of them remaining decidedly foreign in outlook and appearance decades after their arrival.
Ticino is hardly awash in Muslims, since only about two percent of the canton's population consists of immigrants from the Islamic world, but they are visible on the streets and their political presence has been felt—not always in a manner considered positive by locals.
The first sign of this pushback came in 2007, when the city council in Bern, the Swiss capital, rejected plans to build one of the largest Islamic centers in Europe there. Then followed a November 2009 national referendum on the building of minarets, that is towers, for mosques. The Swiss love their referendums, and despite the opposition of the Swiss government, almost all NGOs, and even the Catholic Church, 57.5 percent of voters wanted minarets to be banned. In all, 22 of 26 cantons voted for the ban.
So banned they were, despite denunciations from capitals across Europe and the Muslim world—Tehran memorably warned the Swiss of "consequences"—and even the United Nations. Although none of the four existing minarets in Switzerland were affected by the ban, the idea that the country is "Islamophobic" began to get traction in progressive and Islamic circles alike.
This did nothing to stop the rise of the far-right in Switzerland, almost entirely over the issue of immigration—in truth, it seems to have aided it. Swiss politics are divided by language as well as ideology but it cannot be denied that in recent years the most powerful party in the country is the Swiss People's Party (SVP in German), which espouses right-wing populist views on the full range of issues.
The SVP's views on immigration—especially Muslim immigration—are negative and a clear vote-getter for the party. Its leaders understand that migration is their key issue, and the most recent parliamentary elections last fall gave the SVP 65 of the 200 seats in the lower house and 29 percent of the overall vote, a record.
Although the SVP is mostly a German party, Ticino has witnessed the rise of a local equivalent, the League of the Ticinese People (Lega dei Ticinesi or LdT). Led from its founding by its bombastic leader, Giuliano Bignasca, who died in 2013, the LdT slowly rose to become one of the two big parties in the canton.
The League made its big move last November, when the canton's legislature passed a law banning public wearing of the burqa—the full body covering including complete face veil worn by some Muslim women—with violations of the law to be met with stiff fines. This followed a September 2013 referendum in Ticino which saw 65 percent of voters wanting a burqa ban.
Since Ticino wasn't exactly crawling with burqa-clad women, it's worth asking what happened here. The Ticinese are notoriously proud and defensive of their local traditions and they don't like being told what to do, especially by outsiders. Banning burqas because big city folk—in Bern and Brussels alike—told them not to, cannot be ruled out as a motivation.
Neither can the impact of witnessing neighboring Italy's mounting problems with Muslim migration. Milan is barely an hour from Ticino, making it more than twice as close as Zurich. Milan has had problems with its radical mosques fomenting trouble in Italy and the Balkans since the early 1990s, and reports of jihadists plus street crime by Muslim gangs did not go unnoticed in Ticino, which wants none of those things in its bucolic Alpine hideaway.
The burqa ban was predictably denounced by the usual suspects, but not many in Ticino seemed to care—not least because it wasn't initially clear when the new law would actually take effect.
Then it was announced that the anti-burqa law would take effect this July 1, just as the tourist season gets into gear. Although Saudi Arabia warned its citizens visiting Switzerland to respect local laws and not cause trouble, it was widely anticipated that provocateurs would seek to get attention.
On cue, two protestors showed up in Locarno on the very morning the ban took effect. One woman, Nora Illi, a Swiss woman who converted to a radical form of Islam, was wearing a full burqa and was arrested by police. So was her companion, Rachid Nekkaz, an Algerian politician and businessman. They got the global media attention they sought.
Ticino authorities mean business and have announced that Illi will be fined 10,000 Swiss francs ($10,170) and Nekkaz will receive a fine of 200 francs ($204). There's not much sympathy for them in Ticino. He is a professional provocateur for Islam while she is a public advocate of polygamy.
Nevertheless, there are concerns here about the impact of the burqa ban on tourism. Before tourism became the canton's bread and butter in the 1960s, Ticino was the poorest part of Switzerland, its hardy residents having subsisted for centuries on polenta, cheese and nuts. Every year more than 40,000 tourists come here from the Middle East, spending lots of francs. More than a few of the women are covered head-to-toe, per traditional practice in their homelands. Since the burqa ban contains no exemption for visitors, it's not clear what happens next.
Most Ticinese are philosophical, seeming more concerned about protecting their traditional way of life than about offending Muslims thousands of miles away—or next door. Whether that continues may depend on how many more provocateurs show up here, seeking to cause trouble before the cameras. Since the Locarno film festival kicks off in less than a month, concerns are mounting in the prettiest corner of Switzerland. Meanwhile, Europe watches.
John Schindler is a security expert and former National Security Agency analyst and counterintelligence officer. A specialist in espionage and terrorism, he's also been a Navy officer and a War College professor. He's published four books and is on Twitter at @20committee.