If you're not at least vaguely familiar with the new Pokémon Go mobile game that's recently exploded in popularity, congratulations on your time spent under a rock.
Basically, the game uses augmented reality to make Pokémon appear live in your surroundings when you view the world through the app. Walking in the park? Keep the app open, because there might be a Pokémon under a tree. In your bathroom? Don't close the game—they have been spotted on toilets.
Since they can be anywhere and everywhere, lovers of 90's nostalgia are now running around with their phones in front of their faces trying to catch all of the Pokémon, and naturally this is causing some havoc. Not only is there some serious distracted walking happening, it's also bringing the most dedicated players into interesting places and situations. Here are nine of the craziest things that have happened to people playing Pokémon Go so far:
1. While hunting Pokémon, one player found a dead body
Wyoming 19-year-old Shayla Wiggins noticed a ton of Pokémon located at a nearby river. She went after them but stumbled upon something else—a dead body.
"I was walking towards the bridge along the shore when I saw something in the water. I had to take a second look and I realized it was a body," she told County 10.
2. Another crashed his car into a tree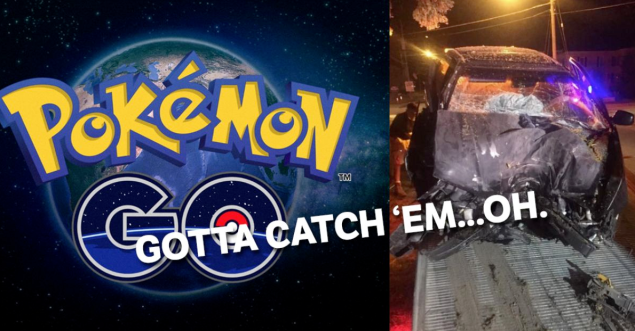 Officers from the Auburn New York Police Department responded to a car crash Tuesday night. The driver wasn't injured, but he did admit he was playing while driving when the crash occurred, according to a press release.
3. One man's house is a "gym" in the game, and people are flocking to it IRL
Users fight and train their Pokémon at designated "gym" locations. Boon Sheradin, a designer from Massachusetts, noticed his home was one of these locations when he first downloaded the app, but he didn't think much of it until people started showing up.
"So, all these people pulling up at all hours? We don't know them… and we can't stop it," he told BuzzFeed.
4. The Holocaust Museum, 9/11 Memorial, etc. are upset they've become hot Pokémon Go locations
A lot of Pokémon have been appearing at these historical sites, and some especially avid players are going there just to chase them. Obviously, the museums and many guests see this as inappropriate.  Andrew Hollinger, director of communications at the National Holocaust Museum, told EW they attempting to have the museum removed from the game.
5. This guy got caught cheating on his girlfriend because of the game
The game works like a scavenger hunt, so naturally you need to keep track of where you've caught Pokémon and where you need to go next. Thanks to the GPS feature, Queens resident Evan Scribner is now single.
"She [his now ex-girlfriend] saw that I had caught a Pokémon while at my ex's house," Scribner told the Post.
6. On the other hand, people are claiming the game is getting them laid
Pokémon memes, Pokémon memes everywhere. One category of online Pokémon jokes is people claiming they've gotten laid playing the game. While we can't verify these encounters have actually happened, we hope so.
7. Two men fell off a cliff while playing
Two men in San Diego's North County were so captivated by Pokémon Go that they fell off a cliff Wednesday. The fire department found one of them unconscious about 50 feet down the cliff, and they found the other about 80 to 90 feet down the cliff, according to NBC San Diego. Both were taken to a nearby hospital, and their conditions are unknown.
8. Another guy fell into a pond
Albert Monina, a 25-year-old Brooklyn gamer, was live-streaming himself playing on Monday when he spotted three lures near a bridge in Prospect Park. Engrossed by the game, he stumbled right into a pond, according to BuzzFeed.
9. A couple stumbled upon an entire park covered in spiderwebs
Head over to BuzzFeed to see the pictures. You have to see this to believe it.