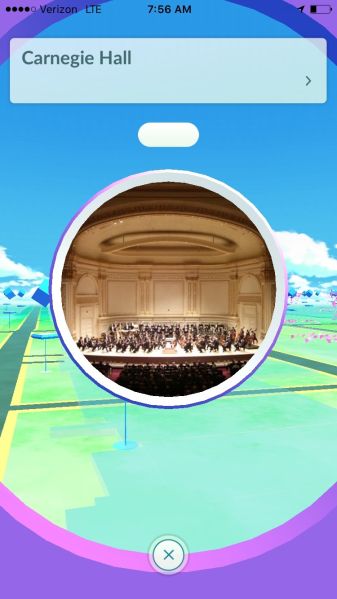 The launch of Pokémon Go on July 6 was insignificant for me. I have no connection to the creatures or the trading cards. I do not play video games. Hearing of people walking into highways and bodies of water while playing did nothing to incite my interest. Then my brother began playing with our nephews. They're six and eight. Watching their amazement was exciting. The digital world made real. Within minutes they'd each caught one.
Three days later I had an appointment across town, requiring significant walking and a bus. It was time. After downloading the app I quickly appreciated how many Pokémon Go users there are, as no variation of my name was available. I consulted a menu, avoiding the most obvious words. Not available: sunchoke, mackerel, tangerine, tagliatelle. Wow. I settled on bitterlettuces, then created my avatar. I was ready to go. I knew none of the rules.
Suddenly it was 30 hours later and I'd walked into one door (though really that had more to do with sunglasses), missed one bus (intentionally), missed one bus stop (accidentally), walked way too close to two people, captured 43 Pokémon, learned that the plural of Pokémon is Pokémon and was invited to join a team. That's actually intimidating. Especially because the best part of the game has nothing to do with the above list. And nothing to do with #catchthemall.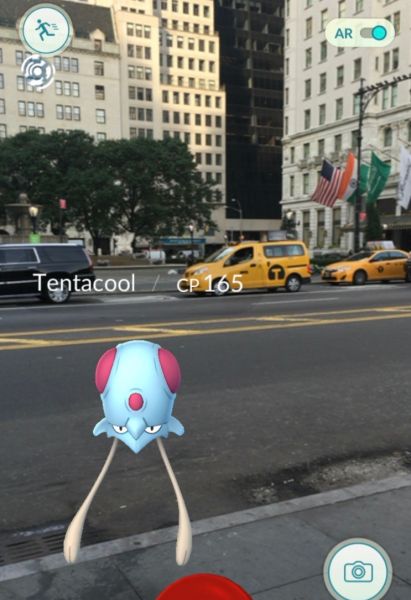 The best part of Pokémon Go is that it's all about art, architecture and real estate. You're working with a you-are-here map like no other. Yes you are aware of Big Brother and yes sometimes the sites are not where it seems they should be. Still,
And with the game as the excuse you can unabashedly play tourist, looking up at stained-glass windows and the decorative sculptures adorning so many facades, noticing libraries and landmarks, and considering street art like Joan Miro's Moonbird.
That's on 58th Street, west of Fifth Avenue, across from the side entrance to The Plaza Hotel. Both the sculpture and this entrance are PokéStops. They're vital.
PokéStops are your tour guides. On the map they are the blue cubes, floating and rotating. When you get close to a cube, meaning your actual person is near the actual thing, the cube becomes a spiral. Click the spiral for a description.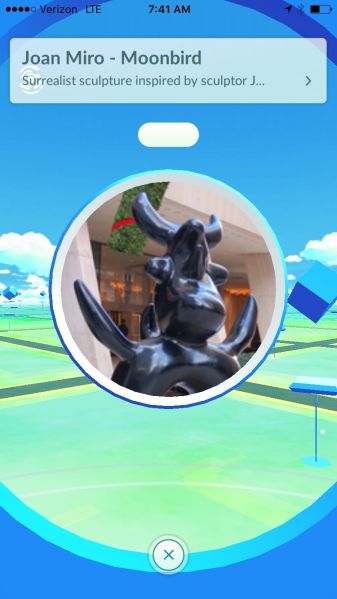 Many PokéStops are simply mentioned by name or description "Temple Emanu-El Doors" or "Moorish Entryway" (444 Central Park West).
Some are quite detailed, which is fantastic.
"GLASS PYRAMIDS. Building is designed by I.M. Pei who designed the world famous Le Grand Louvre, Paris."
"ALWYN COURT APARTMENTS. This richly ornamented apartment house, built in 1907-1909, is unique in the city. The architects, Harde & Short, took full advantage of the economies of terra cotta, a material then very much in vogue. A single mold could be used time and again for casting clay blocks which were later fired and glazed. The profusion of intricate detail that covers the entire building is in the style of Francis I, the great art patron of the Renaisssance France. His personal symbol, a crowned salamander, is prominently displayed."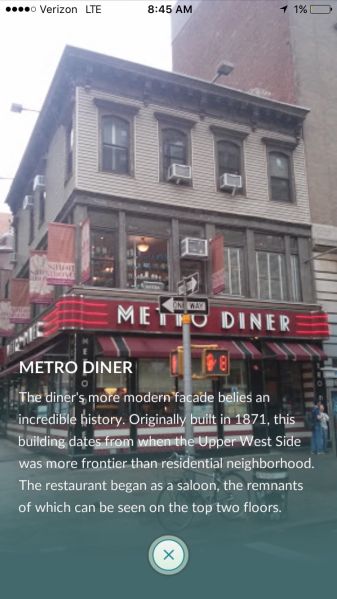 "METRO DINER. The diner's more modern façade belies an incredible history. Originally built in 1871, this building dates from when the Upper West Side was more frontier than residential neighborhood. The restaurant began as a saloon, the remnants of which can been seen on the top two floors."
If you spin the spiral all sorts of "items" will appear, including Poké Balls which you can throw (finger flick) at Pokémon to catch them. There's also potion, revive medicine, incense, and eggs. No idea what those things are but I collect them anyway.
The other things on your map are gyms for training your Pokémon for something. Pass 'em. You can also ignore the Pokémon that appear. Admittedly, however, that is hard. Especially with all that ammunition. Catch one or two, then keep looking up. There's surely a gargoyle on the next block.