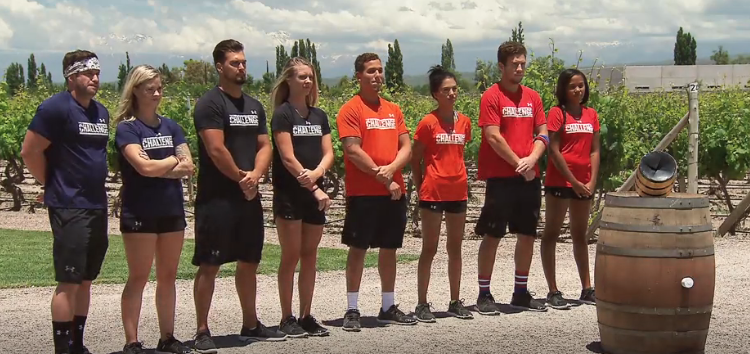 First of all, I'm an idiot. Last week, I made a very valid point about knowing what the word "penultimate" means. Except that I screwed up somehow and that wasn't the second to last episode of the season and this isn't the last one. That is next week. This is truly the penultimate episode. Yes, it looks like I made a mistake. Roll Eddie Murphy as Professor Shabazz K. Morton.
But, maybe this was all strategy. If you know anything about how to play the game, there is no such thing as a mistake, only an opportunity you hadn't thought of yet. Maybe I did this on purpose just so I could tell my sick "how I learned what penultimate means" anecdote again. Or maybe I just read the schedule wrong. It's a mystery that we'll never know the answer to. Either way, it is a blessing because it means an extra episode of The Challenge.
We left off with the trashcan man Vince picking on Cheyenne until she started screaming that she wanted to go home. They don't show anyone standing up for her except Devin, which is surprising because usually Sarah is pretty considerate in these scenarios. Devin called Jenna a sheep and Jenna was like "I don't get it, because I'm cute and fluffy?" Vince ran out of bed to throw a mock punch at Devin and Devin flinched and Vince and Johnny celebrated like they just beat the Russian National Team to win gold in the Bullying Olympics. Cheyenne called her mom, who was like "tell them to eff off, you can handle this." It was the second best mother on the phone moment after Camila fought Amy on Bad Girl's Club while her mom was cheering it on from the receiver.
The next day, everyone had lunch together and the group managed to make amends. John Bananas tried to justify the jokes-that-go-too-far by saying it's always been like that as long as he's been doing these shows. This is what happens when a dork gets picked on a lot and then all the older kids graduate and they get to carry on the system in place. There's a difference between Mark Long making fun of young Johnny Bananas a decade ago and Vince pushing Cheyenne until the point where she's ready to cry and quit.
This season has been super light on eliminations so TJ comes through with a huge twist. Four teams left. But instead of doing a challenge, they're four-way skull picking, only with corks in a barrel. Sarah and John Boy have won four challenges and didn't go into The Jungle once. But that is no match for Devin and Cheyenne's five straight white skull pulls to avoid going in after being brought back from their week 1 elimination. Dario did some major backstabbing of his friends to get to this point. So of course, he ends up having to go in against Johnny and Sarah. It's more perfect than Mr. Perfect. It's more beautiful than Mr. Beautiful. It's more nuts than Mr. Peanut. If Dario didn't turn his back on Wes and Cory and the other side of the house to become Johnny Bananas #3 guy, he might have made the final. He might've had a chance at winning too since Johnny B and Cousin Vince would most likely have been eliminated because the plan was to throw them into The Jungle every week until they were both gone. Unfortunately, he and Nicole are no match for The Ringers and get eliminated #4 because they can't carry wine barrels as quickly, hence the title of the ep, "Grapes. Wrath." shout out Tom Joad. I love it when a plan does not come together.
The final three is all set up. Johnny and Sarah. Vince and Jenna. Devin and Cheyenne. The guys all go out together and the girls do the same. And for some reason they all gossip about their partners' weakest finals attributes. Why do this? I mean I guess theoretically you know from past seasons that Jenna can't eat gross things or Sarah lacks long-distance endurance, or Johnny can't do puzzles. But why point it out again? Unless it's game. Everything is game. Maybe John got good at puzzles and wants everyone to think he's not good. Sarah mentions that she's seen Johnny's mature side because he forgave her. He forgave her for winning. For winning money for herself, instead of giving it to him. In a competition game show.
Everyone knows how I feel about Bananas and Sarah's partnership. It's a sham. After they beat Dario and Nicole, Sarah was like "I'm gonna cry" and Johnny was like "if I could cry, I would." Johnny says this would be his most meaningful win. These two were friends before. Sarah backstabbed Johnny and won money. Johnny got tight about it. They paired up for Rivals III, which is like winning the partner lotto. Sarah has been kicked off due to her partners being disqualified like five times. And all Johnny needs is a semi-competent warm body next to him to win. So when they find out they're teamed up, they make it a show. Everyone loves a redemption plot line. But they're thrilled to be with each other because winning is the most important thing. I believe Sarah cares what John thinks. I think John cares about winning the final. This is what I believe. And there is only one way to convince me otherwise.
TJ announced a bombshell twist. The teammates are getting individual points in each leg of the final and whoever has more will be able to decide whether to split the money with their partner or take it all. So whichever team comes in first place, one of them will have to choose whether to split $275,000 with their partner or keep it for themselves. The same for second, $50,000, and third, $25,000. This twist is so good, Chubby Checker could go platinum off it. The teams are real-life rivals so they should have no problem backstabbing each other. The only way I believe Sarah and Johnny had real beef is if one of them doesn't share the money with the other. It's the only way.
The teams start the final, which will eventually take them 14,000 feet up a mountain. Sarah and Johnny are in the lead, and Sarah has one point after untangling some cords and blowing up the dirt to get their gem stones for round one. She's already nervous about Johnny not sharing it with her and Johnny won't comment on it because he thinks they need to worry about winning first. All I want to see is somebody take the full money. You have to take the full money. Get that money and you'll never be hungry again. And when you see Johnny Bananas being arrogant, I'll be there. And when Cousin Vince is mocking someone until they cry, I'll be there. And when Dario is spelling Wes's name "West" I'll be there. Shout out Tom Joad.