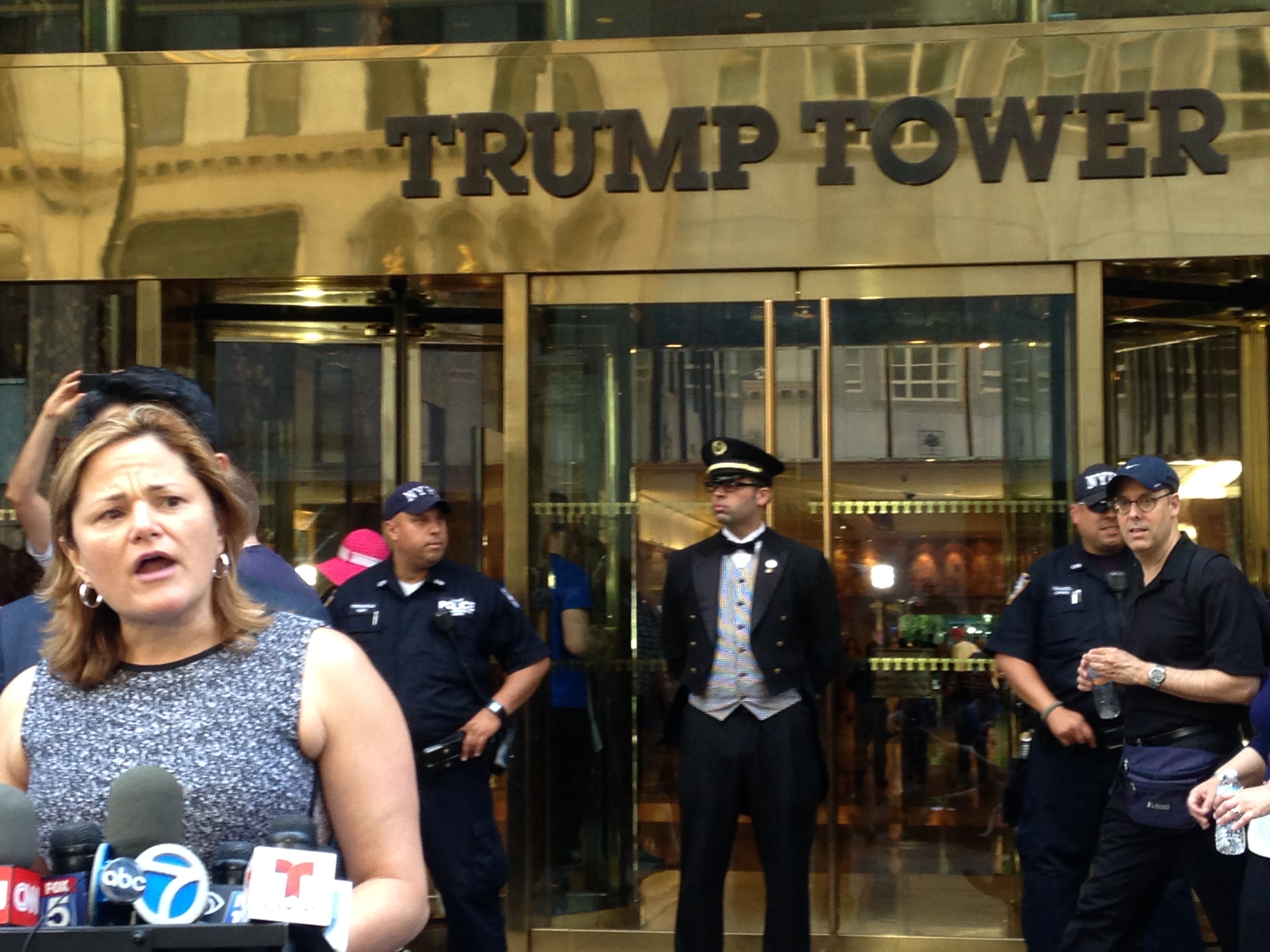 Donald Trump may have made his fortune in New York City, but according to Council Speaker Melissa Mark-Viverito, his presidency would cost New York City a fortune.
The speaker—a prominent surrogate for Democratic presidential candidate Hillary Clinton—commissioned an analysis on how much Trump's plans to deport undocumented immigrants and bar Muslims from entering the country would cost New York City. She rolled out the results this morning in a breakfast speech to the Association for a Better New York.
"While Donald Trump could watch the ruin from high atop his tacky towers, his plans would have a devastating impact on real people, and would do great harm to the economy of our city," Mark-Viverito said in a blistering breakfast speech. "The closer we look the more it becomes apparent that —shockingly—a con man and reality TV personality masquerading as a policy maker would drive New York's economy into a ditch."
The council's analysis concluded that deporting the city's undocumented immigrants would cost New York City and State nearly $800 million in tax revenue, and would mean a decline of 340,000 jobs—more than were lost in the 2001 and 2008 recessions, according to her office. The speaker's office said undocumented immigrants contribute $793 million annually in state and city taxes—and they'd kick in an additional $176 million if they were given a path to citizenship.
In addition to lost revenue, the city council analysis found that New York would also have to contribute to the cost of physically deporting people. Citing a conservative think-tank, the American Action Forum, the Council concluded deportations would cost between $400 and $600 billion, without including capital costs like additional facilities or border agents. The council found New York would have to kick in $49.2 billion to the federal government "to pay for the deportations of fellow New Yorkers," as Mark-Viverito put it.
The ban on Muslims entering the country could impact nearly 263,000 New Yorkers who come from nations where at least half the population is Muslim, according to the speaker's office. Workers born in such countries contribute $14.2 billion to the local economy each year, her analysis found. It could also hit the city's tourism industry: New York City is the most popular destination in the U.S. for visitors from Middle Eastern countries, Mark-Viverito said.
"Mass deportation would rip people from their homes and tear communities' and families apart. These mass deportations would be a Trump-branded reign of terror," she is expected to say. "And banning Muslims would set a religious test for immigration where none existed before. These trample on civil liberties and insult the constitution of the United States of America."
Mark-Viverito, who was born in Puerto Rico and has long advocated for immigration reform, has been among the most outspoken critics of Trump in his hometown, where Democrats seem to take joy in knocking him. ABNY, where local politicians often roll out news about new city policy endeavors, was an interesting and somewhat risky venue for a speech attacking a presidential candidate who hails from New York's business world and the Republican primary race at large. But her speech was met with applause from the crowd, made up the city's civic elite.
Still, her analysis is sure to raise some eyebrows—particularly since it was done with city resources and ordered by someone who has become a popular surrogate for Clinton. Indeed, Mark-Viverito headed to Philadelphia after the speech to appear alongside with the Clinton campaign.
"It's not partisan at all," Mark-Viverito told reporters after her speech. 
Still, she has no plan to crunch the numbers on what a Clinton presidency might cost the city—saying it was "not necessary." She said she'd had no conversations with the Clinton campaign about the analysis.
"I think if you know my record on immigration and my position on Trump, personally I find it abhorrent," she said of his proposals. "We have a responsibility as a legislative body for the City of New York, as someone that we adopt the budget of the City of New York, to figure out what the economic implications would be of any sort of public policies that are being proposed. So this is really, naturally, in line with what our job responsibility is and what our work is."
But it's unclear whether the city has ever taken a similar analysis of a candidate's policies, despite the fact that many federal agendas—from President Barack Obama's healthcare overhaul to funding for public housing or transit—have a direct impact on the city's budgets.
While it may be unusual to use city resources to delve into a candidate in this way, Mark-Viverito argued that Trump is an unusual candidate. (Mark-Viverito isn't the only one who is raising eyebrows by using her office to criticize him—Supreme Court Justice Ruth Bader Ginsburg has done the same all week.)
"This is no time for neutrality. It's no time for equivocating," Mark-Viverito said today. "Mass deportation and a ban on Muslims are beyond normal political discourse: it is a dangerous step which leads down a dark path."
The Trump campaign didn't respond to a request for comment on the analysis. But Trump has lobbed his own insults at New York's Democratic establishment—responding to rally against him led by Mark-Viverito by saying "she should focus on taking care of the filthy conditions of New York City, the ever expanding homeless population and lowering taxes, along with Mayor de Blasio, widely considered the worst Mayor in the United States." More recently, he called de Blasio incompetent and a "maniac" for failing to thank him for building a golf course, which de Blasio responded he never thought was a good idea to build.
Disclosure: Donald Trump is the father-in-law of Jared Kushner, the publisher of Observer Media.