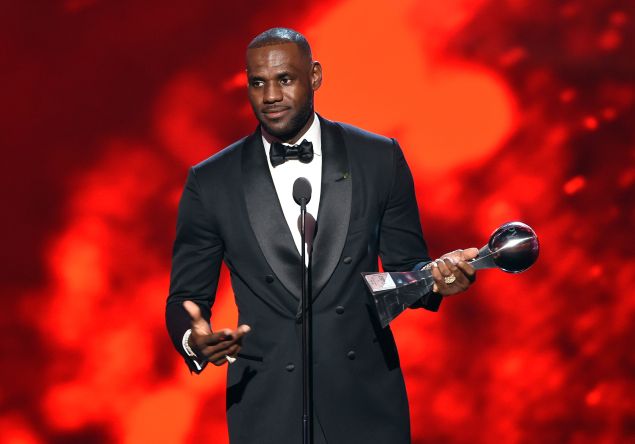 Leading into the ESPYs, LeBron James was planning on giving a young men's suiting brand it's best visibility to date. Having worked with Cielo Brands since game three of the NBA season playoffs, it was definitely a new stage of the pair's relationship, which had been facilitated through James' styling team, who reached out to the Brooklyn-based bespoke company specifically to create the star's look.
"It really made sense working with LeBron for this and the playoffs," Stephanie Higgs, co-founder of Cielo Brands told the Observer on the red carpet before the event, explaining that the company would be sticking to their bespoke services for the near future as opposed to approaching wholesale collections. "Since we do everything in-house, we could stick to the tight turnaround time they had. The color that we ended up going with really makes sense considering the big win." But when James made his appearance on the Microsoft Theater stage at the event for a moving opening segment, he gave visibility to a different cause all together.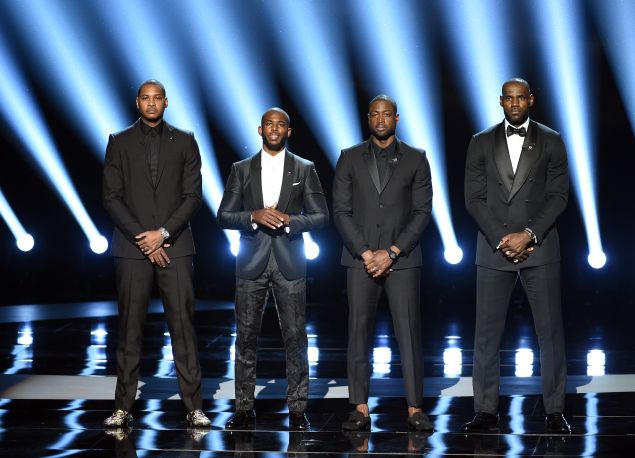 "It's time to look at the mirror and ask ourselves what are we doing to make change, and renounce all violence," James said on stage as the final member of a four part group, including Chris Paul, Dwayne Wade and Carmelo Anthony. "We all have to do better." The segment was a call to action bringing visibility to countless brown bodies, seven of which explicitly named, that were killed by police. And though the double breasted black tuxedo James wore for the segment wasn't what they had designed (it actually came form Tom Ford), Cielo designers Arturo Castaneda and Higgs understood the gravity of the moment.
But that opening call to action wasn't the only moment of visibility for the awards. John Cena's opening monologue challenged the idea of the "average American" in a video that stated over half of America identifies as a part of some minority group. Accepting the Arthur Ashe award for Courage on behalf of her son Zaevion Dobson, who lost his life at 15-years-old while saving two girls who were in the line of fire, Zenobia Dobson called for gun reform, urging athletes to lend their voices to the cause.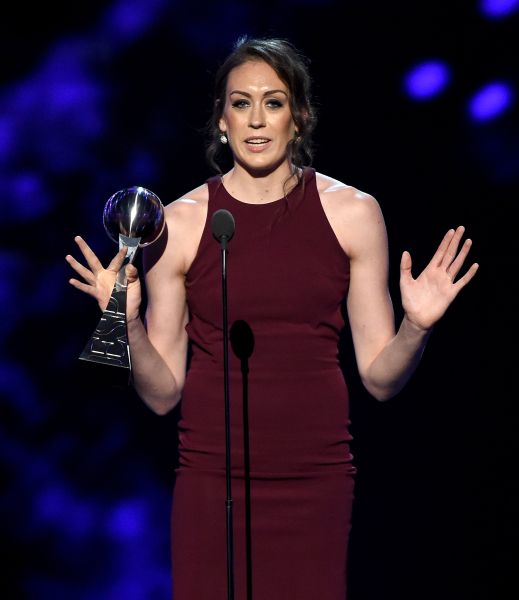 Another onstage call to action? When Breanna Stewart was up to accept her Best Female Athlete award, she brought up an issue of her own. "During my time in college, I received much media attention. I am grateful for that," she stated. "But now that I am in the WNBA, playing with other amazing female athletes, I'm trying to understand why we, as professional female athletes, don't receive anywhere near the fame. This has to change."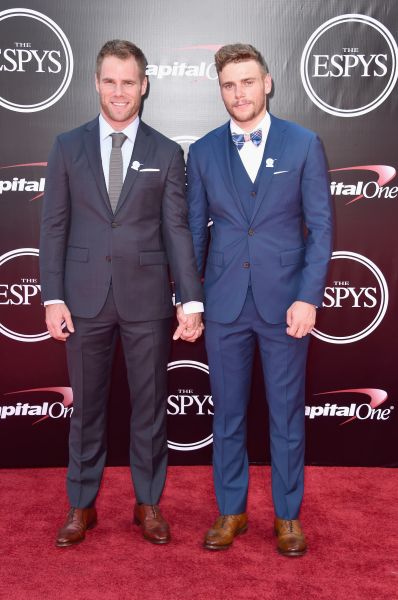 But it wasn't just on-stage that things were changing. Nominee Gus Kenworthy, who came out as gay on the cover of ESPN last year walked the carpet with his boyfriend, Matthew Wilkas, both outfitted by Brooks Brothers. At one point, they were only steps away from Chris Mosier who made waves last month as the fist openly transgender athlete to be featured in the Body Issue of ESPN The Magazine. This followed his history-making event of becoming the first out transgender athlete to compete in an International Triathalon Union championship.
"You know, while I think my year in sports has been pretty amazing but also I think [being at the ESPYs] is a great way to raise public awareness about trans athletes," Mosier said on the red carpet. "It's through platforms like this that we can start better conversations about inclusion in sports."