Famous art by Vincent van Gogh is being set to motion in a new animated film that seeks to explain the troubled painter's mysterious suicide.
Trademark Films, the production studio that gave us Shakespeare in Love and My Week With Marilyn is now backing the production, directed by the Oscar-winning filmmaker Hugh Welchman. Loving Vincent boasts upwards of 60,000 oil painted frames made by hand by 100 artists. Aside from providing a original plotline, Loving Vincent will also incorporate several of van Gogh's iconic images that inspired the film, like Starry Night.
Welchman, whose animated film Peter and the Wolf drew acclaim in 2008, was able to convince Trademark, which generally doesn't work with animation, to team up with his production company BreakThru films after producing the film's trailer. "We knew that we wanted to have an international cast and Trademark has a great track record with getting a great cast," Sean Bobbitt of BreakThru, a producer on the film, told the Observer via Skype. "They basically discovered Eddie Redmayne."
Although Welchman is behind the project, the idea came from his wife, Dorota Kobiela, an animator who studied painting in Warsaw, and who's been curious about van Gogh's untimely demise for some time.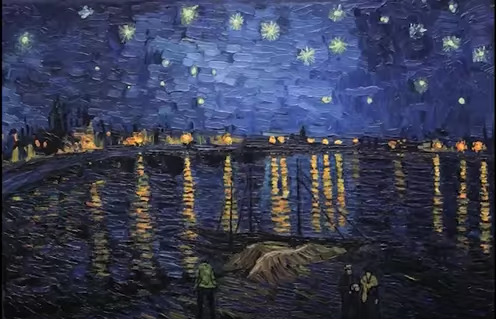 When Welchman became enraptured by the idea, the couple sped through a slew of biographies on the Dutch artist, who supposedly died over a day after shooting himself in the stomach, when he developed an infection from the wound.
In learning about his death, the team began to develop a story based on the many questions surrounding van Gogh's death—for instance, he never left a note, the physician attending to him never documented any first hand evidence, and his brother Theo, who spent several hours with him before his death, considered him to be lucid.
Set a year after the artist's demise, the film features characters based on real people he knew, and comes across as a detective story according to a report by the The Telegraph—even entertaining the possibility of murder. "The goal of the entire examination and this investigation into Van Gogh's life is to learn a little bit about … what kind of a man he was," Bobbitt said.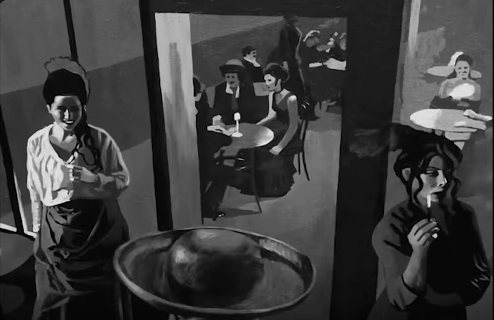 Out of the 4,000 painters who applied to work on the film, those that were chosen are painting away in animation studios in Wroclaw, Gdansk and Athens. Each of the painters receives extensive training in order to be able to adhere to the proper style: the black and white style indicating flash backs and Van Gogh's traditional, colorful method. Bobbitt explained that as the film has progressed, training has become more vigorous, often spanning long hours during the week and on Saturdays over the course of three weeks. 
That the film involved both and animation was an initial challenge in the hiring process. "When we first started we knew that either we have to find animators and teach them how to paint, or find painters and teach them animation," Bobbitt explained. "We decided there are probably more talented painters that we can teach basic animation."
While Bobbitt noted that since the paintings require masterful painting skill and adhesion to Van Gogh-esque technique, the artists don't have much room for creative expression. Luckily for the painters, every other frame of film footage (of actual actors) is projected onto the canvases so that they can accurately capture details such as facial expressions. 
On the otherhand, Welchman has expressed the importance of individual interpretation. He told The Telegraph that one of the most talented artists on the team had to leave, since he would only reproduce individual paintings, rather than add his own touch.
"The cost of this type of painting animation is actually quite modest compared to hiring large VFX companies that are used to working on big budget, hollywood studio type films," Bobbitt explained, noting that Poland is home to many highly skilled painters. Since living costs are inexpensive as compared with many western European cities, the production company can pay painters an average salary, while managing their $5.6 million budget, and perhaps even attracting other financiers.
Quasi-public sources like the Polish Film Institute, Pomeranian Development Agency and the City of Wroclaw via the European Capital of Culture have provided funding for the film, with 75 percent of the budget coming from investors.
Though the film has not yet secured a distributor, it's already harnessed in big names such as Saoirse Ronan and Jerome Flynn to voice characters.
The project will likely be finished in October and is slated for release sometime next Spring.
Watch the trailer here.