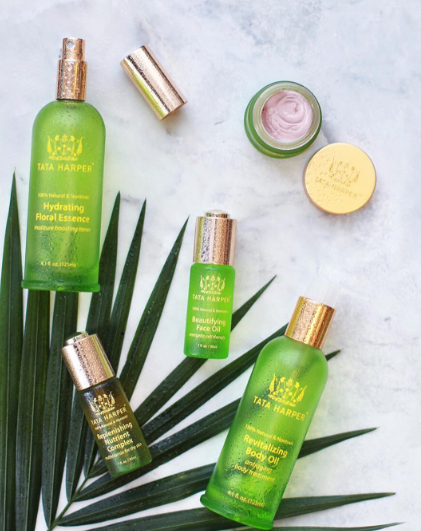 It is easier than ever to go to the beach, looking (and feeling) amazing, without having to set foot in a gym. No, surgery is not required. The beauty industry has made a business of making a gym body something you can buy, and no one is complaining.
This full-body approach to makeup is not entirely new. Kim Kardashian, for example, does not spend that much time in "glam" solely for her face. The first type of products in this category is body makeup, which has long been de rigueur in Hollywood. The second category is made up of wonder-creams that firm and tighten, although keep in mind that for these products "a healthy lifestyle is recommended in conjunction with usage."
Still, the mantra remains: Fake it 'til you make it.
 The 'Legwork':
One of the first things you need, when discussing products in the "look great for summer" category, is an exfoliator. And of course—where better to start beautifying one's bod than sloughing away the rough, dull, dead, dry skin of seasons past and revealing a softer, newer you. Exfoliants are a dime a dozen and so in order to achieve your goal of looking amazing this summer and staying lazy, enter Legology. Founder Kate Shapland worked as a beauty writer for 25 years, over the course of which she developed a fascination with leg health and developed a line dedicated to just that. Legology's Exfo-Lite Leg Exfoliator ($60) is the cream of the crop. A luxe self-treatment, this pack of five oil-based exfoliators stimulate blood flow and the lymphatic system to combat water retention. For a highbrow way to resurface the rest of your body's skin, try Skinceuticals Body Retexturing Treatment ($60), which fights dry patches and dark spots simultaneously.
To fake a celebrity glow…if you only have five seconds: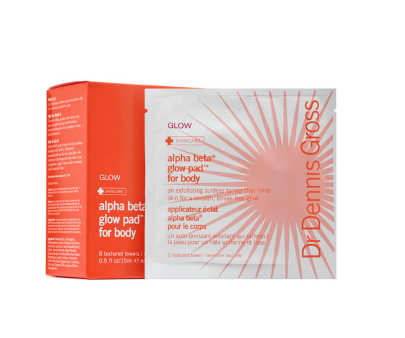 Perhaps the fastest route to a full body glow comes via trusted NYC derm Dr. Dennis Gross, whose route to a sunless glow comes in the form of pre-saturated wipes. With just a quick body rubdown, the Alpha Beta Glow Pad for Body with active Vitamin D ($45) exfoliates, tans, and includes Capislo—which minimizes hair texture, length, and growth, so you can shave your legs less often.
To fake a celebrity glow…if you only have five minutes: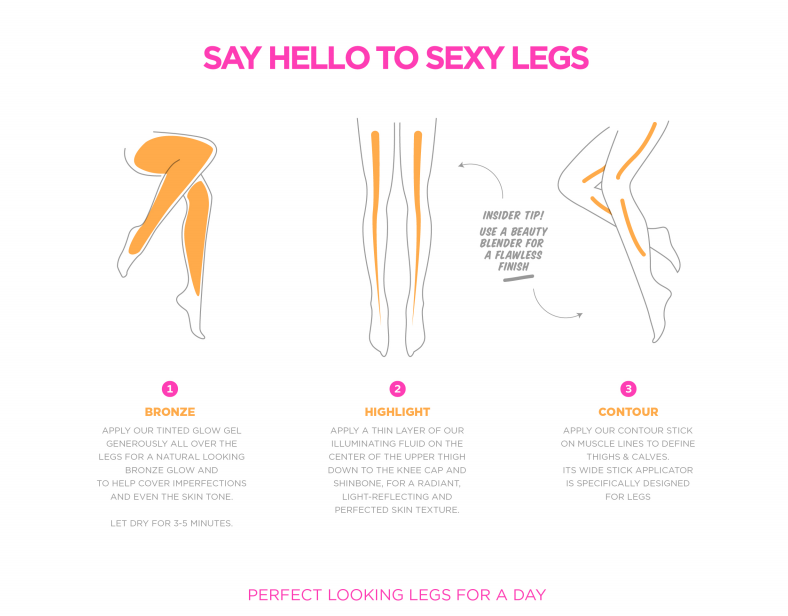 Say Hello To Sexy Legs—it's not a tagline but rather the name of a just-launched a microline of three sexy-leg-making products—already picked up by Sephora. The most foolproof option is the hero product—the Tinted Glow Gel ($38). Also a great choice for the commitment-phobes among us, this non-transferable product is perfect for a night out.
But most importantly, this isn't just about bronzing. In fact, Say Hello To Sexy Legs makes legs as serious a canvas as the face. Following the infographic shown here, you can contour (Body Contour Stick, $21) and highlight (Body Illuminating Fluid, $38) your legs to perfection when you buy the whole range.
Per-Fekt's Matte Tan Body Perfection Gel with SPF 30 ($48) is an automatic winner thanks to its inclusion of SPF 30, which makes looking good and staying safe easy. Using Smart Color Technology, the one-shade-gel adapts to all skintones. Shea butter, hyaluronic acid, and ceramides all soften and hydrate.
To fake a celebrity glow…if you need to touch up on-the-go:
Finally, if you just don't know where the day may take you, but you might need to look amazing then your number one must-buy is Brit-brand This Works' Perfect Legs Sculpt & Shine, ($52), which can actually be tossed in your bag for an emergency leg-beautifying-session.
If you need to shine: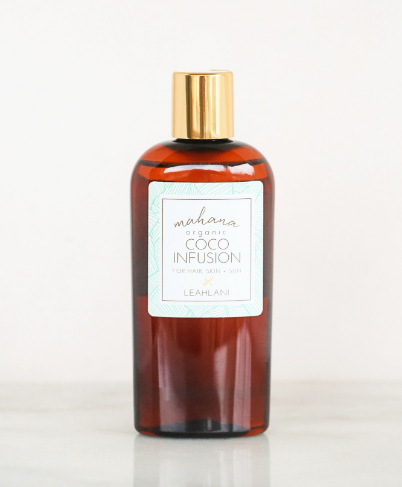 When you want that disco ball glow of a YouTube star, for your legs, coat them in lush Hawaiian brand, LeahLani's 'Coco Infusions,' ($24-$28), vacation-in-a-bottle body oils that impart a hint of glowy shimmer. If you need to multitask, then it's St. Tropez to the rescue. The faux-tan brand to rule them all offers Gradual Tan Plus Firming 4 In 1 Tan, Tone, Firm & Moisturise ($35) so you can check everything off your #summerbodygoals list in one go.
For the advanced faux-body-sculptor:
Faux-tan expert, James Read, takes contouring and highlighting the body one-step further. His latest offering includes the Tantour Sculpting Duo, ($54), which is for lazy people far more skilled than I am, so I asked for Read's expert advice.
He was immediately on my wavelength: "Tantouring now allows you to naturally define and sculpt your whole body. You can create the illusion of slimmer legs and arms. You can make your collarbone pop and your cheekbones killer. I have even been asked to create the illusion of a six pack! Put simply, Tantouring literally allows you to have a more toned beach-ready body—no exercise required." (emphasis, my own). As for the how-to, Read explains:
"Try starting with something super-easy like the legs…
Stand in front of the mirror and lift your heel up. You will see your leg muscle instantly becomes more defined. Taking the bronze shade, lightly dust that down that line. Repeat on the opposite leg. 

Dust the highlight shade down the front of each leg.
This will instantly create the illusion of a slimmer, more toned legs. The same technique on the arms works perfectly. Don't forget to dust a little highlight on each shoulder for the ultimate dewy sun-kissed look."
If you're attending a wedding, first date, or other event in a few hours:
Book a Fat Girl Slim at Bliss (which has locations around the world), during which you will sweat out your water weight and be thoroughly, and professionally dry-brushed. You can take the treatment home with you, as Bliss's Fat Girl Slim line has a specialty product for every part of your anatomy (for example, the Leave It To Cleavage cream, $45).
If you're in Manhattan, and can splurge, book The Burn at Joanna Vargas and ask for Anastasia who will make the process of having your abs (or wherever else) gone over with a radiofrequency wand for an hour feel like brunch with the girls.
To Fake Daily Workouts With a Personal Trainer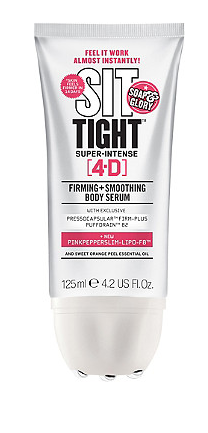 Now that we've covered quick-fixes and the secret to bronzed, glowing model-esque legs, we move on to products that instantly and gradually firm. If glowing legs are one part of the equation, then a (fake) six-pack and calves that look like the result of seven-days-a-week SoulCycle classes are the other.
Sol de Janeiro's Brazilian Bum Bum Cream ($45) is in fact pronounced "boom boom," but who could resist the idea to slather it on your actual bum. It's made to firm, after all. Powered by Amazonian guaraná—the fruit of the plant contains particularly strong caffeine.
If you want to feel like something serious is going down, beyond the capacity of a body cream with firming benefits, pick something with a special applicator à la Soap & Glory's Sit Tight 4-D ($24) meant to target the thighs, and bum (for real, this time). The cooling rollerballs stimulate the skin and microencapsulated ingredients firm and tone.
Bringing in the big guns, ingredients-wise, is another way to get serious, and Chantecaille's Retinol Body Treatment ($96) does just that. Power ingredient retinol is encapsulated in marine collagen—a potent anti-aging duo.
Rodial's Super Fit Size Zero ($68) is explicit in its description: "A daily skin firming and toning body moisturizer to help towards a more refined silhouette when used alongside regular exercise," but surely that doesn't mean it'll do nothing on its own (it'll just be bolstered by a healthy lifestyle, which is great, sure). A magical-seeming ingredient, pro-svetyl combats the appearance of cellulite and breaks down the body's retention of water weight.
Tata Harper's luxe Redefining Body Balm ($115) is an especially luxe natural concoction (like all of her products are) which specifically targets stretch marks and scarring. Pregnant women: Add to cart. The firming blend contains a proprietary blend of six natural butters (murumuru, kokum, cocoa, capuaçu, mango, and shea to be precise)—and the total product absorbs fast and leaves skin feeling, well yes, like butter.
Yon Ka's Phyto 152 ($68) fades and fights stretch marks, firms the body with regenerating beech bud peptides, and, while it is a body cream, is also noted for helping to "maintain a well-shaped breast." So, there's that.
Here's to a summer spent looking amazing, sans the hard work.