Nicolas Winding Refn is no stranger to controversy, but at a recent screening of his new film The Neon Demon, the controversy took a different tone.
Known for his hyper-violent, techno-infused fever dreams of movies, notably the Ryan Gosling-starring Drive and Only God Forgives, the divisive Danish director has inspired both devotees and detractors. On June 23rd, he spoke at the Brooklyn Academy of Music following a screening of The Neon Demon. It stars Elle Fanning as Jesse, a fresh-faced teen model trying to make it in a nightmarish distortion of the LA fashion industry.
Refn took the stage head buried in iPhone, involved in an eBay bidding war for materials related to a sequel to his 2015 book The Act of Seeing, a compilation and analysis of exploitation film posters. The audience roused itself from its post-credits shell-shock to applaud when he announced he had won the auction. It's a sound he hasn't heard all that much of lately; The Neon Demon was booed at Cannes and bashed by many prominent critics, including the Observer's Rex Reed.
Refn's casting choices were defended as a commentary on the industry that the film is representing, not the film itself.
There's no way they didn't know what they were getting into. The film is the usual Refn mix of stunning, painterly visuals; swirling synths; philosophical musings; blood; and pretty people staring blankly while covered in blood. The hollow-eyed supermodels descend on the ingénue Jesse, seeing, in her vitality, something they've lost and craving any way to get it back. It's a vampire tale that starts figurative and ends literal.
Separating The Neon Demon from his usual body of work, however, is its heavily female cast. Refn believes that "every man has a 16-year-old girl inside of him," – for him, that was Fanning, who was 16 when she was cast. It's a far cry from his wheelhouse of machismo (just about every other entry in his filmography has lovingly depicted men who fight with fists). The Neon Demon does a complete 360. It unleashes a twisted ultra-femininity that's even more vicious than any of Refn's male characters.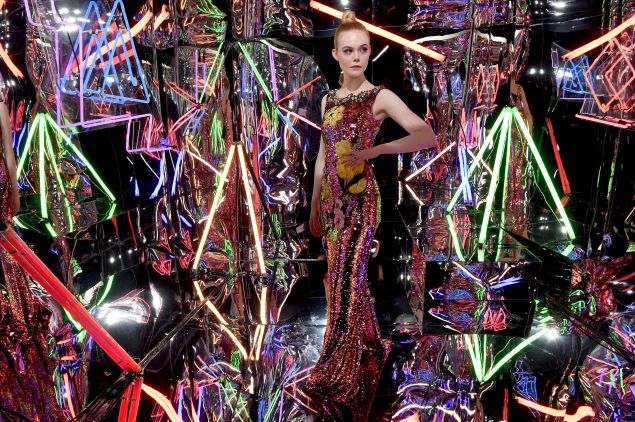 After the screening, Refn breezed through most of the audience questions until a young woman asked him about casting:
"If this film is all about your idea of beauty, then is your idea of beauty just white, blonde girls? Do you care about diversity at all? And is the only reason you hired a female cinematographer because she was the only one you could afford?"
Refn had just recounted the story of how he hired his cinematographer, Natasha Braier (whom he described as turning out to be "the best thing about the film") because she was the only one he spoke to who would take $3,000 per week. Additionally, all the models featured in The Neon Demon are white.
Clearly taken aback, Refn hemmed and hawed a bit on the answer, comparing creativity to socialism and insisting that out of the thousands of potential actors he saw, he cast "purely on who was going to be best."
"Or you're just racist," the woman shot back, getting up to leave.
"You've got an issue, lady!" Refn called after her.
But the best defense of his casting choices wasn't even made by him. "I think that, when you think about the sense of beauty in the fashion world, that is what the standard is. So it made perfect sense to cast who you cast in the film," Valerie Complex, a writer for The Inquisitr and Nerdist, said to Refn a few minutes later, to applause.
Complex told the Observer afterwards that the idea of racism didn't even occur to her as she was watching the film: "He used what the industry beauty standard is. The culture behind fashion goes specifically with what we saw. Sometimes we're just tired of seeing white folks in movies, but [the accusation] was misguided in this case." She mentioned that the Bangkok-filmed Only God Forgives featured Asian actors in prominent roles at a time when that community doesn't have much visibility in American cinema.
Though Refn made no effort to acknowledge the underlying issue from which the accusation sprung (Hollywood's undeniable lack of representation of people of color), his casting choices were defended as a commentary on the industry that the film is representing, not the film itself. If one of the actresses had been of a different race, "it would have become a different story, a completely different narrative," Complex's friend Justin Dash said. "I want more diversity in film, but not every story needs to be that."
But do the creative minds of Hollywood have a responsibility to include more types of bodies and voices in their films, regardless of subject matter? Refn doesn't think so: "I'm from Scandinavia. We don't even know what [racism] is."