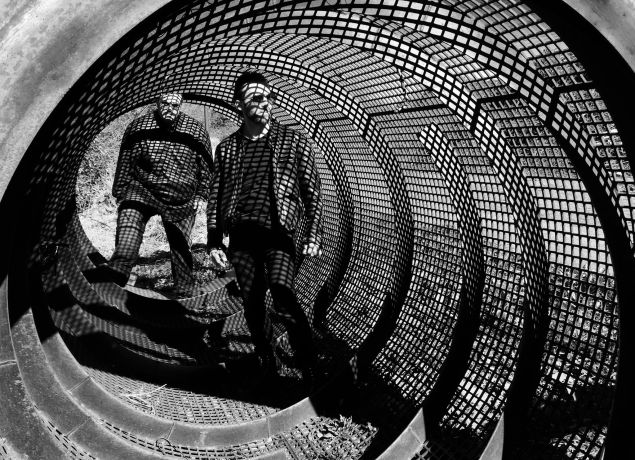 The dog days of summer are heating up as the unbearable wave of heat and humidity brings in that wretched stench that wafts over New York City and underground in the stifling subways for what seems like a lifetime. But what we can take comfort in are these stellar shows happening across the city all month long. This month in weird is a sweat-soaked doozy so never mind the bake and get out. 
You Are Here (Trouble Maze) Festival featuring Prefuse 73, Brian DeGraw (DJ set), EU1OGY, Arto Lindsay, Zs, Loren Connors, Excepter DJs at Knockdown Center (June 30 through July 4)
Conceived from the ingeniously warped brain of the heavily bearded and bespectacled hardcore DIY hero Sam Hillmer—mastermind behind classical-rock trio Zs and electro-jazz droners Diamond Terrifier—comes You Are Here (Trouble Maze), part art installation, part music festival that goes down in the unlikeliest of steads: inside a maze constructed from string.
Hillmer, along with co-conspirators Laura Paris and Lawrence Mesich, make up the creative triumvirate known as Trouble where they've taken their sound/art mishmash You Are Here Fest to local DIY hotspots like Secret Project Robot, Chicago and even Berlin.
This year, Hillmer and co. have brought the structure to Queens' Knockdown Center. Trip out around the coiled mass—which the architects say will be larger in scope and zanier than in years past—and peep mind-altering sculptures, lights and projections while avant hall-of-famers, hip-hop upstarts and beats-centric knob-twiddlers make a racket in the nooks and crannies of the labyrinth.
Showing off the same genre-defying booking skills he was known for at the defunct Williamsburg bar/performance space Zebulon and currently at Trans-Pecos, Hillmer has assembled a powerhouse lineup to lose yourself in the maze. From the samba skronk of no wave icon Arto Lindsay to Loren Connors' finger-picking magic to Hillmer's own Zs to the electronica of Prefuse 73 to the noise-punk of Unstoppable Death Machines, You Are Here is a sound/art dream. Click here for the full schedule of events. 
Big Business at Saint Vitus on Wednesday, July 6
After riding the sludge-metal lightning of 2013's face-crusher Battlefields Forever and moonlighting as members of the Melvins, L.A.'s Big Business have returned with a vengeance, raging on all cylinders to inflict more punishing heaviosity. BB jacked it up in the form of the "True Gold" digi-single they self-released last year, cameoed on the Melvins' brand-spanking-new Basses Loaded and now the bass/drums duo—Jared Warren and Coady Willis—have signed on with the rising Joyful Noise Recordings and just dropped their fifth set, Command Your Weather.
Warren and Willis were no slouches in the heavier than hell department before joining the badassed twosome of King Buzzo and Dale Crover in the behemoth double-percussion incarnation of the Melvins in 2005 but no doubt they've been well-schooled. Command Your Weather is proof of that and its utter demolition easily rivals, and perhaps surpasses, the Melvins' trademark pummel. So prepare for arena-ready, head-banging downer metal bursting with the gnarliest of wails, the crushing'ist of licks and the heaviest of drums as Big Biz rolls into town.  
Big Neck Police at Shea Stadium on Friday, July 8 with Palberta, Sexual Jeremy and Signal Break
Fiercely DIY super-promoter The Colonel has been a crucial presence on the Brooklyn underground, booking a slew of topnotch shows at local haunts like Palisades, Trans-Pecos and Shea Stadium. The Colonel has now focused his attention on Ramp Local, his excellent label that has collected quite a roster including, Banned Books, The Cradle, Sunk Heaven, Jeff Zagers and the no wave-inspired Big Neck Police, who are celebrating the release of the batshit and primal noise-rock wallop of Don't Eat My Friends.
Comprised of members of The Cradle and Palm, Big Neck Police lay on the junk-fi and jagged art-rock slop thick, clattering, clanking and screaming like their peers The Sediment Club and Guerilla Toss while conjuring images of a decaying downtown NYC where Teenage Jesus and the Jerks and DNA caused dissonant and angular free-rock havoc.
The no wave comparisons are apropos when it comes to Ramp Local's mission: founder Jake Saunders (a.k.a. The Colonel)—inspired by the seminal No New York compilation—released The Eclectic Sessions: Volume 1, a raging document to a mushrooming scene featuring Big Neck Police and many of the aforementioned bands. Take note, kids: up-and-coming labels like Ramp Local and Exploding in Sound are where it's at.
Kayo Dot at Mercury Lounge on Friday, July 8
Brooklyn's metal underground is a schizoid hellion led by avant-metal explorers (Krallice, Psalm Zero, Stern) and tech and math-metal scientists (Dysryhthmia, STATS).
Then there's freethinkers like bassist Toby Driver, visionary behind goth-metal shapeshifters Kayo Dot.
Fresh off the recent release of Sheen, the debut LP from metal-influenced drone trio Bloodmist—the cooperative Driver shares with trumpeter/electronics sculptor Jeremiah Cymerman and guitarist Mario Diaz de Leon—the protean composer has returned to his main gig as leader of Kayo Dot, mastering his reinvention act with his latest artful, synth-heavy and epically complex set, Plastic House on Base of Sky, its seventh full-length since the band's inception in 2003.
With a pedigree that includes records recorded for both John Zorn's Tzadik imprint and defunct heavy-music label Hydra Head plus a cult following amassed for his '90s prog-metal band maudlin of the Well, Driver's cred is to-die-for. That sustained with Coffins on Io, Kayo Dot's sinister sprawl from 2014 that gushed with self-described "80s retrofuture noir vibes" and that electronics-dominated ecstasy continues on Plastic House.
With his sultry Bowie-like sing-speak and the wads of vintage analog synthesizers that make up the zigzagging yet infectious and groove-intensive foundation of Plastic House rapturously constructed, Driver remains under the unsettling influence of David Lynchian film-noir and Blade Runner's dystopian future-world where an entrancing fusion of metal, goth and electronics intersect. 
Lydia Lunch's Underground Salon at the Roxy Hotel on Monday, July 11
Lydia Lunch, the jet black-haired, black dress-draped undisputed priestess and pioneer of the no wave movement, has been ubiquitous all over town, spreading her big sexy noise backed by her band of brutes in Retrovirus. Several years ago, Lunch's career underwent a resurrection of sorts when she joined forces with extreme-music iconoclast Weasel Walter to form Retrovirus, revisiting, reinterpreting and breathing new life into seminal cuts from her days in Teenage Jesus and the Jerks, 8-Eyed Spy and her solo catalog.
That natural union has seemingly galvanized Lunch; she's settled neatly into her Retrovirus bandmate's pack of misfits which counts saxophonist Chris Pitsiokos, Child Abuse bassist Tim Dahl and beer-guzzling freak composer David Earl Buddin as fellow weirdo outsiders.
Hot on the heels off Lunch and Retrovirus' recent smoking-hot gig with Pennsylvania sludge-punks Pissed Jeans at The Knitting Factory, Lunch will be spewing her delicious bile at The Roxy Hotel as she hosts what she describes as "a series of sleazy salons" and "scandalous storytelling from NYC's torrid underworld" by the no wave queen herself, along with Bibbe Hansen, Zoe Hansen and special guest Jerry Stahl (on July 11).
Naturally, Lunch's cast of bruisers (Walter, Dahl and Pitsiokos) will be on hand to dish out punk-jazz punishment.
Pulverize the Sound at Muchmore's on Wednesday, July 13 with Seabrook Powerplant, Chris Pitsiokos Quartet and Zeena Parkins/Mick Barr Duo
A tsunami of dizzying notes will rip the roof off of Williamsburg's Muchmore's as avant-jazz and experi-metal luminaries take over the bar/music space. Deep bills like this rager used to be a frequent occurrence at the sorely-missed South 2nd Street deathtrap Death by Audio, but these noiseniks have since found a home at the brick homestead on Havemyer Street.
Observer faves Pulverize The Sound (we picked their self-titled debut as one of 2015's Best Experimental Records) are a trio fitting of their name as they pulverize the hell out of prog and jazz with brutal minimalist music designed to snap necks.
On Pulverize The Sound, the bonkers trio of trumpeter Peter Evans, Child Abuse/Lydia Lunch Retrovirus bassist Tim Dahl and drummer Mike Pride vomit jazzified grind-metal that is cutthroat composed and hammering repetitious as they are deranged. The trumpet will never be heard the same way again after absorbing the salvos of Evans' bizarro circular breathing techniques, Dahl's thuds and thumps and Pride's start/stop thrash.
Rounding out this stellar lineup are acts we've raved about before: Seabrook Power Plant (featuring banjoist Brandon Seabrook) young gun saxophonist Chris Pitisokos leading his Quartet and Krallice/Orthrelm guitarist Mick Barr in a free-improv battle with downtown harpist Zeena Parkins. 
Psalm Zero at Trans-Pecos on Saturday, July 16 with Kel Valhaal, Gnaw & Kevin Hufnagel
Like Toby Driver's Kayo Dot, Psalm Zero—the brainchild of singer/guitarist/composer Charlie Looker—explores an alternate metal-inspired universe but ultimately is unclassifiable. That wickedly noisy yet catchy vision was crystallized on the singular songcraft of The Drain, the band's 2014 debut which saw Looker and guitarist/vocalist Andrew Hock exploring a hooks-laden, scream-sing industrial sound-world backed by a crushing drum machine.
Fast forward to 2016. Looker has trudged on—minus Hock who recently left the fold—with PZ's sophomore effort, Stranger to Violence. Despite the loss of Hock (he does appear on the new record), Looker sounds like a man on a mission: the seven bleak-as-fuck epics on Stranger to Violence are ferociously sonic art-metal head-bangers thick with bloodthirsty riffs and glimmering synth hooks that have drawn comparisons to Godflesh and Katatonia. But with Looker's one-of-a-kind baritone at the center of the fray, Psalm Zero sound like no other.
Fellow outré metal eclectics Kel Valhall (Liturgy's Hunter Hunt-Hendrix solo electronics project), doom noisemongers Gnaw and Dysrhythmia's Kevin Hufnagel (playing songs off his new double EP Backwards Through the Maze) open. 
Tyondai Braxton at National Sawdust on Friday, July 22 with Zs and Mary Lattimore
Eclectic art-rock composer/improviser Tyondai Braxton has cred up the wazoo. The bushy-haired experimentalist is the son of avant-garde jazz icon Anthony Braxton and was The Muppets-voiced frontman for math rockers Battles during their seminal 2007 reign when their minor hit "Atlas" was all the rage before its new life as a soundtrack to commercials.
With solo ventures like 2009's classical music-meets-Looney Tunes madness of Central Market and 2015's multi-media spectacular of electronics and percussion fuckery called HIVE1, Braxton has cemented himself as mad professor of soundscapes.
For Braxton's latest, he's not only tripping out into more mind-expanding sonics but he's doing it for a noble cause. The knob-turning maven has just released the pay-what-you-want Oranged Out on Bandcamp, an EP comprised of odds and ends from the HIVE1 sessions with proceeds going to support the work of Everytown for Gun Safety, a nonprofit organization which advocates for gun control and against gun violence.
Marc Ribot & The Young Philadelphians at Bowery Ballroom on July 28
https://www.youtube.com/watch?v=bGObWj78V2c
Avant-jazz guitarist and musicians rights activist Marc Ribot heads the top of the shredworthy class of six-stringers who are godheads of their instrument. A fixture on the downtown NYC experimental jazz scene for well over three decades, Ribot has killed it solo, as a member of John Lurie and The Lounge Lizards and leader of Latin playboy swingers Y Los Cubanos Postizos, Albert Ayler tribute band Spiritual Unity and Ceramic Dog, a trio with multi-instrumentalist master Shahzad Ismally and drummer Ches Smith.
If that wasn't enough action on the Ribot front, he's started yet another supergroup: The Young Philadelphians.
Inspired by the jazzified funk of Ornette Coleman and '70s Philadelphia soul, Ribot enlisted two swinging men and Ornette band vets (bassist Jamaaladeen Tacuma and drummer G. Calvin Weston) and a Brooklynite guitarist (Mary Halvorson) to help reimagine groovy funk, soul and noise classics oozing with punk ethos.
The result is the forthcoming Live in Tokyo, a blazing all-covers set featuring renditions of sweaty booty-shaking burners by Ohio Players, Teddy Pendergrass, The Trammps and other staples. Is there anything Ribot can't do?
Honorable mentions:  
Mostly Other People Do the Killing with special guest Thomas Herberer on Sunday at Shapeshifter Lab on Sunday, July 3
In 2014, the long-running avant-jazz provocateurs led by bassist Moppa Elliott caused a firestorm of controversy when they covered Mile Davis' sacred Kind of Blue note-for-note. Tonight, MOPDTK will probably dig into rollicking cuts off their most recent LP, Mauch Chunk.
Bill Brovold & Jamie Saft Duo at Zürcher Gallery (33 Bleecker St.) on Wednesday, July 6 at 8 p.m.
Composer/guitarist Brovold, leader of Detroit post-jazz collective Larval and no wave vet, joins forces with downtown jazz maverick Saft to jam on free-improv Americana twang. A debut record on the London-based RareNoise label is the works.
Barbez at Joe's Pub on Friday, July 8
The Brooklyn-based, old-world-influenced ensemble Barbez draw upon ancient Roman Jewish melodies on Bella Ciao, their latest record for John Zorn's Tzadik label.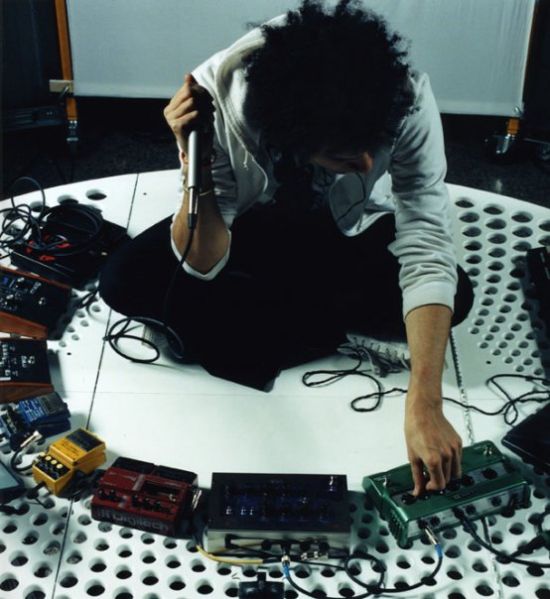 Summer Scum 5 at Trans-Pecos from Saturday, July 9 through Sunday, July 10
The final installment of this Noise extravaganza fittingly called Summer Scum concludes its, er, noisy run, as it presents 60-plus acts performing 15-minute sets. 
Konceptions Music Series: Matt Nelson/Devin Hoff/Sam Ospovat at Korzo on Tuesday, July 12 at 9 p.m.
South Slope pub 'n' grub hang Korzo has played host to a Tuesday-night music series dubbed Konceptions where avant-garde jazzheads take over the back space for otherworldly sounds. Tonight is no exception as Battle Trance sax dude Matt Nelson teams with locals Devin Hoff (bass) and Sam Ospovat (drums) for what promises to be a firebreathing set.
Rick Parker + Li Diaguo A.E. Randolph Series at Rye on July 13
Trombonist Parker and the China-based cellist/vocalist Diaguo celebrate the release of Free World Music, a daring set of free-improv noisescapes fitting of its title.
Josh Sinton & Friends, Sundays in July at Threes Brewing
You have four chances to check out Sinton, Downbeat Magazine's No. 3 pick in the "Rising Star Baritone Sax" category, as the self-described "creative musician" takes over the Gowanus brewery accompanied by luminaries such as drummers Tomas Fujiwara and Chad Taylor and occasional Melvins bassist Trevor Dunn (7/10, 7/17, 7/24, 7/31).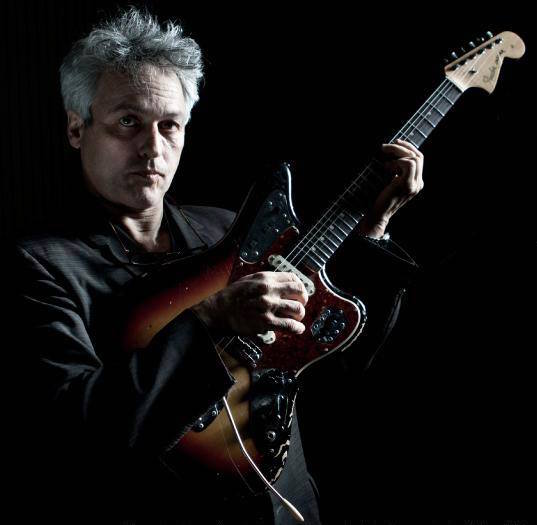 Cyro Baptista's Vira Loucos plays the music of Heitor Villa-Lobos (7:30 p.m. sets only) and Cyro Baptista's Banquet of the Spirits play the music of Don Cherry, John Zorn and Cyro Baptista (9:30 p.m. sets only) at Dizzy's Club Coca Cola from July 22-24
The pioneering Brazilian percussionist recently served up his 10th record on his pal John Zorn's Tzadik label (BlueFly) and collaborated with Jamie Saft's New Zion on Sunshine Seas, but here Baptista sets up shop for a three-night stand at Dizzy's Club Coca Cola inside the Time Warner Center to play his own music as well as fellow Brazilian musician Heitor Villa-Lobos, Don Cherry and Zorn. 
William Parker Cosmic Mountain Quintet on Tuesday, July 26 (2 sets: 7:30 p.m. and 9:30 p.m.) and William Parker In Order To Survive "Extended Breathe Ensemble" on Friday, July 27 (2 sets: 7:30 p.m. and 9:30 p.m.) at Dizzy's Club Coca Cola
Downtown avant-garde jazz giant and co-architect of Vision Festival William Parker is as prolific and creative of a composer as they come. For this engagement, Parker is premiering a new group (Cosmic Mountain Quintet) and leading a classic one (In Order to Survive).   
Daniel Menche, Container, Profligate, Eartheater, Greg Fox, Ben Vida and Horse Lords at Pioneer Works on Saturday, July 30
Issue Project Room and Pioneer works present a can't-miss lineup topped by a rare appearance by Portland sound painter Daniel Menche. 
Krallice, Reg Bloor and Thaetas at Saint Vitus on Sunday, July 31
Souped-up guitarist Reg Bloor is both a member of The Glenn Branca Ensemble and a solo artist whose most recent slab, Theme from an Imaginary Slasher, is a clinic in six-string slayage. Metal-centric overlords Krallice headline.