"This is the real world," my tour guide, Danny, tells me, pointing to placards on the wall of the Intrepid Sea, Air and Space Museum, where an exhibit celebrating 50 years of Star Trek recently opened. Once I step through this threshold, though, it won't be the real world anymore—it will be Starfleet Academy. And, as Danny points out, since we "missed our Hogwarts letter[s]," this is as close as I will ever get to dork boarding school. I'm really hoping it lives up to expectations.
The explain-y posters outside the exhibit (or the Academy, if you like) tell visitors to the Intrepid about space exploration and the limits of our current technology vs. Treknology. I'm skeptical. If this is an exhibit for people who need to be told that we have not yet achieved warp speed, it won't be for me.
Let me say that I know it's very common these days to claim to be "sooo dorky." But let me assure you, my Star Trek cred is real. There are few things I know a lot about, but gymnastics in the early 1990s, American neo-classical ballet and Star Trek are pretty much the only things I am absolutely sure I know something about. So I put the onus on this exhibit. Impress me, I told it and Danny. And in the end it did—but not for reasons that might make sense to you.
It's like the part of the Museum of Tolerance where you track a Jewish child through the Holocaust, but less horrible.
If you didn't know that Star Trek has been rebooted, yet again, well, it has, by J.J. Abrams, who managed to keep dyed in the wool dorks firmly in the fold. There were little crumbs left for us, as many have noted, but it helped that the writing and production value were so on point. Until the last 20 minutes or so of the most recent one, Star Trek: Into Darkness, where Abrams really lost the thread. (Why wouldn't the blood of one of the 72 other superclones work just as well as Khan's?? Gah.) The next one, Star Trek: Beyond, by a different director, comes out next week. Its release is likely timed, as is the exhibit's premiere, to the 50th anniversary of first television series to bear the name Star Trek.
Since 1966, there have been five TV series, 13 movies (six with the original cast, four Next Generation movies and the three in the reboot, which, technically, takes place in an alternate time line) and endless Enterprise toy models that parents painfully stepped on in the middle of the night. Star Trek: TNG was a ubiquitous presence on television when I was little, and as a kid with no cable and no interest in Family Ties, it was pretty much my only form of intellectual nourishment.
At the medical station, where the security guard implored Spanish tourists to scan with their tricorders more slowly, I properly diagnosed a Klingon with heart arrhythmia and was pleased to see he had the anatomically correct eight-chambered heart.
Nowadays we expect—and receive—something different from television. We get epic dramas with intricately woven plots, characters as well-crafted and meaningful to us as any in a classic novel and gritty realism that makes us think about what kind of society we've become. In the late '80s, all we wanted was something where the turn in the third act wasn't about how Mallory Keaton got her period. Star Trek was, for me, an escape from the terrifying provincialism of my crappy suburb east of L.A., and it grew with me, too. The later episodes of TNG got challenging, asking questions about morality and often answering them thoughtfully. With Star Trek: Deep Space Nine larger matters like, "How do we fairly administer reparations for a holocausted planet?" were floated (largely unrecognized by mainstream culture). Star Trek: Voyager got even better, paving the way for meta-arc storylines in later (and again, more formally revered) shows, like Battlestar Galactica and Lost. So when Danny told me that this exhibit only deals in canon Star Trek (no J.J. Abrams alternate time line is involved), I was elated. Not only did someone else clearly respect that timeline as entirely separate and not just a convenient plot device, but perhaps it would be a celebration of some of the reasons why Star Trek appealed to me as a child. And obviously, this exhibit was here to stand on its own and not as a "synergistic" promotional tool for the film.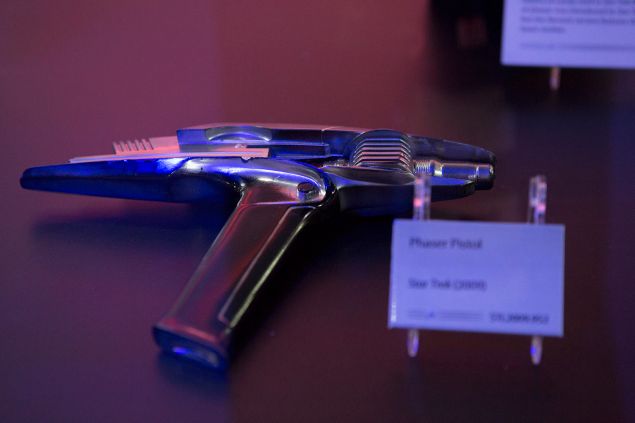 It is Career Day at the Academy, and you're given a chance to try out all the different stations—tactical, medical, navigation, command and communications. You perform tasks, like a phaser exercise or choosing which planet to evacuate your crew to, and take a sort of quiz at the end. Your RFID bracelet tracks your progress. It's like the part of the Museum of Tolerance where you track a Jewish child through the Holocaust, but less horrible.
I did all of them except for communications. No offense, Uhura, but I did not go to Starfleet Academy to talk (though your role got way better in the reboots, thanks, J.J.). No, I went to shoot stuff, try to heal a Klingon and try the fucking Kobayashi Maru.
And I got to do all that stuff. The assessments straddled the obvious and full-on dorkbait in a way that kept me pretty much giddily entertained for an hour (the ticketed show is intended to take about that long and costs $25 for an adult nonmember). At some point, I turned to Danny and asked, "Is Kronos in the Alpha Quadrant?" He thought about it for a second. "I don't think it is." I thought about it. "Well, Bajor, Earth and Cardassia definitely are, so it must be Kronos that isn't." But I was also thinking, "Hmm, wasn't Kronos destroyed by the time TNG began?" And that's why they just call the Klingon homeworld "the Klingon homeworld" later in the timeline, right? And I was happy. This is why I came.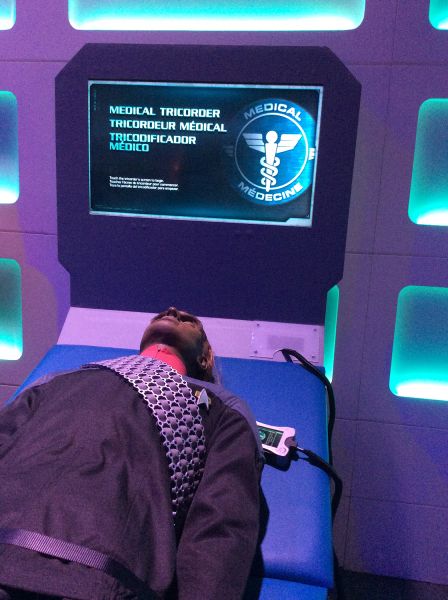 At the medical station, where the security guard implored Spanish tourists to scan with their tricorders more slowly, I properly diagnosed a Klingon with heart arrhythmia and was pleased to see he had the anatomically correct eight-chambered heart.
Fun, sure, but I never had the stomach for medicine, even if the 24th-century version is a lot cleaner.
I was secretly hoping that Career Day would find me suitable for command or tactical. I was trying to answer the questions as though I were the dude who has been my moral compass in many a fraught interpersonal situation, and who I definitely prefer to my "real dad": Jean-Luc Picard.
I made Danny do the navigational station for me, so I maybe kind of cheated, but in the end it told me I was supposed to work in Engineering. Go figure. I can't so much as subtract without a calculator, but maybe I threw things off by having Danny plot that course. I will admit that my phaser aiming skills were quite lacking, so I suppose tactical wasn't ever in the cards. But I did kind of desperately want to be told that I'm captain material. Like how you think you don't care which Game of Thrones character you are in bed, but you know if the quiz tells you Edmure Tully, you will probably cut yourself later.
As Danny and I strolled through the exhibit, which largely consists of pieces from the personal collection of Martin Netter, we chatted about which episodes were our favorites and admitted that DS9 was our favorite show, despite generally being accepted as the black sheep of the five. We talked about Ronald D. Moore, who wrote some of the best Battlestar episodes, including one that won the Hugo Award, and cut his teeth working on TNG and blossomed as a writer and producer on DS9, where you can see some of the ideas he later became obsessed with sort of scattered around, especially in the later episodes. Danny seemed to think this was so obvious, I didn't even need to mention it. We talked about which kinds of episodes are our favorites. (His are Q episodes; mine are Klingon politics.)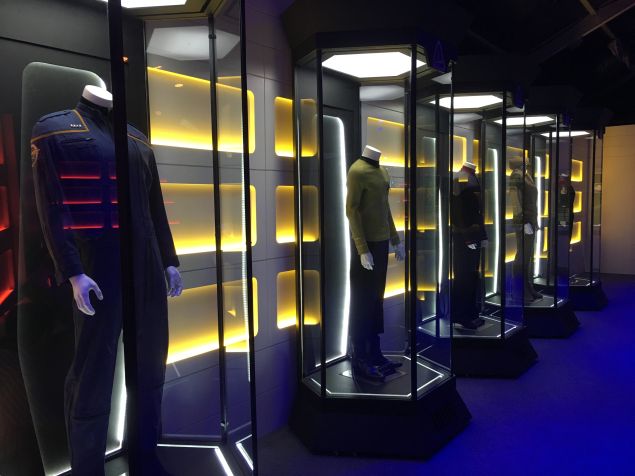 Many of the pieces Netter owns came from auctions and Star Trek conventions, and the TNG pieces look laughably dated—but in a sweet way. You can probably see where an intern painted the NCC-1701 onto the side of something. And sure, having a borg implant Photoshopped onto my face or getting "transported," digitally, are schlocky and silly. I didn't buy the lava lamp that has a Klingon Bird of Prey floating in it from the gift shop, though I wanted the Star Trek Trivial Pursuit cards very badly.
But that wasn't the point, for me, at all. Commercial or otherwise, silly or earnest, what brought me to the exhibit was a chance to see, hear and talk about this show that made my childhood appreciably better. I got that, and I got to spend an hour away from 2016—and its terrorism, unfettered capitalism and police brutality—in the 24th century. It made me—momentarily—excited about the future. That's really hard to do.