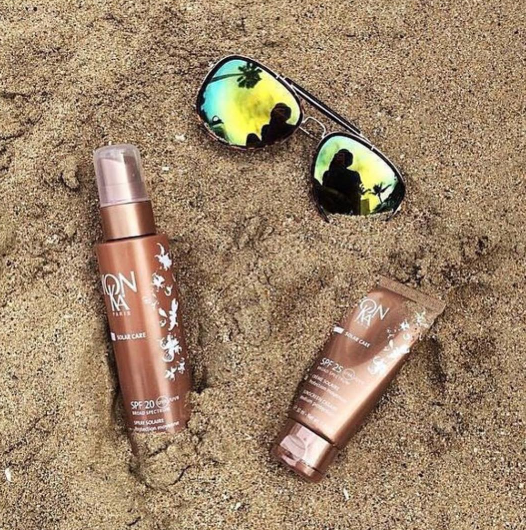 You know that thing where you hear about something and then suddenly it's everywhere you look? Put simply, that's sort of how beauty trends tend to work. The phenomenon has a name—the Baader-Meinhoff phenomenon, and for me, it's been most recently realized in the form of anti-pollution skincare.
Even those of us who don't live in metropolitan areas are constantly exposed to pollution—anything from the filthy "breeze" of a passing subway, car exhaust, sun exposure,  cigarette smoke, and radiation can form free radicals. We're all exposed to free radicals regularly (most simply defined as molecules lacking an electron) — which harm our skin in myriad ways, but specifically contribute to inflammation and the breakdown of collagen (essentially speeding up our skin's aging, which no one wants). To fight them, antioxidants are our most powerful tools.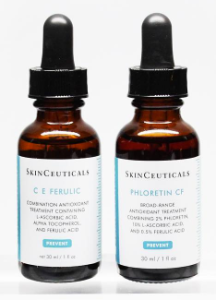 Skincare engineered to combat the negative effects of pollution is (in truth) not an entirely new trend. For example, Skinceuticals's cult-favorite antioxidant serum CE Ferulic (and its lesser known counterpart, Phloretin CF, the correct choice for oilier skin types battling hyperpigmentation) have long protected faces from "environmental damage." For some people, a dose of Vitamin C to the faceis as essential as coffee in the morning. But skincare with anti-pollution front and center, as its main selling point, is quickly proliferating.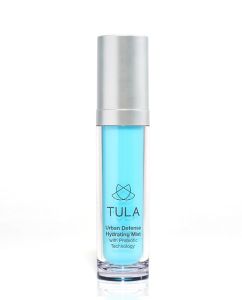 Consider the launches of two new face mists: British line REN's Flash Defence Anti Pollution Mist ($38), which disperses a perfectly-even dew of Biosaccharide Gum, which forms a non-sticky, invisible protective barrier that acts like a second skin to shield skin from the major pollutants. There's also probiotic-based Tula's Urban Defense Hydrating Mist ($28), which feels milkier, almost like a sprayable moisturizer, and contains multistrain probiotic technology. These formulas make it as simple as a pre-lunch-break spritz to fight the natural dangers that await us in our polluted city.
They say that three makes a trend, and right as both of these mists piqued my interest, I learned that a recent obsession of mine, handcrafted line deMamiel, was launching a capsule collection—Atmosphériques aimed at combating this exact modern skin care dilemma in three simple steps. Launched on July 1st, the trio of cleanser, serum, and SPF was met with high demand. Beginning with the Pure Calm Cleansing Dew (£50) a milky oil containing raspberry seed oil, ferulic acid ester and prickly pear seed oil, all of which hydrate and repair the skin. Next up, you'd use the Intense Nurture Antioxidant Elixir (£80), a potent blend designed to disarm free radicals and optimize our skin's capacity, featuring Quercetin to stimulate regeneration and fight oxidative stress. Finally, the Exhale Daily Hydrating Nectar SPF 30 (£75) is a sheer, slightly-tinted moisturizer with SPF—thereby accomplishing the prevent + protect in one final step, prepping your skin for the outdoors, filled with "environmental aggressors," as it is.
Naturally, there are plenty of other options for every step of your skin care regimen. San Francisco-based In Fiore's Soleil Fleur Before Sun Treatment ($70) is packed with ingredients that provide natural sun protection—red raspberry seed oil (again!), pomegranate seed oil, and wheatgerm oil, to name a few. To battle pollution and aging, spring for the luxurious Clark's Botanicals, Cellular Lifting Serum ($355), which uses the rare stem cells of the Swiss Uttwiler Spatlauber apple to defend against free radicals and UV radiation. Of course, after serums come moisturizers and one of the best for the oppressively hot days we've been experiencing of late is Decléor's Hydra Floral Anti-Pollution Hydrating Gel-Cream ($67), an ultra-light moisturizer perfect for days too hot for anything creamy. Yon Ka's Vital Defense ($73) is even more potently anti-aging + anti-pollution, and loaded with vitamins, antioxidant moringa peptides, and hydrating plant glycerin.
When you've made it back into the comfort of the air conditioned indoors, refresh with new ultra-cooling Oxywater ($16) from Swiss brand Task Essential, which you can store in the fridge, and, which, in addition to glacial water, contains rare snow algae and edelweiss to defend against free radicals. In your nighttime routine, you can double-up—adding Dr. Dennis Gross's Ferulic + Retinol Wrinkle Recovery Overnight Serum, ($88) into the mix, which combines two beloved skincare ingredients. The ferulic in fact makes the retinol at once, more potent and more tolerable for sensitive types. That's right: fight acne, wrinkles, and pollution while you sleep.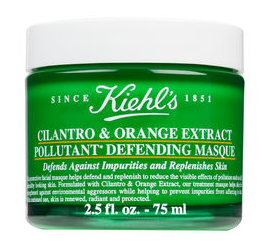 Finally, for an at-home treatment to detoxify after one of those humid days where you can practically feel the city clogging your pores, look no further than Kiehl's on-trend Cilantro & Orange Extract Pollutant Defending Masque ($32), which you can sleep in, for maximum recuperation time.
We're just over halfway through July and the forecast is in the 90s. This is one beauty trend you'll have no regrets about.