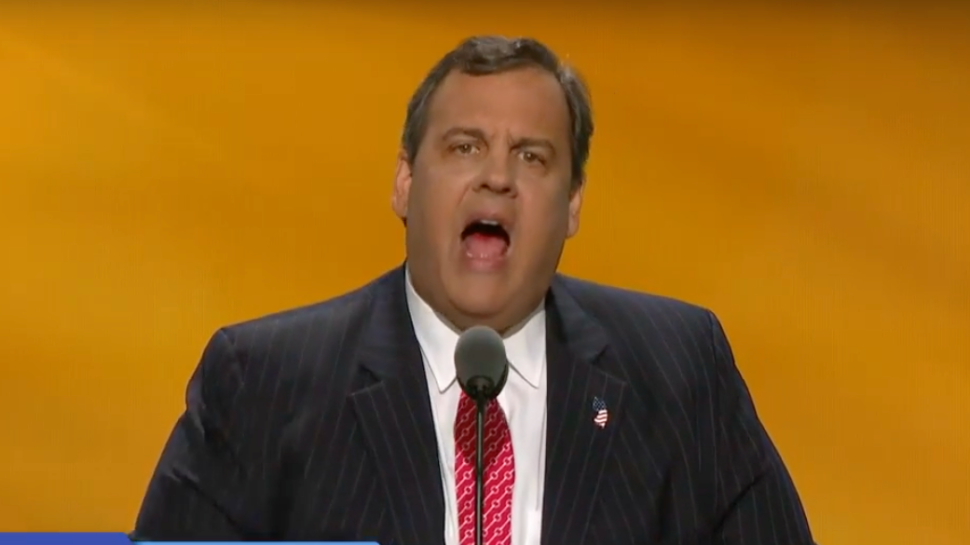 Halfway through Chris Christie's rollicking, delusional screed at the RNC last night, I checked myself. Was there something in the pot I just smoked or was I straight up tripping? Because there I was, on the couch, watching my governor and feeling very much in the throes of a surrealist bad trip.
Irony
When Chris Christie's not fetching Donald Trump's laundry, he's a dutiful attack dog for Trump's campaign. That's no surprise to New Jersey residents who've watched Christie become increasingly rabid these past few years. We watched as Christie ditched his straight-talking, bipartisan shtick in favor of his new role: spewing (another man's) partisan, incoherent invective. For fifteen-and-a-half, awkward minutes, Chris Christie hurled insults at Hillary Clinton. In doing so he worked the blood-thirsty crowd into a frothing, bouillabaisse of rage. It would have been perfect it weren't so damned ironic.
Ironic because here's a man who used state assets (including the busiest bridge on the planet) as weapon to punish enemies, somehow suggesting that Hillary is unfit to lead. Ironic because while Chris Christie was in Cleveland leading the "LOCK HER UP!" choir, his mentor David Samson is poised to spend the rest of his live in jail for allowing Christie to treat the Port Authority and our toll monies like his family store. Ironic because Chris Christie's own (tax-payer funded) Bridgegate legal fees just topped the $10,000,000 mark. And especially ironic because after deleting a dozen or so Bridgegate texts, using his wife's private email account for government work, AND "accidentally" and conveniently losing his cell phone, Chris Christie wants to bray about Hillary's private email server!? Honestly, y'all, I rolled my eyes so hard at that one I nearly fell over backwards!
Christie's knack for irony nearly matches Trump's own. Exhibit A: the same day the GOP doubled down on their collective antipathy for LGBTs, Trump made his convention debut to the musical stylings of a mixed-raced, gender-bending foreign national who died of AIDS, Queen's frontman Freddie Mercury.
Ecstasy
Despite the platitudes that will seem ghastly in retrospect once BridgeGate heads roll, Christie nailed the showmanship bit last night. He's always been good at that sort of thing, and he quickly had the monochromatic, Hillary-hating crowd in a delirium. It was kinda scary watching all that groupthink on TV. Even scarier after pressing mute.
"American presidential campaigns are not typically built around the dream of jailing the opposing candidate," penned Slate's Michelle Goldberg. "Convention planners have not, in the past, staged their events like fantasy show trials. And what we saw on Tuesday night was the delirious loathing of the torch-bearing mob."
An ecstatic, writhing mob.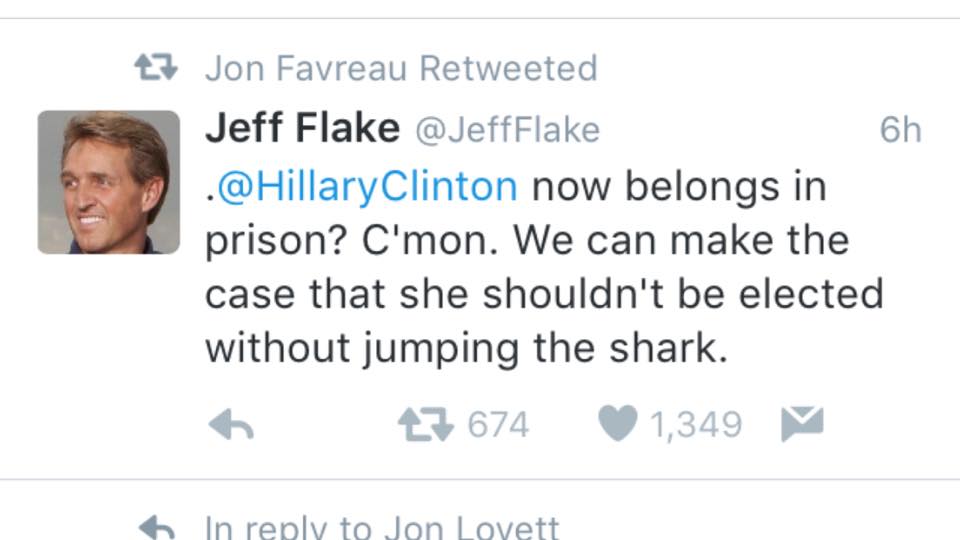 Arizona Senator Jeff Flake, one of the few GOP politicians who hasn't lost his mind, tweeted as much reminding his colleagues that "we (Republicans) can make the case that she shouldn't be elected without jumping the shark."
Or maybe they can't. The convention's only half over. There's still plenty of time left to jump the shark.
Jay Lassiter is an iconoclast, tech savvy media artiste, street warrior for LGBT liberty and marijuana reform, and an un-intimidated presence if the halls of Trenton power as he aggressively pursues liberal causes. He's often at brunch and always on twitter @Jay_Lass.