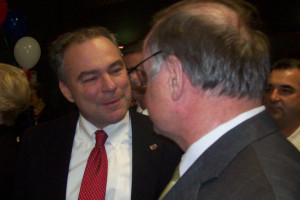 The town of Harrison has that twinkling dusky swampland New Jersey feel, and there, in a subdued but packed Polish National Home on the eve of the 2009 gubernatorial election, then-Virginia Governor Tim Kaine surfaced amid a brace of Hudson County politicians trying to prop up flagging incumbent Governor Jon Corzine.
The mood was grim.
Blocks away in Newark and over in Orange, drive-in movie screen-sized billboards showed Corzine and President Barack Obama accompanied by the slogan "Keep it going." But the images bespoke more of panic than of lasting iconography, as urban turnout models would hardly duplicate statewide presidential election numbers spurred by Obama.
On the heels of the president's stunning and historic 2008 victory, New Jersey Democrats bucked up through the years by the national-level missteps of George W. Bush, finally appeared aware of heady times coming to an end. Amid hot plates of steaming food, Kaine was that so-called national name whom no one knew called in to try to boost morale ahead of what would be Corzine getting squeaked out of office by Republican former U.S. Attorney Chris Christie. The Southern-heeled Kaine had briefly circulated in conversations a year earlier as a potential running mate for Obama, before getting iced out of contention by Senator Joe Biden of Delaware.
In his new role as vice president of the Obama revolution, Biden had already come in twice to New Jersey for Corzine, appearing at the governor's reelection kickoff event – where the sound of stacking empty chairs threatened to blot out Biden's self professed passion for Corzine – and at a labor rally in Atlantic City.
Now it was late in the game and it was Kaine's turn.
Failing to win over Obama's political team for the vice presidential slot, the Virginia governor had received the consolation prize of the Democratic National Committee chairmanship, and the unglamorous task of doing his part to apply shock paddles to the rapidly deteriorating Corzine.
He was the national level guy in the duly lit orange-tinged hall, but something in that packed space of frock coated crumb bums, ward captains, and party pooh-bahs rekindled in Kaine those days when he served in local office."I was the mayor of Richmond, Virginia," the DNC chairman, standing on a junior high school-sized stage next to Corzine and state Senator Nick Sacco (D-32), told the crowd. "I often say, being a mayor is kind of like being a fire hydrant. They need you in an emergency and sometimes they need you for more prosaic purposes."
Kaine made no special demagogic effort to win over the crowd that night.
A day after presumptive Democratic presidential nominee Hillary Clinton formally tapped him as her running mate and rolled him out at a Miami rally, Sacco told PolitickerNJ that Kaine made no impression that night. The phlegmatic senator couldn't really even remember that Kaine was there, which offers little surprising insight. Hudson County is a land of mayors, and county politics hinges on knowing the names of those mayors and knowing how dim or bright each is individually at any given time within the Hudson constellation. People who aren't mayors in Hudson can be properly politically consigned to a world of shapes and colors, and so it was with the future vice presidential candidate. He wasn't a sitting Hudson mayor, and so therefore his stories about being the mayor of Richmond served little purpose.
"We don't know who these people are," a Bayonne source woefully told PolitickerNJ on an afternoon in that same campaign cycle when former Senator Max Cleland showed up at a card party for Corzine.
In a telephone conversation earlier today, former Jersey City Mayor Jerry Healy (picture with Kaine above at the Polish National Home) couldn't speak to any portent of history he experienced while standing in the presence of the mild-mannered Virginian.
Nonetheless, Kaine appeared easygoing that night in the crowd. He was approachable and down-to-earth in an interview with PolitickerNJ.
"I'm Tim," the governor said, offering his hand in friendly greeting, before making his case for Corzine.
"The issue is there are good partners and there are bad partners, and President Obama recognizes the fact that Gov. Corzine is a good partner for the White House," he told PolitickerNJ.com. "I think the governor's opponent is a guy who talks a good game but who's pretty empty ultimately with no economic experience."
Called in to New Jersey that night to shore up the crumbling Corzine, Kaine would go on to watch the Democratic governor lose to Christie and the beginning of a series of events that contributed to the perceived weakening of his party, including the rise of the Tea Party and the Democrats' loss of the House, and the rise of the YouTube hit seeking Christie.
But now Kaine is back on the national scene, with Christie no longer in ascendancy but mired in his own political swampland, this time not as a one day surrogate but in the role of actual ticket mate to a candidate who – like Corzine – elicits considerable skepticism.
As he prepared for this week's convention in Philadelphia, State Democratic Party Chairman John Currie celebrated Clinton's selection of Kaine.
"I'm excited about this young man," Currie told PolitickerNJ. "I see a man with tremendous experience who can step in and be president on the first day. This is a candidate who is very supportive of Secretary Clinton, who bring groups together. I'm entirely impressed with him being totally fluids in Spanish. I think he can help Hillary in Ohio and obviously make a big difference in his home state of Virginia."
Kaine snatched the VP job away from Currie's own junior statewide federal rep: Senator Cory Booker (D-NJ). But the state party chair took that in stride.
"I'm a Cory Booker supporter but I', a realistic political person," Currie said. "The reality is that if Cory goes we lose a senate seat. That's the one thing. When you look at the bulk of experience that he has, Senator Kaine is a great choice. I'm disappointed Cory didn't get it, sure, but I totally understand."