Last week was my first, and last, time at the Four Seasons Restaurant. While I'm a born and bred New Yorker, I never had the fortune of eating at the preferred lunch venue of the city's elite—the first to offer a seasonal menu and California wine when it opened in 1959—while it was still located inside the Seagram building. I hear the pool was nice, the seasonal veggies even better.
Alas, the building's owner Aby Rosen has decided he won't be renewing the restaurant's lease, much to the chagrin of power lunchers and historical preservationists. And so yesterday, the restaurant sold off most of its mid-century modern contents through Chicago's Wright auction house, from tables and chairs to breadbaskets and the beloved cotton candy machine. The Four Seasons will be moving down the street to 280 Park Avenue, where it will reopen in 2017.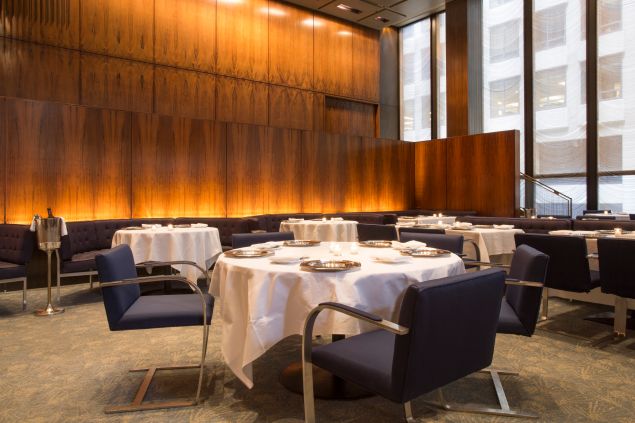 To say people are really, really bummed over this move would be putting it lightly.
"I am protesting Aby Rosen and his Satanism, because he is the devil," Paul Wentworth Engel, curator of the gilded age landmark mansion Harkness House, told the Daily Beast during one of the restaurant's final lunches earlier this month, while wearing velvet slippers decorated with little red devils.
New Yorkers can be a stubborn bunch when it comes to change, but the sentiment surrounding this move was especially somber. Looking around the pool room during the sale preview last week, with its cloth-covered walnut tables and glittering silverware dotted with white stickers like a tag sale, there wasn't a smile to be found among press or staffers alike.
"The [restaurant's] soul is not on the auction block," Four Seasons co-owner Julian Niccolini told media during the preview, while fighting back tears.
Even auctioneer Richard Wright seemed reluctant to celebrate the occasion. "Personally, I wish it was remaining in its original state," he said.
Do rich people have no other place to get lunch? It's not like you won't be able to get $32 tuna carpaccio when the place reopens. Not to diminish a New York institution, but considering the sorry state of world politics at the moment, and the fact that most of the Four Seasons' historic interior space will be left intact by its new occupants, I don't see the big deal. Architect Phyllis Lambert, in her op-ed for the Times, even admitted "It's true that most people, even most New Yorkers, will never set foot in the Four Seasons, let alone eat there."
In the end, none of the moaning and groaning stopped people from buying up the place in bulk at bargain prices. And while co-owner Alex von Bidder, who wasn't allowed to participate in the bidding, pleaded with attendees at the preview, "Maybe you don't buy everything, and then I'll buy one or two pieces," it's unlikely collectors left him any of the good stuff.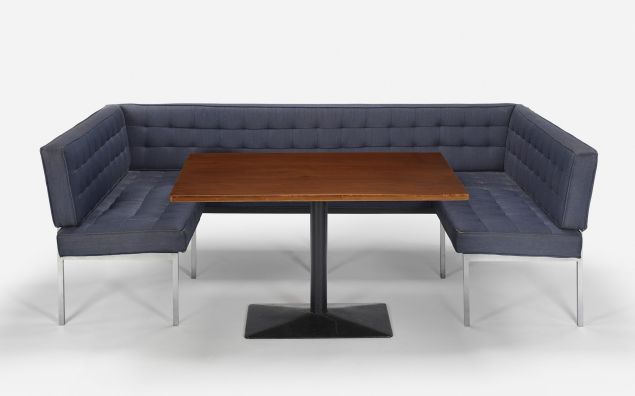 Mies van der Rohe's Barcelona chairs from the entrance lobby sold for more than double their high estimate at $17,000, and two pairs of Eero Saarinen's white Tulip chairs from the Ladies Lounge sold for $3,250 and $3,500, respectively. Even the well-worn sofa from the Ladies Lounge sold for $5,500. (That one seems like an obvious candidate for reupholstery.) There were 51 tables and 23 banquettes designed by the restaurant's architect Philip Johnson on offer, but his personal favorite—table 32, where he dined nearly everyday—sold for $28,000. Emil Antonucci's iconic Four Seasons entrance sign raked in a whopping $96,000.
Among the funkier items on offer—ideal for collectors nostalgic for the restaurant's heyday—were its ashtrays. Smoking was banned in New York City restaurants and bars in 2003, but the Four Seasons miraculously still had 176 china ashtrays laying around, with a unique set for each season. One set of four, estimated between $500 and $700, sold for $10,000.
And so, there you have it. The cigarette-burned couches and tarnished wine coolers of the Four Seasons have found new homes, and so will the restaurant itself in one year's time. In the interim, the restaurant's owners will be getting a much-needed vacation. "After the auction, Von Bidder plans to spend time on the beach in Mexico. Niccolini is hoping to escape up to Maine," according to the Daily Beast.