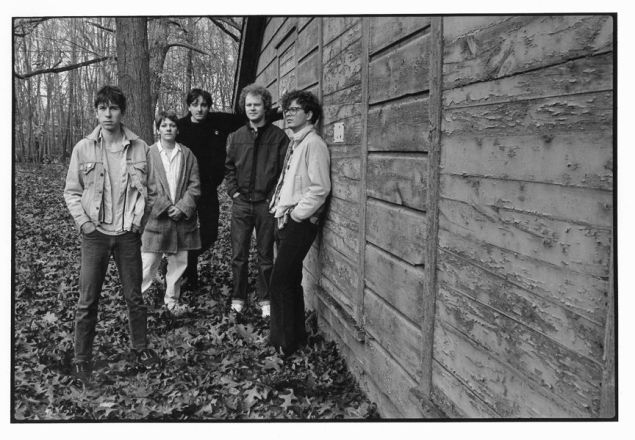 The American underground rock trailblazers who defined the heyday of the 1980s independent scene are a monolith that's spawned piles of biographies. From the Replacements to Hüsker Dü to Yo La Tengo to Sonic Youth to Michael Azerrad's Amerindie bible Our Band Could Be Your Life, the triumphs, trials and tribulations of underground rock stardom are the gift that keeps on giving.
One glaring omission from that pioneering canon? The Feelies.
Formed 40 years ago (they just celebrated that anniversary with two shows in their native New Jersey with their pal Ira Kaplan of Yo La Tengo), the pride of Haledon, N.J.—chief songwriter/guitarist/singer Glenn Mercer and fellow guitarist Bill Million with bassist Brenda Sauter, percussionist Dave Weckerman and drummer Stan Demeski—took their unrequited love for the garage-rock gunk of the Stooges and Modern Lovers, and the Velvet Underground's additive chug and laced it with a dose of speed.
They debuted in 1980 with Crazy Rhythms, a "perpetually nervous," gloriously geeked-out (check out that cover) jangle-punk classic that has been lauded as one of that decade's greatest records and a huge influence on R.E.M.
Notorious for their stroll-like pacing (they waited six long years until releasing Crazy Rhythms' follow-up, 1986's low-key, rustic strum-pop masterpiece The Good Earth, co-produced by Peter Buck of R.E.M), the Feelies were a clean-cut, record collector's cult dream band, their shows at Hoboken's Maxwell's, the spouting of covers on a whim, their offshoot projects like Yung Wu and The Trypes and their appearance in Jonathan Demme's Something Wild all the stuff of legend.
After The Good Earth, the Feelies followed the path of peers like the Replacements and Hüsker Dü, jumping on the major label bandwagon. The pair of albums resulting from their partnership with A & M—1988's folk-centric back-porch rock of Only Life and 1991's guitar jacked-up Time For A Witness—have long been out of print.
Until now.
Continuing its reissue campaign of the Feelies' entire catalog, hometown label Bar/None Records has finally made the N.J. icons' major label era output available, complete with odds and ends including live cuts, a cover of the Stooges' "I Wanna Be Your Dog" and new takes on classics like Only Life's title track.
The Observer recently caught up with bandleader Mercer at his home in New Jersey to talk about the life-changing shows he saw at CBGB's and Mercer Arts Center, what it was like playing with Lou Reed, the re-issued Only Life and Time For A Witness, the Feelies' 16-year hiatus after Million abruptly left the band (and how Sonic Youth persuaded them to reunite in 2008) and 2011's comeback LP, Here Before.
Let's first talk about signing with Coyote for 1986's The Good Earth. How did that go down?
Well, Steve [Fallon] ran Maxwell's so we knew him from Maxwell's and he had the label. That started up in the interim between Crazy Rhythms and The Good Earth. We were kind of on hiatus and involved with the offshoot bands, Yung Wu and The Trypes. Each of those bands did recordings for the Coyote label. It felt really comfortable to us. It was just basically a one-man operation and just real good communication between us and the people there.
How did it come about that Peter Buck of R.E.M. co-produced The Good Earth?
Steve had a party and Peter was there, I was there. I didn't meet him in the party, actually. I left and he ran out and caught me in the hallway leaving the apartment [and said], "Alright. I gotta talk to you before I leave. I'm a big fan of the band and it's great meeting you. I hear you guys are back together. If there's anything I can help you out with in any capacity, just let me know." It was a stay-in-touch kind of thing. I don't know if Steve suggested it but somehow his [Peter's] name came up when we were ready to record. It just seemed like a really good fit.
Then R.E.M. took you guys on tour for Lifes Rich Pageant, right?
It was part of their tour. They did a pretty extensive tour so we did one leg of it. I think it was only about two, three weeks maybe.
[youtube https://www.youtube.com/watch?v=i_9Vlh1OtB8&w=560&h=315]
You must have been playing to big crowds for that tour since R.E.M. was right on the verge of breaking big around that time.
They were pretty big—for us. Our comfort level was being challenged [laughing]. A lot of them were college towns and college shows on campus—they were really good. I think there was one in a hockey arena or something. It was really freezing in there. Somewhere better than others but by and large it went down really well, we had a really good time and it was really helpful to the band.
I assume R.E.M. fans must have been aware of the Feelies, too.
We figured if they weren't then at least there's enough similarities between the bands we had a good chance to winning them over as fans if they hadn't heard of us.
Just two years after that, Only Life was released. How did the Feelies wind up on a major label like A&M?
Well, we were signed to Coyote and Coyote had a deal [with A&M]. I don't think technically we were actually signed to A&M so it was whatever arrangement Coyote had with them.
It wasn't a really hard sell. I don't remember anyone twisting our arm to do it but I don't remember the band being super-ambitious to do it either. The whole climate at the time was very optimistic when you think about it. You had the whole college music scene, I guess you could call it, transitioning from the '70s where it was sort of an underground punk movement and a lot of those bands influenced that second generation coming up in the early '80s, which existed in the framework of the college radio and college market.
[youtube https://www.youtube.com/watch?v=slRbzWYpcTk&w=560&h=315]
We did a tour in 1984—it was our first cross-country tour. We were able to do it because it was really the first time there were non-major markets to consider. Around the time of Crazy Rhythms, you really had Boston, Chicago, the West Coast…a lot of space between the cities so it wasn't really cost-effective to do a cross-country tour.
But by the time you went out in '84, you had a lot of the college towns that had alternative music clubs and if you looked at the college music charts, it really reflected what was starting to happen on the major charts. The major labels started to look at that like, "Well, this is really promising. It looks like those bands are selling a lot of records." So there was a big shift towards, not really exploiting that market, but seeing the potential there and running with it.
Did you feel part of that college-rock scene in the mid-'80s along with bands like the Replacements and Husker Du?
I think we did, as much as we kind of wanted to. We're from a small town in New Jersey, which really, aside from the Hoboken scene, speaks to the situation how small towns and small labels and small bands could exist quite well and almost flourish really.
Did you guys pay attention to those other scenes? The Feelies were linked to R.E.M. but you seemed to be kind of outsiders.
We did shows with a lot of those bands. The Trypes and Yung Wu did a bunch of shows with a lot of those bands and that established a relationship with them. The Trypes did a show at Folk City with The Dream Syndicate and Rain Parade. The Feelies also played with Rain Parade and did a couple of shows with Hüsker Dü. We did one with the Minutemen in California and on one tour—I think it was the '84 tour—The Replacements were basically playing the same tour but they were like two or three days ahead of us. So they'd be leaving town and we'd be pulling into town.
Before A&M, were major labels courting the Feelies at that time? That period was when your peers like The Replacements and Hüsker Dü had signed with the majors and other bands were angling towards that route.
I guess early on, prior to Crazy Rhythms, we had talked to some people at major labels and I think one of the women from one of those labels had gone on to A&M, picked up the torch and championed the cause. We did view them [A&M] as a little bit between independent and major label. They operated, it seemed at least to us, like an independent label would: kind of small, close-knit, almost a family type of atmosphere.
So labels were actually courting you before Crazy Rhythms even came out?
Yeah. Well, if you think back there weren't really lot of independent labels in the late '70s. We had offers from independents to do singles. We had done one with Rough Trade; they wanted to do an album but they didn't have the budget for what we wanted to do. We were pretty ambitious about it. We wanted to be able to experiment in the studio and be in control.
That was a sticking point with a lot of the labels we talked to. They wanted us to have a producer because we really only had done, at that point, the demo and the single.
You weren't into working with a producer in the studio so early on? You wanted to do things on your own?
We did our demo on our own with an engineer and the single came from that. So we didn't have a lot of experience. But we did have one bad experience with a demo. We spent a day recording and the producer said, "Well, you guys go take a dinner break and I'll do a rough mix." We came back from the dinner break and the rough mix just sounded so foreign to the sound we had in our heads.
We made a vow at that point that we would only record if we were allowed to produce ourselves. We always have a co-producer. We're the ones who call the shots.
[youtube https://www.youtube.com/watch?v=Wcr4qVfjyXQ?list=PL0fA4aAteWJG-JulpjpgQG68PsCXC0maH&w=560&h=315]
When you came out with Only Life, did you have expectations of being introduced to a bigger audience?
It was kind of in the back of our minds. We weren't relying on that to happen for the band to exist but at least hoping to reap some rewards of all the playing we were doing at that point.
What about going from working with Peter Buck on The Good Earth to Only Life, which you co-produced with Steven Rinkoff. Did anything change?
Well, it was slightly different on that record because even though we had that bad experience prior to Crazy Rhythms and vowed to never let somebody else in charge, he [Steven Rinkoff] had a big say, I think, in how it came out. We weren't really hands on with that record, compared to the two before then and The Trypes and Yung Wu and consequently all the records we've made.
So that's the only instance where that hasn't been the case and it's probably why, listening back now, it's the one I feel the most detached to—the production. It's got that big '80s kind of drum, big reverb snare. It definitely fit its time and what was being played on the radio.
That was a factor—wanting to get played on the radio more. He would set things up, call us in, we'd go on, listen, make comments and then leave and come and go. It was very bizarre. It was at a big, fancy studio for most of it. We did overdubs in New Jersey where we're pretty comfortable but the basic tracks and mixing were all done in New York at The Power Station.
The Feelies also opened up for Lou Reed around the time of Only Life and he had the New York album out.
Yeah, that was our support for Only Life.
Lou had the New York record out at that time, right? What was that experience like?
We did the whole tour. That was pretty long. It's a funny story, the way we met was we were invited to perform at a radio station Christmas party in Long Island and to entice us to come and play, which we probably wouldn't have because it was around the holidays, they said, "Oh, well, there's gonna be a lot of cool people there, Joey Ramone, Joan Jett, Lou Reed." Somebody jokingly said, "Well, we'll do it if Lou comes up and play with us," and they said, "Great idea! We'll get back to ya." They got back to us and said, "Lou, he's heard your version of 'What Goes On,' he really likes the band and he'll be glad to come up and play."
Basically, we met him five minutes before going on stage. I think we were only gonna play one song but it turned into a handful of songs. We were backstage barnstorming like, "We'll do this, let's do that." I think we were like, "We gotta do 'Sweet Jane' and Brenda was like, 'I don't know if I know that one' and we were like, 'Well, it doesn't really matter. We're still playing it!' " [Laughing]
[youtube https://www.youtube.com/watch?v=clzpX_hUQfc&w=560&h=315]
What was going through your heads that you were actually playing with Lou Reed?
Its kind of mind blowing because it ["Sweet Jane"] was one of the first songs I ever learned to play and suddenly I'm playing it onstage with the guy who wrote it. It was weird because he didn't want to sing and he said, "No, no, I'll just play guitar. You sing." We started out doing that and I felt really uncomfortable, singing his songs and he's standing right behind me like, "this isn't right."
I kept motioning for him to come up and he did and he took over and everything fell into place. But because of that, he had been planning the tour and he invited us to open up for the whole tour. He came out and played with us the last night at the Universal Amphitheater.
What song did you guys and Lou play?
Oh, boy. I think it was "What Goes On."
Did you get to hang with Lou on that tour?
We'd have dinner together. We didn't really hang out too much. He invited us up to his place in Blairstown to fish but that never happened [laughing]. It's kind of like, "It's the end of the tour, let's keep in touch." But obviously you're never gonna hear from him again.
I imagine you must have seen Lou in concert when you were younger?
Yeah, especially Bill and I, we were huge Velvet Underground fans. They infused our whole way we approach the band and guitar playing. I had seen him, I think, what might have been his first solo show. He was promoting the Transformer record at Alice Tully Hall Lincoln Center. I saw the Rock and Roll Animal tour and I think that's about it. Bill had seen the Velvet Underground.
Whoa. You didn't see them in concert?
The Velvets? No.
What's the story behind Bill seeing VU?
They had a summer residency at Max's Kansas City. That live album was recorded during that so they played, I don't know how many nights a week for several months, I would think.
When you were a kid growing up in New Jersey, did you trek into Manhattan and frequent CBGB and Max's, seeing bands?
Yeah, we weren't really kids though at that point. Pretty early on at CBGB's. I don't recall when I first went to Max's Kansas City—it was probably mid-'70s.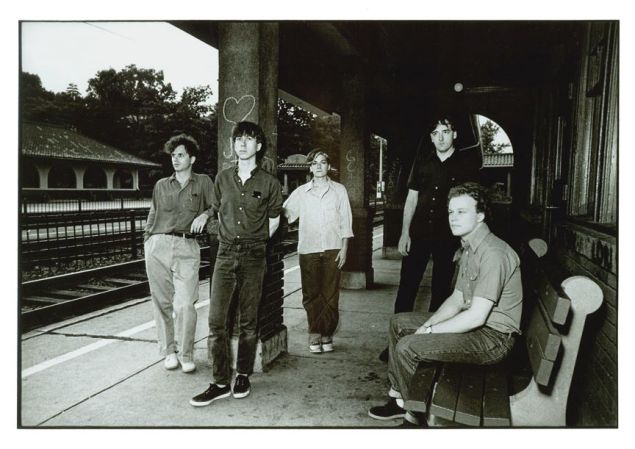 Did you see Television and the Ramones?
I saw Television's very first show. Although their first show didn't register with me, I subsequently became a fan after seeing them about a year later. I think that when I first saw them they were still in the process of getting their sound together.
I saw KISS' second show; I think it was their first in Manhattan. It was funny because they didn't have costumes; it was low budget. They had like black T-shirts. They had the makeup but they had no smoke bombs, no pyro. It was just like their family and they had the kids with their faces painted so they had the idea of the KISS Army right from the beginning. But I thought they sucked.
I saw them after that when they started to get the stage show and I still thought they sucked. I just put it up because it was what was going on in New York and things you could see.
Were you into the New York Dolls?
Oh, definitely. Bill and I, we didn't go together to the show but we were both there. It was New Year's Eve 1972 when the Modern Lovers opened for the New York Dolls. That was life changing, really. Seeing the Modern Lovers, it was like the changing of the guard: New York Dolls representing the '70s and Modern Lovers were ushering in a new era.
Where was that show?
This place called the Mercer Arts Center. That was my first time seeing the Dolls; I saw them a few times after that.
You mentioned earlier about having reservations about the production of Only Life. What's your take on how Time For A Witness sounds like after all these years? It's got a burly, guitar-heavy sound.
That was a record where we had a pretty clear-cut direction in mind when we got to the studio and the first record where we did extensive demoing.
We recorded here in my house in the basement. I think it was a way to get in touch with our roots and look back to things that inspired us early on. It's why we put the Stooges song on there. Our roots are really garage-rock, basement garage-rock. It was also a knee-jerk reaction to Only Life where we wanted to make it as organic as possible so we basically set up the way we do live, recorded everything live and wound up keeping a lot of the solos and stuff.
Bill left the band sometime in '92. What actually happened there?
We had several shows at Maxwell's and he just left after the set. We got a call from the manager saying he's not going to play tonight. We all thought, "Well, let's give it a couple of hours and see what happens." But no, we didn't play. Maybe a month or two passed and I heard, I think from Stan, that he had talked to Bill and he was considering playing again. So that's why, when he did move [to Florida], it kind of just came up from out of the blue.
There was never anything big and dramatic like, "I'm quitting the band," or, "I'll never play with you guys again and you did this and you did that." No bridges were burned, it was as civil as something like that could be really. I think we all had the idea in the back of our mind that we would do something at some point. I think we were surprised at how long it took, but…
Were any of you in contact with Bill over those years the Feelies weren't active?
For a long time, no, we didn't speak at all, really just because there was no reason to. There were some business things that came up—I think it was a request to use a song either in a movie or some licensing type thing. I think I got in touch with him about that and I found out he had been coming up to New Jersey with his son, who was going to Princeton at the time.
So there was a casual little offer for him to stop by if he wanted to jam any time, no pressure, doesn't have to be a show, just get together to play. Then we started being in touch more and things just started happening. We would get more requests to use the songs, requests to reissue the records and requests to play. The internet was also a big factor—we could monitor the interest of the band through the internet.
[youtube https://www.youtube.com/watch?v=NOLND0dKtCk&w=420&h=315]
How did Sonic Youth actually coax you into reforming to open up that July 4 show at Battery Park in 2008?
Dave and I, we were doing something. It might have been a Wake Ooloo show…no, I think we were done at that point. It might have just been playing with somebody else, maybe Yo La Tengo, sitting in with them.
I forget exactly how it was but we were at Maxwell's and I think it was Eric, their [Sonic Youth's] booking agent just came down to the dressing room and he's like, "Sonic Youth want you to do this show and whatever it'll take they'll do it, you know, you just have to tell us whatever obstacles would prevent it." We were like, "We'll do it, yeah. But it's really up to Bill."
I think when we proposed the idea, never in a million years we thought it would actually happen. Then as it got closer to the deadline when they needed to know, I just got an email from Bill saying, "Let's do it."
Were you friends with Sonic Youth?
No, never met any of 'em.
Wow. After all those years of the Feelies and Sonic Youth being active at the same time and playing shows in New York and at Maxwell's?
I think when they were coming up, we were sorta not playing in New York as much.
So the Feelies and SY never played a show together before that July 4 gig?
No, but actually we did one after that as well. We played in Boston.
[youtube https://www.youtube.com/watch?v=7HXwDlrnQZQ&w=560&h=315]
I hear you guys are working on new material. What can you tell us about the new Feelies record?
I guess similar to our approach to Time For A Witness, we had a pretty strong idea what we wanted before we went into this. We made demos of all the songs, and like the demos, we tried to get as close to that as possible and then in some of the instances where we couldn't, we took some of the stuff from the demo.
It was done here [in the basement of my house] and off the clock so it was definitely more relaxed than it would have been in the regular studio. But it took a lot of time. We're still working on it and just putting a lot of effort into it to get it right.
When do you foresee the new record coming out?
We're hoping to have it out this year, at the end of the year.
On Bar/None?
Yeah. This is the first time our whole catalog is available in one place. That was a goal of ours for a while.
Notwithstanding the break you guys took from 1992 to 2008, the Feelies and Yo La Tengo have outlasted so many bands…
Well, the reason we did is because of the break. I kind of doubt we would have played continuously…I don't know.
Do you have a secret to the Feelies' longevity?
It's the pacing. It definitely has to do with pacing and just finding what's comfortable when you try to maintain a certain comfort level.
The Feelies play a free concert at Central Park SummerStage on Monday, July 18 with Beach Fossils.