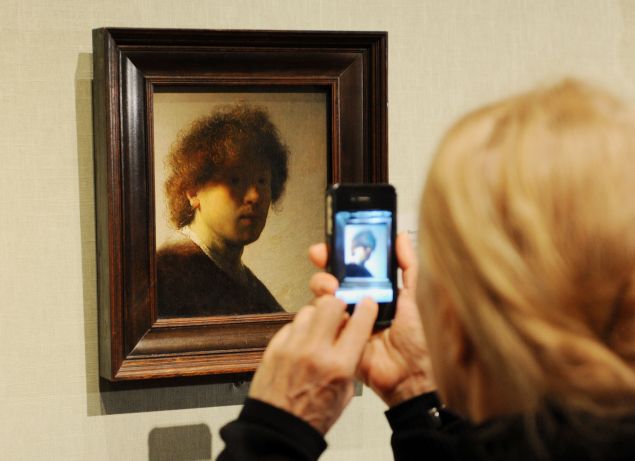 There's now a Tinder for art. And thankfully, you don't need the art to like you back to get it to your place.
New app wydr launched in January and is seeking to democratize art buying by applying Tinder's swiping interface to the judgment of pieces. In a nutshell, wydr takes the things we love about Tinder, such as the ability to determine interest based on a thumbnail sized photo, and applies it to paintings. wydr makes it possible to view and judge the aesthetics of many pictures in a short period of time (for better or for worse), but unlike the dating app, using wydr doesn't go hand in hand with a slow erosion of your self-esteem caused by a horrifyingly lopsided like to match ratio (all the art is DTS—down to ship).
Developed in Switzerland, the goal is to take the business of art out of galleries and empower artists and buyers to make deals themselves. Artists upload pictures of original works to the platform, along with prices, and users can create "galleries" of the art they like by swiping right. They can then put pieces in their shopping carts and make purchases while wydr pays global shipping fees and takes a 30 percent commission.
"Artists get feedback on what users like, and users see what's hot," wydr co-founder Matthias Dörner told TechCruch. "Art Galleries are for the 1 percent, wydr for the 99 percent."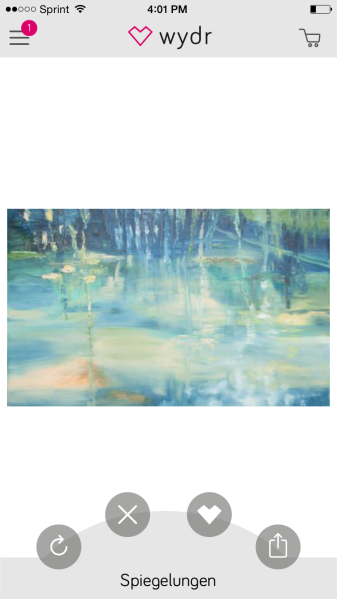 While that 99 percent number seems a bit high (what percentage of people actually buy original works of art?), there is clearly a democratizing force at play on wydr that is starting to attract users. Dörner told TechCrunch there are currently 400 artists uploading 100 new works per week for a user base "in the five digits." Forty percent of first-time users return, he added. Those users can also rate works according to a one-to-five scale (with hearts!), and ratings are aggregated into a community score. But art buyers aren't beholden to the tastes of the community at large: according to the company website, the app also learns your tastes and personalizes its recommendations.
The obvious problem with buying art over an app is the same problem with dating over an app: what if the pictures don't properly represent the painting? Art on wyndr isn't that cheap—I found prices north of $5,000. With this in mind, Dörner assured TechCrunch that the return rate was less than 3 percent and that users can use their desktops to go to wydr.co and view pieces on a large screen.
So now that you have an easy way to decorate your place, you can now go work on finding somebody to share it with. If only there was a decent app for that.