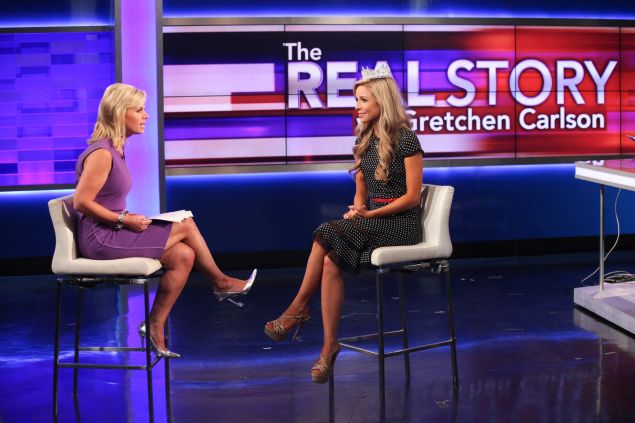 Where is Gretchen Carlson when we need her?
The former Fox News Channel anchor was fired late last month by Fox News emperor Roger Ailes. This prompted a lawsuit by Carlson last week charging sexual harassment against Ailes. He and his lawyer have denied her charge.
"'I think you and I should have had a sexual relationship a long time ago,'" Ailes told Carlson late last year, according to Carlson's lawsuit. "Carlson rebuffed Ailes' sexual demands at that meeting, and nine months later, Ailes ended her career at Fox."
But could there be more to it than just sex? Nine days before she was fired, Carlson said something unusual for Fox News and something rarely heard anywhere in recent days since a Dallas sniper killed five police officers and wounded seven more with a semi-automatic assault rifle Thursday night.
Her words that June day were the kind that could get an employee blacklisted at the right-wing "news" network.
"The assault weapon ban in this country should be reinstated," Carlson said near the end of her 2 p.m. show, The Real Story with Gretchen Carlson, on June 14. "Maybe it's time for more of us to start getting real, to try to come together and actually get things done."
At the time, Carlson was referring to the Orlando massacre that left 49 people dead in a gay night club.
But her words could have applied to last Thursday's slaughter by an African-American man in Dallas who, before police killed him with a bomb-toting robot, said he was acting in support of the Black Lives Matter group that protests the recent killings of black men by white cops.
One black man's death by police bullets came Tuesday in Louisiana; the other came Wednesday in Minnesota. Both deaths were recorded by mobile phones. The videos were shown and discussed extensively by most news networks not named Fox.
"Everyone is so damned silo-ed," said Brian Stelter, who hosts CNN's Reliable Sources, which critiques the media.
He was referring to narrowly focused news consumers who know where to go to get affirmation of their core beliefs.
"I don't know if Fox News viewers even knew about these police shootings in detail," Stelter said.
Carlson also said something interesting on June 21, two days before her firing.
The former Miss America reported that it was her 50th birthday, not the sort of thing that is celebrated at a company preferring its women on camera to be young, blond and shapely—wearing short, sleeveless, red dresses. Cleavage is optional but never discouraged.
"You might as well own it and be happy," Carlson said of her age. "And, boy, do I have so much to be grateful for."
Her lawsuit was big news for Stelter, who devoted the first half of his allotted hour to the story and interviewed several commentators.
"This was a bombshell," Stelter said of Carlson's lawsuit.
One of his guests was Gabriel Sherman of New York Magazine whose 2014 book about Ailes—The Loudest Voice in the Room—detailed allegations of sexual harassment by Ailes over decades. On Saturday, Sherman published a story that quoted other women who said they were victims of Ailes.
Sherman said the women he talked to were "incredibly credible." He quoted two by their real names and gave four others anonymity.
"This happens to be the biggest story in media," he said.
Stelter added: "We've not heard from Megyn Kelly, the highest-profile host at Fox News."
One vaguely worded-portion of Carlson's lawsuit said Carlson didn't get promoted like "other Fox News hosts who did not complain about harassment and rebuff his sexual advances."
Another female Fox host, Greta van Susteren, issued a statement saying no such thing ever happened to her and she was unaware of it happening to anyone.
Sherman compared the charges against Ailes to those in 2004 when a female Fox producer charged Bill O'Reilly—host of The O'Reilly Factor—with sexual harassment for what read like a transcription of a telephone conversation in which O'Reilly gratified himself while speaking her.
"During the course of O'REILLY'S telephone monologue on August 2, 2004, he suggested that Plaintiff ANDREA MACKRIS purchase a vibrator and name it," her lawsuit said. "It became apparent that the Defendant was masturbating as he spoke."
That suit was settled out of court; no terms were announced but Mackris apparently received financial gratification. It might not go so easily for Ailes, Stelter and his guests said, because the Murdoch family is not as enamored with Ailes as it once was.
Might Rupert Murdoch's two sons—James and Lachlan—be out to get Ailes as they take over the company?
'When you say 'Black Lives Matter,' that's inherently racist . . . that's anti-American and it's racist.'
Critic David Zurawick of the Baltimore Sun warned Carlson and her lawyers: "Fox has a very sophisticated, very aggressive, even very nasty operation where they attack opponents."
Ailes founded Fox News 20 years ago. Ironically, it made its first major impression when President Bill Clinton was discovered to have had sexual relations with an intern. Later, Ailes—a former aide to President Richard Nixon—helped President George W. Bush start a ghastly war in Iraq.
"This is his channel," Zurawick said. "It's built on his ego . . . They will fall apart if he's not in the lead . . . the culture of that network seems to be his personality."
Media correspondent David Folkenflik of NPR said "Fox is really on the defensive and really taking incoming fire." Unlike in the O'Reilly case, he said outside counsel will investigate Carlson's charges on behalf of Fox.
"This gets it out of internal control," Folkenflik said, adding that the Murdochs "are being quieter than silent . . . How do they cover this issue?"
That question was answered on Fox News on Media Buzz Sunday, when host Howard Kurtz devoted an entire two minutes and 30 seconds to the story in the middle of his show. He summarized Carlson's charges without showing her picture or putting up her printed words up as a full-screen quote.
For Ailes, Kurtz showed his boss's picture and printed out his words. "Gretchen Carlson's allegations are false," Ailes said. "This is a retaliatory suit." Unlike other stories, this one did not merit comment from Kurtz's many panelists—which is curious in that most of them were women.
Kurtz spent far more time on the scandalous email scandals of scandal-plagued Democratic presidential candidate Hillary Clinton, a scandalous story that has scandalized almost everyone at Fox, although no charges were brought against Clinton for using a private email server.
Kurtz's producers also found time to run a few quotes from one of the recent rants of Republican presidential candidate Donald Trump.
"They call CNN the 'Clinton News Network,'" Trump said. "How sick are they? I have to say Fox is tough on me. Bill O'Reilly. A lot of those guys. But at least they're fair. Ya know? They're tough but they're fair."
Kurtz reported that Trump is now boycotting many news outlets but has appeared on Fox or its business channel 20 times since June 1.
Hand me the remote . . .
FACE THE NATION John Dickerson wanted to have as one of his guests DeRay Mckesson, a leader of Black Lives Matter—but he was in jail in Baton Rouge after being arrested at Saturday's demonstration.
Mckesson showed his arrest with his cell phone camera live on the Internet and Dickerson played it Sunday. Although you couldn't see them, you could hear the sound of the handcuffs clicking into place.
Mayor Mike Rawlings of Dallas said it is hard to pick out the good guys and the bad guys in a gunfight in Texas where regular citizens walk around legally with rifles.
"It sure took our eye off the ball for a moment," he said.
But Rawlings was just a warmup act for former New York mayor Rudy Giuliani, who started well enough, acknowledging that whites must realize that African-American men have a fear of being confronted by the police because of "some of these incidents."
Then he changed his tone.
"There's too much violence in the black community," Giuliani said.
Regarding Black Lives Matter, Giuliani said "How and what are they doing among themselves about the crime in the black community?" He said the organization didn't care about 14 murders in Chicago over the Fourth of July holiday.
GIULIANI: "When they talk about killing police officers—"
DICKERSON: "But they don't."
GIULIANI: "They sure do. They sing rap songs about killing police officers. Talk about killing police officers and they yell out at their rallies and the reality—"
DICKERSON: "But Mr. Mayor, what you seem to be doing is taking—"
GIULIANI: "Please, please let me finish. And when you say 'Black Lives Matter,' that's inherently racist . . . that's anti-American and it's racist."
Giuliani was just getting warmed up. Dickerson, a soft-spoken interviewer, was shouted down.
"All of you in the media make it much bigger than the black kid who's getting killed in Chicago every 14 hours," he said. "You create a disproportion. The police understand it and it puts a target on their back. Every cop in America will tell you that if you ask them."
Later, regarding Giuliani's words, Jeff Pegues of CBS said "It shows that he has . . . a lack of understanding of what the root of the problem is. There is a history of mistrust." Wesley Lowery of The Washington Post said Giuliani should not have said black men are almost never killed by police.
"That's just not true," Lowery said. "When we start having this conversation of about black-on-black crime and murder we conflate two things because a criminal killing someone is not the same as the state, the government, a police officer, killing someone."
STATE OF THE UNION CNN host Jake Tapper has the good common sense to stop talking when an important guest discusses important things.
Such was the case Sunday when he interviewed Dallas police Chief David Brown by remote camera.
Brown said the cop-killer with the semi-automatic assault rifle "wrote some lettering in blood on the walls" from his wounds before police sent in the robot with the bomb to blow him to bits.
"What did he write?" Tapper asked.
"We are trying to decipher that," Brown said.
He confirmed that the killer said he would negotiate only with black officers but criticized leaks of this information.
"You're getting in the way of us doing our job," the chief said to the leakers. "So stop it!"
Because Texas allows people to carry guns openly, Brown said several such people were at the protest rally before the cops were killed.
He said as many as 30 people "were wearing AR-15 rifles slung across their shoulder. They were wearing gas masks. They were wearing bullet-proof vests and camo fatigues for effect for whatever reason. Doesn't make sense to us, but that's their right in Texas."
Because of this, the chief said, these people were immediate suspects when bullets started flying at the cops. Once they figured out there was just one gunner and he was holed up in a parking garage, negotiations began.
"He just basically lied to us," Brown said. "Playing games. Laughing at us. Singing. Asking how many did he get and he wanted to kill some more."
Tapper gently pursued the irony and human interest of Brown's personal life story. One of Brown's former partners died of gun violence, Tapper said, and so did Brown's brother. Brown's son also fatally shot a cop and another man before being killed in a confrontation with police.
"How have these experiences shaped you?" Tapper asked Brown.
Brown avoided a deep discussion of this, saying he would rather talk about bravery and service of his officers.
"I'm a servant at my core. I enjoy serving people," he said. "I'm a person of faith . . . I'm a Christian . . . Service is part of my direction and loving people, despite themselves, is something I aspire to . . . I'm flawed, though, like many of us."
He wore tinted glasses and his uniform and spoke in a blunt, confident cop cadence with a slight echo of Jack Webb on "Dragnet." Brown praised his cops for exposing themselves to bullets to protect the demonstrators and to ascertain where the shots were coming from.
"I'm just making a plea to this country to stand up as a silent majority and show your support for these people to keep them encouraged to protect you," Brown said. "I'm saying this from the heart. I hope I'm not lecturing too much . . . We just need to hear from the protesters back to us 'We appreciate the work you do for us.'"
When the interview ended, Brown said neither "Thank you" nor "You're welcome" to Tapper and the audience. Instead, he said "God Bless," as if at the end of an inspired and eloquent sermon.
THIS WEEK On the ABC show, Martha Raddatz subbed for George Stephanopoulos and spoke with Sgt. Willie Ford, a black Dallas cop, who said he fears for his sons and his grandsons when they encounter white police.
When a white detective, Ron Pinkston, said his sons were equally at risk, Ford said, politely, "I think it's hard for you to understand unless you've gone through it and, historically, even I've gone through that . . . This happened to me. Those things for us in the African-American community are significant events. They are traumatic events. You just have to be compassionate . . . but still do your job."
Backing him up was Pierre Thomas, ABC's senior justice correspondent who is black. Before personal video, it was one man's word against that of a police officer.
"When police make mistakes, they are much more likely to be caught on tape," Thomas said. "And the view we're getting sometimes is ugly. We're seeing that some of the biases that African-Americans have been complaining about for years are, in fact, real."
Doris Kearns Goodwin, the presidential historian, said increased access to video is changing the debate.
"We saw these people dying on Facebook," she said. "It makes you feel this tension now, which has always been there. But maybe now there's a visceral level."
In discussing "The Talk" that black fathers have with their sons about dealing with cops, Byron Pitts of ABC said "Black folk have been having 'The Talk' since 1619, the day we African slaves arrived in this country."
Sunny Hostin—a lawyer and social commentator for ABC—added: "My kid—my black son—can die at a two-and-a-half times greater rate" than white boys and "that's not the same discussion that white parents have with their children."
FOX NEWS SUNDAY Shannon Brown subbed for host Chris Wallace and one of her early clips was of President Obama discussing gun safety. "If you care about the safety of our police officers, you can't set aside the gun issue and pretend that's irrelevant," Obama said.
Sleepy-eyed Ben Carson—Trump's cool black-guy friend—said "now is definitely not the time to get political." Jesse Jackson recalled the Rodney King beating of 1991 that led to the Los Angeles riot of 1992 when the police were exonerated in court despite video of obvious cruelty to a black motorist.
Without mentioning the National Rifle Association and Congress people who are terrified of them, Jackson added:
"With these military-style weapons on the streets, this thing could get much uglier. There is fear. Police are in fear. The people are in fear. Children are in fear. But fear and hate must not drive our agenda. Love, hope and healing must drive the agenda. More guns make us less safe, not more safe, and not more secure."
In the panel discussion, they talked of how Clinton might push for a public option added to the health-care plan. Fox—fair and balanced as always—showed an opposing message from "America Rising Squared."
"Desperate to win over the Warren-Sanders crew that deeply distrusts her, Secretary Clinton is willing to adopt even the most extreme left-wing views as her own," it said. "There is quite literally nothing she won't do or say to fit in today's modern Democratic Socialist Party."
One of the show's best moments came late, a Fox News Poll question: "Does this word describe Donald Trump?" There were two choices: "Hot-headed" and "Obnoxious." "Hot-headed "was chosen by 89 percent of those surveyed; "Obnoxious" finished at 83 per cent.
Trump's good friend from Alabama, Republican Senator Jeff Sessions, talked of meetings Trump has had with Republicans on the Hill because "Nothing has been working for him." He praised Trump for frankness and directness.
"This is a strong man," Sessions said. "He is not a timid wall flower."
MEET THE PRESS Along with the other four of the Big Five shows, NBC host Chuck Todd interviewed New York police commissioner Bill Bratton and Homeland Security secretary Jeh Johnson, who sat for all the interviews at the Gotham waterfront with the Statue of Liberty between them in the distance.
Bratton confirmed that he rejected an attempted stunt by Trump, who wanted to address NYPD officers at roll call on Friday.
"We turned down that request," Bratton said. "We don't allow the department to be politicized."
The most outspoken panelist was Michael Eric Dyson, a Georgetown University professor who said some white cops sometimes lack "any sense of civility when it comes to the interaction" with black men.
"It is an unconscious inclination to see that black person differently . . . to have greater fear," he said.
Dyson said black cops have the same fears as other black men when they are pulled over when out of uniform by white cops.
Another panelist, Michael Gerson of The Washington Post, said Trump has risen to prominence by criticizing "the other," people not like white men, people who are to be feared on sight.
"We have a conservative media in parts right now that has a white identity message," he said. "All this is deeply destructive." Dyson said Trump "speaks to a vicious undercurrent of racism."
The discussion ended on a strange scene of conservative operative Mary Matalin kissing liberal Washington Post columnist Eugene Robinson on the cheek.
On camera it looked impulsive and a bit awkward but sincere in its symbolism. It would ruin the warmth of that moment to remember that, 100 years ago, in certain parts of our nation, such behavior could have gotten at least one of them lynched.
Disclosure: Donald Trump is the father-in-law of Jared Kushner, the publisher of Observer Media.