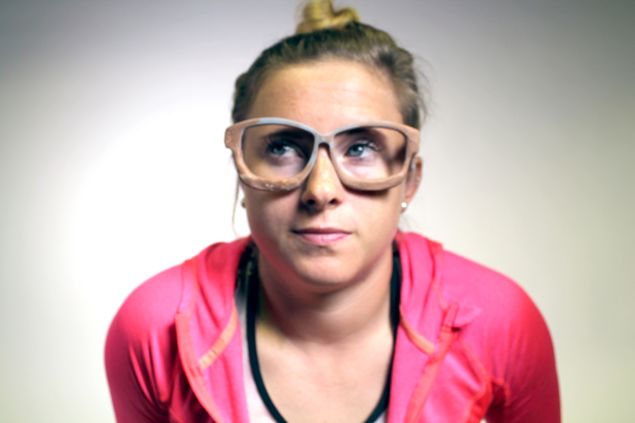 Hearing loss has become a silent but real problem in American schools—14 percent of children suffer from hearing problems that could put them one to four grades behind if left untreated.
A Philadelphia-based startup named Olive Devices has come up with a 21st century alternative to hearing aids to combat this problem. The company has developed smart glasses that caption conversations for children who are deaf or hard of hearing.
Renee Kakareka, the founder, CEO and designer of Olive Devices, first became conscious of hearing problems in first grade, when she learned American Sign Language to communicate with classmates who were deaf and hard of hearing.
"It hurt their ability to learn and be in social situations," she told the Observer.
Fast forward to Kakareka's junior year as an industrial design student at Philadelphia University, when she was working with an occupational therapist and had to communicate with a client who was deaf and therefore couldn't speak over the phone.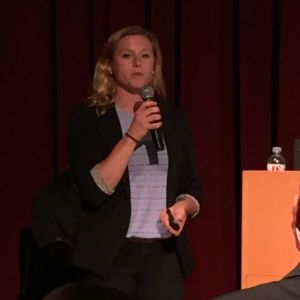 At the same time, one of Kakareka's friends, a speech-language pathology major, was looking into how Google Glass (or an equivalent that looked less creepy) could be used to communicate with deaf people.
"We looked at critiques of Google Glass and saw that our product would need a less obtrusive design," Kakareka said. "It had to be sleeker and slimmer."
In the end they came up with a carbon fiber material specially formulated to conduct sound waves.
Once the design of the glasses was complete, Kakareka consulted with teachers from her elementary school to get feedback on their needs in terms of deaf education. She then developed the glasses so they would fit those needs.
The final product, which debuted in January and was featured at last week's TechBreakfast Startup Spectacular in New York, features real-time captioning on a hovering display in front of the eye. While Olive's glasses are able to take in multiple conversations at one time, they also show the direction of sound so students know where to look when responding. Crucially, the product (at least in the prototype stage) is controlled by the kids themselves.
Kakareka is planning to focus group the device in schools this coming academic year, tweaking the product based on their feedback.
She is also developing a mobile app to supplement the glasses—a beta version should be ready by the end of this year. The app would allow students to edit and categorize captions into different subject areas—they can also make notes and receive progress reports from instructors. Teachers would be able to track students' progress, answer their questions and personalize lessons for their needs.
Once her first product is fully refined, Kakareka wants to adapt the glasses for students with auditory processing disorder (APD), who can hear but have difficulty understanding or processing speech. She is also looking into applications for disorders like autism and Alzheimer's disease, which have a hearing loss component.
Whatever disease Olive's glasses help treat, however, Kakareka said she hoped they would offer an "olive branch" to people with hearing loss.
"We want to be a helping hand," she said.