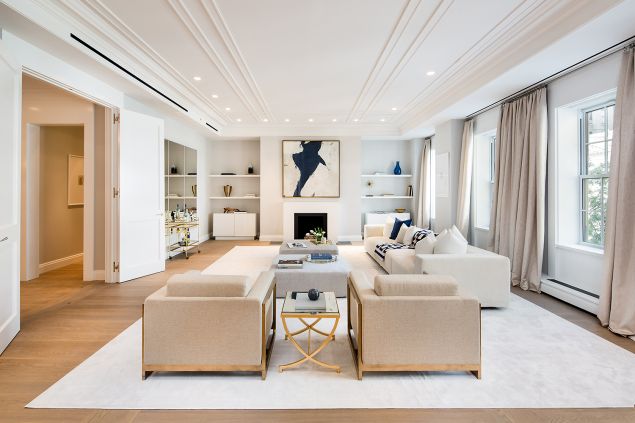 The stifling heat of a recent July afternoon did not seem to bother those darting about the streets of the Upper East Side but made the Observer especially grateful for the near-Arctic air in the lobby of 40 East 72nd Street.
"There are only six units," in this Axia Development rental-to-condo conversion, said Sotheby's International Realty broker Patricia Wheatley as she entered the elevator.
"All the interiors are designed by Jacques Grange," Wheatley added, stepping from the private landing into the foyer of the floor-through condo, which she, Nikki Field and Nicole Kotovos are listing for $11.9 million.
"It's prewar substance, but with a sleeker, modern line to it," Wheatley noted, gesturing to the wood-burning fireplace in the living room. Four windows look out onto 72nd Street, and white plaster moldings on the 10.5-foot ceilings are "reminiscent of a coffered ceiling," Wheatley suggested. "But not as heavy!"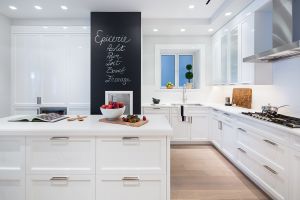 A room accessible through sliding pocket doors "could be a family room or a formal dining room," Wheatley noted; they also lead to the eat-in kitchen. "It's very clean, simple," she added of the Caesarstone countertops and glossy white lacquer cabinets, but then again: "This is our super-duper trash shoot," Wheatley gestured to the silver addition on one wall. "It also recycles! You click the bottom for newspapers, and it'll go into a separate bin—you can do the same for recyclables, plastic cans and so on."
The three bedrooms are on the opposite side of the fourth-floor, 3,132-square-foot abode, and each of the two guest bedrooms has en-suite blue de savoie marble bathrooms. Both have balconies—one faces south and provides an almost perfectly centered look, from a distance, at the much-ballyhooed 432 Park tower.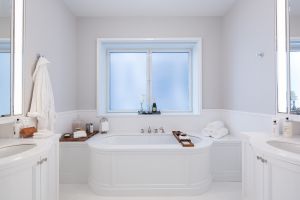 The master suite features two walk-in closets, while the white marble bathroom has herringbone-patterned floors and double sinks. A marble soaking tub is the centerpiece, with a separate shower.
The 45-square-foot balcony in the master faces south, toward the back of iconic 740 Park. "They have the same views," Wheatley pointed out, motioning toward the windows of the apartment, "so if it's good enough for 740 Park, it's good enough for here!" she said with a laugh.