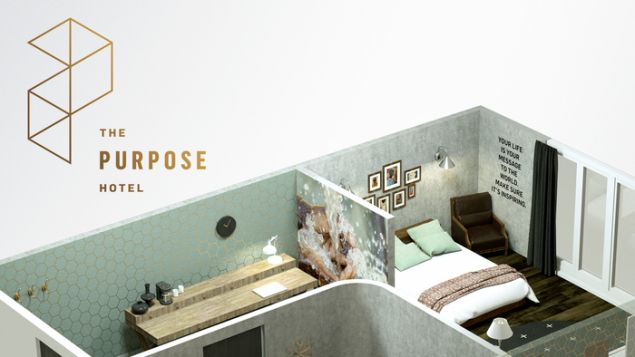 Sometimes we travel for escape and sometimes we travel to feel more connected to the world. Sometimes we travel for both at the same time.
The Purpose Hotel, which launched a $2 million, 45-day Kickstarter campaign on Tuesday and raised more than $100,000 in its first day, wants to combine vacation and virtue in a game-changing way.
The project is the brainchild of celebrity photographer Jeremy Cowart, who is looking to launch the first Purpose Hotel in Nashville. Cowart (whose photography portfolio includes Taylor Swift, Carrie Underwood, Sting, Heidi Klum, Emma Stone, Ryan Seacrest and many other A-listers) imagines a place where every transaction benefits a greater good and amenities are reminders of what the world needs.
He's in discussion with many nonprofits about partnering on the hotel, and his ideas include working with The Giving Keys, an organization that employs the homeless, on room keys. Cowart's friendly with Scott Harrison of Charity: Water, so he envisions a Charity: Water well in the lobby, where "kids can pump water and learn about clean water." (Cowart, who has two biological children and two adopted children, wants his hotel to be both luxurious and family-friendly.)
"When you pay an Internet fee, that money is going to fight against human trafficking," Cowart says, elaborating on potential ways the Purpose Hotel could contribute to society. "When you order room service, a percentage is going to food for the hungry or creating jobs for them."
Cowart wants hotel revenue to be used to sponsor children, giving underserved communities necessities and perhaps access to life-changing technology. He imagines having products like soaps, shampoos and blankets from Nashville's Thistle Farms, which offers shelter and work to women who've escaped abuse, addiction and prostitution. He'd like to have a Purpose store in the hotel that sells items from socially conscious groups, like gum and snacks from Project 7.
Cowart's traveled to more than 25 countries in the last decade and been involved in international philanthropy with the Help-Portrait organization he co-founded, which takes, prints and delivers photos of the needy. But it was a visit to the Standard hotel in downtown Los Angeles four years ago that triggered his desire to create his own hotel.
'Hotels could do so much more—look so much cooler, help so many more people, be more creative, be more inspiring.'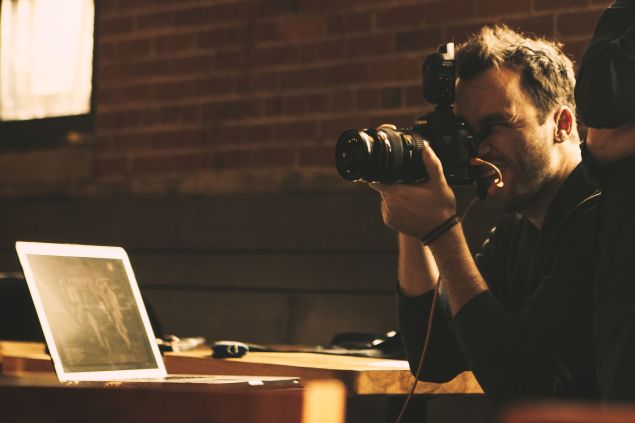 "It was a random moment," says Cowart, who was at the Standard for a photo shoot. "The room number was designed like a name tag."
It said, "Hello, my name is 121," which triggered this "crazy idea," Cowart remembers.
What if there was a hotel room—an entire hotel actually—that really told a story. And what if that story involved bettering the lives of people around the world?
"It's just amazing," Cowart says. "I never dreamt of building a hotel or going into the hospitality industry. I thought it was quite boring. I thought hotels could do so much more, they could look so much cooler, help so many more people, be more creative, be more inspiring."
So now Cowart's hoping the masses will share in his vision of creating a more inspirational hotel and a brand that could expand to many major cities if Nashville goes well.
Obviously, he'll need much more than $2 million to build even one hotel, so he's embarking on both a fundraising campaign and a social-awareness campaign. It's not unlike what Roy Choi and Daniel Patterson's Locol fast-food chain did with its successful $100,000 IndieGogo campaign. They knew that the money they were asking for was just a tiny fraction of what they would ultimately need, but they also knew that every little bit helps when you're trying to start a revolution.
"Certainly, it works for marketing," Cowart says of his Kickstarter campaign. "I'm getting hammered with emails from all kinds of people: nonprofits, architects, designers. We just have to see how it goes in these 45 days. The dream is to make as much as we can via Kickstarter. We already have people who want to get involved as investors. We'll just chat with everybody and see how it all plays out."
If Cowart does indeed get to create a hotel, he wants it to be a place for everyone.
"I know it's hard to be all things to all people, but this is truly at its core about humanity," he says when I ask about being simultaneously chic and child-friendly. "I'm hoping for that reason that this will draw all ages, all skin colors, all belief systems. The hotel is a blender of all my passions: art, creativity, philanthropy, entrepreneurship, technology, design and community. It's really all those things together."