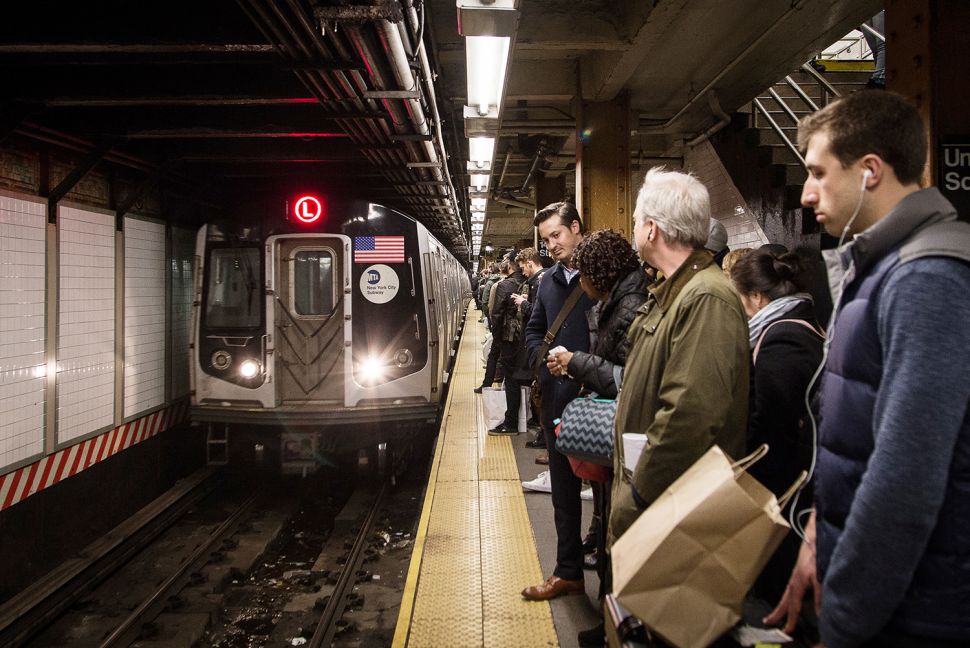 Subway riders who waited months to hear what fate will befall the L train got their answer on Monday, when the Metropolitan Transportation Authority announced that the Canarsie tunnel that runs under the East River will close for 18 months, starting in 2019. As a result, the L will no longer run between Manhattan's Eighth Avenue station and Brooklyn's Bedford Avenue station, though it will still operate within Brooklyn itself.
The closure will allow the MTA to fix the damage to the tunnel caused by Superstorm Sandy.
"Throughout our extensive outreach process and review, it became clear that the 18-month closure was the best construction option and offered the least amount of pain to customers for the shortest period of time," New York City Transit President Veronique Hakim said in a press release.
Of course, "least amount of pain" is a relative term, particularly for the approximately 225,000 New Yorkers who ride the L train every day, many of them commuters to Manhattan. And where there are transit issues, real estate is affected, too.
For Anna Mullin, a current Bushwick resident who has lived in Brooklyn for nearly two years, and commutes to her job in midtown via the L, the shutdown creates a number of issues. "I take the subway everyday and everywhere, and I commute on the L," Mullin told the Observer. "Luckily, I'm only about a 10 minute walk from the M, so if I still live in the same apartment in a few years time, I can just take the M to work instead!"
Like others, Mullin is concerned about what the MTA will do to deal with the influx of riders who will have to use the alternate trains during the shutdown.
"The few times I have taken the M to work, it takes an additional 20 to 30 minutes, and it gets pretty crowded," Mullin pointed out. "I can't imagine how it could accommodate all the L passengers trying to squeeze on!"
"It's going to have a profound impact on the residential real estate market [in Williamsburg]," Douglas Elliman broker Doug Bowen told the Observer. "It'll impact the rental market more than the sales market, though I do think that the uncertainty surrounding this will have an impact on residential sales. My gut tells me we're going to see a fall out so much as 20 to 25 percent in the residential real estate market," he said.
"Williamsburg will be less in-demand if it doesn't have the prime transportation that makes it the neighborhood it is," he declared.
"The talk of the L closure has already disrupted the rental and sales markets in Williamsburg," Compass broker Jessica Fields agreed. "Buyers may be even more reluctant now to buy a home in the area given the L shutdown," she noted. "But then again, the city has a year and a half to come up with some transportation alternatives that may rectify the situation….As necessity is the mother of invention, I wouldn't be surprised to see some businesses popping up to make commutes easier."
Most who understand the L train shutdown situation agree that the need for alternate routes is one of the more pressing issues at hand, and some are touting transportation like ferry boats and shuttles as essentially negating any issues that might arise from the subway closure.
"People need to have alternate routes," Andrew Barrocas, CEO of real estate brokerage MNS, concurred. "I think there are going to be a lot more shuttles and buses—they haven't announced exactly what it'll be in terms of moving people across, but there will be water taxis," he said. As of today, however, the MTA has only confirmed they are "starting the process" of development alternate service plans during the L train shutdown, including expanding service for the M, J, and G trains in order to accommodate the increase in riders, per a press release. It doesn't appear that options like expanded ferry service and B39 bus service over the Williamsburg Bridge have been finalized.
In-demand neighborhoods that aren't entirely dependent on the L train will likely benefit from the closure, with hopeful Brooklynites heading to areas like downtown Brooklyn, in particular, which has seen plenty of new condo development and boasts excellent subway options.
"I think the people who are psyched about this are the developers in downtown Brooklyn, with all those towers being built. They are stoked," Bowen laughed, "because they're going to get a huge infusion of people who still want the Brooklyn lifestyle. Downtown Brooklyn will start to gain some traction," he opined.
"Non-L train neighborhoods in Brooklyn—particularly prime ones—will of course stand to benefit, as the transportation question will not play a role in decision-making," Andrew Bradfield, principle of Orange Management Inc., said.
But, for some Brooklyn residents, certain advantages still outweigh any potential inconvenience caused by the closure, which is seen as still being somewhat further in the future.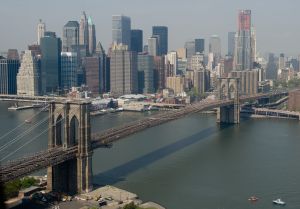 "When looking for my next apartment, Brooklyn, and Bushwick in particular, became the most practical option for me in terms of size and price," Carson Eisenhart, who recently signed a lease for an apartment in Bushwick, told the Observer. "The space I just signed a lease on is a few minutes from the L, and would be directly affected by the L shutdown," he added. Despite knowing the area will be impacted by the shutdown, he's confident that he'll have the time to figure it out—plus, there's the MTA's reputation with its (lack of) timeliness for past projects.
"Every time I read the news, the MTA seems to be changing the timeline," Eisenhart pointed out. "With all the transportation options New Yorkers now have, I'm not concerned about one train line possibly closing at some undefined point in the future."
"If somebody is moving to New York City for a year, or two years, around 2019, they might think twice about living there because of the subway," Barrocas said. "But it's just a hiccup—there's a ton going on in Williamsburg, and people don't commute into Manhattan like they used to. People are not going to leave the neighborhood they love because of this."
While it seems that many Brooklyn residents would like to agree, when the L train closure does finally take place, some Brooklynites are aware they might have to make some changes.
"I love the neighborhood I live in and I don't want to leave, but my plans will ultimately be decided by where I'm working when this starts in 2019," Mullin said. "If I need to get into the city on daily basis, it will definitely affect where I decide to move."
"Eighteen months is a significant amount of time," she acknowledged. "Maybe [I'll] move to Greenpoint to be closer to the G…at least I have some time to really start thinking about it!"