Despite a broken air conditioner (which is devastating in the July heat) and still without a cash drawer, Owen & Fred, an American men's design brand, has finally opened its first brick and mortar store in Soho.
Dubbed a "soft launch" by the brand's founder, Michael Arnot, the men's gift company can now revel in the concrete tangibility that is has offered more than 450 other retailers across the country. Launching in 2012 as an e-commerce site, the brand has a GQ reporter to thank—somewhat—for its eventual skyrocketing success.
"I was very fortunate to have a fair amount of chutzpah and no idea what I was doing," Arnot said of starting the company on nothing more than a $5,000 credit card and small workspace in Greenpoint. There's a family tie to the brand: Arnot affectionately named the company after his own sons, Owen, 11, and Fred, 6.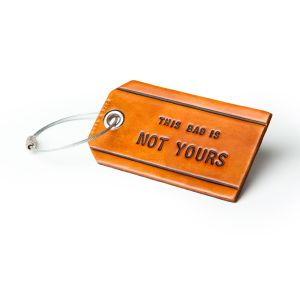 What started as a simple search for a wallet that was both manly and durable, Arnot, who hails from Canada, could only find options that were "frilly or had too many buttons." Years after quitting his corporate attorney job and working as the head of marketing for an e-book startup, Arnot resolved to create a solution to his own problem. The result was the wallet of his dreams, followed by a set of leather luggage tags.
"I ultimately thought that I could be a little bit more creative with what I was doing in real practice," Arnot said. "And I've always wanted to build a company and do something really different."
Arnot's PR strategy of cold emailing magazine editors was what landed Owen & Fred, then only in its first year, in GQ's 2012 "Best Of" issue. Shortly after, retail heavyweights like Nordstrom and J.Crew started stocking his products. Suffering from a certain blindness about what it meant to really serve customers from a brick and mortar perspective, Arnot felt it was time to nail the brand's own entrance into physical permanence with the hopes of better serving the company's growing number of retail accounts.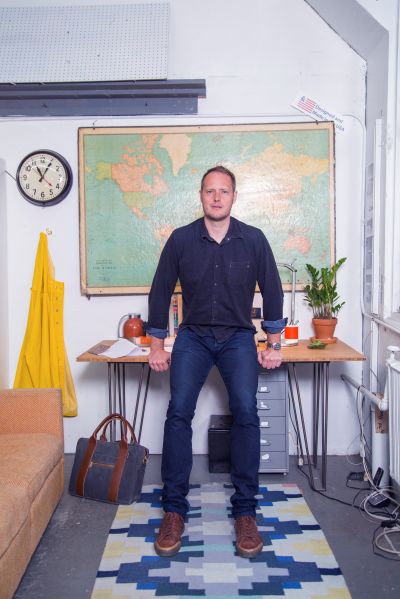 For fears of not wanting to "overly Brooklyn the brand," Arnot settled on a Soho location, though the brand's headquarters still remain in the outer borough. Choosing Manhattan reflected an option for flexibility and longevity, both of which are cornerstones of this accessory line. That desire for longevity was paramount to the brand's founder, in order to withstand the ebbs and flows of a trendy fashion scene—a fashion realm, which he is fervently against joining.
"We try not to be overly pretentious, you know?" Arnot said. "I think that's a big part of it. We're not a fashion company but we do play in the fashion space. …With fashion, it's sort of like do something interesting and cool and it's very trendy and then we die. And I don't want that. I want something very long term."
If Arnot is the ideal Owen & Fred shopper, their man is blunt yet friendly, straightforward and creative, and definitely curious. Teaching himself to draw—"you really need to use your whole arm" he tells me—shows a sign of his intellectual inquisitiveness, which he infuses in his creations. Each item in the Owen & Fred collection features a witty phrase in their signature charming font. Coasters are printed with the phrase: "You earned it," (which Arnot notes is grammatically incorrect, but they've stuck with it anyway) and money clips engraved with "It's only money," are just a few of the wordy gems. On Arnot's favorite weekender bag, a demure "Hi" patch is sewn into the flipside of the brand's outer label, a trademark only the most attentive customers would find.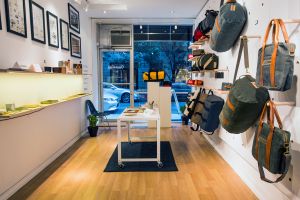 "Because only curious people will flip this [bag] upside down and see that it says 'Hi.' If you're not curious and you're not interesting you won't flip it over," Arnot said.
The products, though, are simple and fresh in design, equally loved by men shopping for themselves and women shopping for the men in their lives. Standouts from the line include official NFL football leather coasters for the ultimate sporty guy and a ½ pound sand casted bottle opener for a post work drink. The business card holder, another one of Arnot's favorites, was inspired by his former attorney days, though he doesn't "care about law" anymore.
With waxy travel bags, barware inspired by a trip to a Louisville bourbon factory and a collection of metal desk tchotchkes to match Arnot's favorite card holder, Owen & Fred products are distinctly masculine. And with heavy use of tough materials like concrete and steel, Arnot has made a conscious effort to keep his manufacturing entirely in the United States.
"It's not like patriotic thing per se," he said. "It's just a lot easier and more interesting to work with domestic manufacturers."
In August, his domestic manufactures will produce a new men's grooming line appropriately dubbed "You Dirty Dog." Though the sun is quickly setting on the dog days of summer, Arnot is already thinking ahead. Owen & Fred will debut at Restoration Hardware and Bloomingdale's come fall.
And as the brand approaches its fifth birthday, Arnot's enthusiasm for his brand's retail presence has remained seemingly unwavering.
"[It's] fucking exciting. It's a real moment of pride."
Owen & Fred is located at 230 Mulberry Street.