Sadly for the vast majority of us, the colorful, bar cart-filled offices of Mad Men exist only in Don Draper's world—and also during Netflix binge marathons. For those seeking a present-day alternative to dreary corporate boardrooms, the newly opened MEET on Bowery is here to save you.
Husband-and-wife team Sara and Marc Schiller created MEET, which offers a fresh take on the everyday conference room. "MEET emerged from our shared experiences," Sara Schiller told the Observer. "Marc founded the digital strategy agency Bond Strategy and Influence, and I worked for years in the hotel industry. We realized that there was a need for expertise to produce creative business meetings for executives."
"The idea actually began in our Wooster Street loft apartment, where Marc chose to host clients," Schiller continued. "We knew that we would be able to customize the space and create the vibe that we wanted there. From this, we then decided to develop a venue where our clients could gather to re-invent their business, re-design a product, or pitch potential business."
In 2008, the first iteration of MEET was opened as the Apartment on Crosby Street, "replacing the barriers of the standard boardroom table with soft seating, natural light, authentic design featuring authentic and evocative art, and terrific service," Schiller said. The pair then custom designed a flagship location, MEET on Chrystie, followed by their newest space at 161 Bowery. The most recent MEET space is made up of a penthouse loft, a class-enclosed "breakout room," and a roof garden. There's a street art-inspired drip wall, a living plant-based installation, and custom tables, designed with wallpaper from Brooklyn's Flavor Paper.
The full-service locale includes all necessary meeting supplies and a personal concierge. While we haven't spotted the full bar cart set-up Don Draper and Roger Sterling love so much, there is beer on tap from Bronx Brewery, as well as wine and cheese served at the end of the day, perhaps to eat and drink whilst enjoying the rooftop terrace.
For those interested, the price to rent MEET on Bowery for a full-day meeting starts at $2,500— though of course there are add-ons, if one so desires. While the actual indoor conference room-slash-meeting space can accommodate 36 people, if one wishes to hold a larger cocktail gathering throughout the entirety of the space, up to 74 guests can attend.
"It was also important that we diversify our offerings for our clients, so this space has a very different look from Chrystie Street and meets different needs," Schiller pointed out. "At Bowery, we decided to custom design tables for our clients who would need them for a training day, and we made sure there was lots of great natural light, as well as access to outdoor space in our roof garden."
There's also a "meditation lounge," where the couple looked to a past trip to Nepal for inspiration, adding hand-painted buddhas as well as other artwork and artifacts from the destination to the room, as well as draping silk fabric from the ceiling. We think this room would have been much appreciated by those in the Sterling Cooper office–they all seemed a bit high strung.
Back to 2016 and the Bowery, the Schillers decided it would be best to express certain aspects of the neighborhood within the interior design aesthetic of the locale. "The inspiration for the design is drawn from the Lower East Side neighborhood," Schiller said. "We wanted to tap into the vibrant graffiti and street art that colors the streets, as well as the amazing art that Shepard Fairy and Space Invader placed on the side of our building," she explained.
The space's primary use is for "strategy and brainstorming sessions," Schiller said. "We host many agencies and their clients, as well as leadership teams from Fortune 500 companies," she added. Indeed, past companies who have used the space include American Express, Google, and NBC Universal.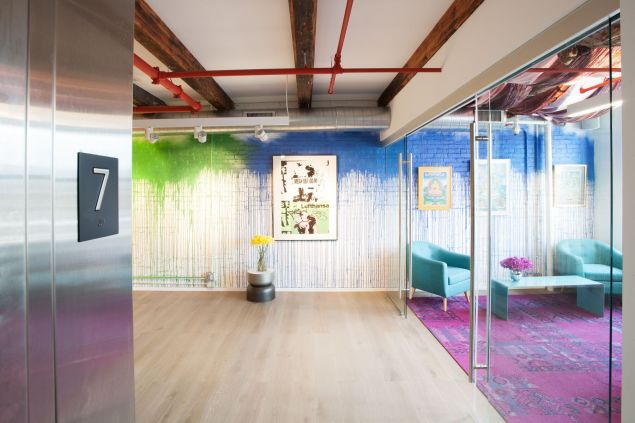 "MEET on Bowery…is in the center of New York City's faster growing area," Schiller opined, noting new restaurants, stores, and boutique hotels in the neighborhood. "We have found that New Yorkers like getting out of their day-to-day neighborhood to explore areas that are filled with energy."
And for those who might not be feeling the Bowery vibes, maybe it's time to consider the "secret" locations MEET offers, which it doesn't publicly advertise–apparently, they're exclusive boardrooms, lofts, and unique homes in the city, for a "signature experience." Don Draper would definitely approve.