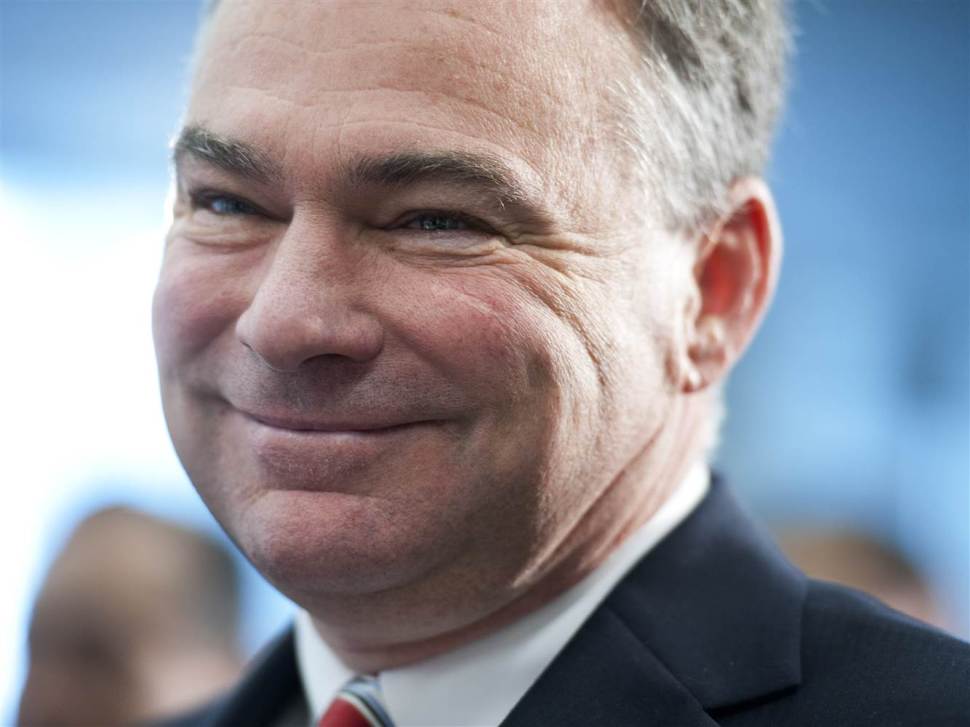 "In my view, Tim Kaine is a political superstar. He is an excellent campaigner, whose positions are center – left. Kaine has virtually no significant baggage. In fact, I'll go on the record now and predict that if Hillary Clinton is the Democratic presidential nominee, she will select Tim Kaine as her vice presidential running mate."
– Alan Steinberg, PolitickerNJ Column, December 24, 2014
Throughout the 2016 presidential campaign, I consistently made wrong predictions about the Republican campaign.  With regard to the Democrats, however, I was right on the money with my prediction of a Clinton-Kaine ticket.
I believe that Tim Kaine will play a vital role in enhancing the election prospects of Hillary Clinton, due to four factors.
First, during his entire career as a Governor and U.S. Senator from Virginia and as Democratic National Committee Chair, Tim Kaine has never even had a hint of scandal.
Second, Kaine has superb executive branch experience as a governor and legislative experience as a U.S. Senator.   He is highly prepared to take office as president if Hillary Clinton is unable to complete her term.
Third, his service as DNC chair gives him familiarity with the politics of virtually all states.
The major asset Kaine provides Clinton, however, is the role he will play as the principle campaign spokesperson in pursuing an "Atlantic Coast Conference" strategy of carrying his home state of Virginia and the neighboring state of North Carolina.  Victory in these two states will put the ClintonKaine campaign within a hairsbreadth of the 270 electoral votes needed for victory.  The following breakdown of the current Electoral College status of each candidate explains this.
Each candidate has an Electoral College base of states which they are almost certain to carry.   The following nineteen states and the District of Columbia, all of which were won by Barack Obama in 2012, comprise Hillary Clinton's Electoral College base:
California (55), Colorado (9), Connecticut (7), Delaware (3), District of Columbia (3), Hawaii (4) , Illinois (20), Maine (4), Maryland (10) , Massachusetts (11), Michigan (16), Minnesota (10), New York (29), New Jersey (14), New Mexico (5), Oregon (7), Rhode Island (4), Vermont (3), Washington (12) , Wisconsin (10)
TOTAL CLINTON BASE ELECTORAL VOTES:  236
The following 23 states, all of which were won by Mitt Romney in 2012, comprise Donald Trump's Electoral College base:
Alabama (9), Alaska (3), Arkansas (6), Arizon a (11), Georgia (16), Idaho (4), Indiana (11), Kansas (6), Kentucky (8), Louisiana (8), Mississippi (6), Missouri (10), Montana (3), Nebraska (5), North Dakota (3), Oklahoma (7), South Carolina (9), South Dako ta (3), Tennessee (11), Texas (3 8), Utah (6), West Virginia (5), Wyoming (3 )
TOTAL TRUMP BASE ELECTORAL VOTES:  191
The following are the eight swing states, one of which, North Carolina, was won by Mitt Romney in 2012 and the rest won by Barack Obama in that campaign:
Florida (29), Iowa (6), Nevada (6), New Hampshire (4), North Carolina (15), Ohio (18), Pennsylvania (20), Virg inia (13 )
TOTAL SWING STATE ELECTORAL VOTES:  111
If the Clinton-Kaine ticket carries Virginia and North Carolina, they will have 264 electoral votes, and victory in just one of the following swing states will return the Clinton family to 1600 Pennsylvania Avenue:  Florida, Iowa, Nevada, Ohio, Pennsylvania.
The role of Tim Kaine in Virginia is clear:  He is a highly popular figure in the Old Dominion State.   In a close Virginia race, his popularity should prove to be decisive.
In North Carolina, one of the more controversial aspects of the Kaine record will be a major positive:  his record of supporting expanded free trade.  The burgeoning high technology sector of North Carolina benefits from both expanded free trade and immigration, and the Trump policies of restricted trade and immigration are anathema to both high technology management and workers.  The Kaine message in North Carolina is a winner.
The selection of Lyndon Johnson by John F. Kennedy as his running mate in 1960 enabled the Democrats to retain Texas and the Old Confederacy, giving the JFK-LBJ ticket their narrow victory.  The selection of Tim Kaine by Hillary Clinton and its enhancement of the Atlantic Coast Conference strategy may well prove to be the most significant vice presidential pick on the Democratic side since 1960 in terms of election impact.
In baseball terms, the JFK selection of LBJ was a home run, comparable to the 1951 home run of Bobby Thomson that won the pennant for the then-New York Giants and broke the hearts of Brooklyn Dodger fans.  The selection of Tim Kaine may not be a Bobby Thompson, but it may turn out to be at least a Bill Mazeroski, the man whose home run won the World Series for the Pittsburgh Pirates in 1960 over the New York Yankees, a home run from which my good friend and die-hard Yankees fan, Nick Acocella, has never recovered.
Alan J. Steinberg served as Regional Administrator of Region 2 EPA during the administration of f ormer President George W. Bush and as Executive Director of the New Jersey Meadowlands Commission under former New Jersey Governor Christie Whitman.