Go to almost any museum, and you'll find exhibitions that are tributes to the discernment of this or that wealthy collector. Yet much of what's collected are the same new (or slightly old) things that you find at the same galleries, art fairs or auctions.
Not so at the Hessel Museum of Art at Bard College, which is displaying an archive of the occult assembled by the artist Tony Oursler. Oursler fuses these images and the stories that they told (and still tell) in his own films that venture into the contested territory of supernaturalism. Those are also now on view at the Museum of Modern Art (through January 2, 2017) and at Bard.
Long on the contemporary scene, Oursler is best-known (among a wide range of work) for his installations of speaking mouths and other imagery of the disembodied. In recent years, he's turned toward films that explore the visual and emotional palette of the occult—in color, for a Brechtian effect, just in case audiences don't notice the parody. Imponderable, the latest of those films, was commissioned (as was a huge book on his archive) by the LUMA Foundation and first shown in Arles, France, last year.
Imponderable: The Archives of Tony Oursler is a title that warns of a fearsome unknown or of dark truths that might be too much for mere mortals. As with everything else in the show, assume that there's a punchline in there somewhere.
It's better to think of the exhibition as an improbable monument to American credulity—ranging from stylish Jazz Age iconography to tabloid grime—where the sum of its parts is greater than the whole film into which those parts are distilled. There are almost as many miracles documented here (and skewered skeptically) as you'll find at Lourdes. And the Hessel Museum, 90 minutes up the Hudson, is an easy pilgrimage away from New York City.
Oursler's archive is a tour through more than a century of wish fulfillment. To reach the two galleries where angels in photographs are arranged in vitrines alongside Bigfoot and UFOs, you pass through a room where a short version of the film Imponderable distills enough spiritualist themes to fill a haunted house.
The full 90-minute version of Imponderable (the most complete) is now playing at the Museum of Modern Art in Manhattan. Some archival ephemera is on view at MoMA in a gallery that leads into the screening room, but some 680 works make the Bard show encyclopedic in comparison, if an encyclopedia can be assembled from flea markets and junk shops. (Not that this is exactly arte povera, more arte paranormal.)
And Oursler doesn't just come at his vast subject by curiosity. He assembled the archive, now some 3,000 objects, but its roots go deeper. Oursler (born Charles Fulton Oursler III) is the grandson of Charles Fulton Oursler, a writer and magician with the self-given mission of debunking spiritualist charlatanism. Harry Houdini, who delighted in explaining the secrets behind sleight of hand, was another noted debunker.
Under the name Samri Frikell, Fulton Oursler wrote the book Spirit Mediums Exposed (1930), in which he declared "I am the foe of fakery, of charlatanism, of hoodwinkers, of wonder-mongers, of miracle pretenders — of BUNK. And
 of all the low-down creatures 
in the world, the religious faker, the scoundrel that pretends to trusting and ignorant people that he can bring them face to face and voice to voice with their beloved dead, is the most contemptible."
"That's my grand-dad here," Oursler said, "pointing to a picture of Fulton Oursler. He got people arrested, and put in jail."
Married to the writer Grace Perkins, who wrote the screenplay for the classic Depression shocker starring Barbara Stanwyck, Night Nurse (1931), Fulton Oursler, along with his wife, would later take ardently to Roman Catholicism. "He did not believe any of this spiritualism," said Tony Oursler, "but he became a mystic on the other side." Perkins would later become editor of Guideposts, Norman Vincent Peale's magazine. Fulton's son, Tony Oursler's father, would become the founding editor of the magazine Angels on Earth, which tracked the activities of those celestial creatures in what seemed like real-life situations.
While at Reader's Digest, Fulton Oursler would adapt a radio series into the novel The Greatest Story Ever Told (1949), a best-selling life of Jesus which became a Hollywood blockbuster epic in 1965, with Max von Sydow as Jesus and a young David McCallum as Judas Iscariot.
The vitrines track other literary celebrities who began as debunkers of the occult and moved over to the dark or delusional side. One such figure was Arthur Conan Doyle, author of The Adventures of Sherlock Holmes, which he built around a detective defined by reasoned skepticism and systematic logic. Conan Doyle's world view pivoted, in 1918, when he attended a séance and heard the voice of his young son Kingsley, who died of wounds from World War I.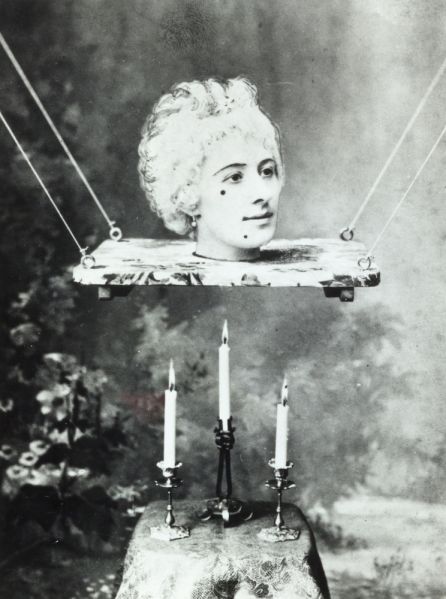 The author became a believer in the existence of fairies, and he offered scientific proof for photography's capacity to capture their pictures. Oursler, standing by a vitrine of shadowy forms in images from the 1920s, said, "Conan Doyle believed that these photographs of fairies were actually real, and he published a whole book about them."
"He used to hand these out," said Oursler, pointing to photographs showing two figures—one of them a ghost—which were revealed to be manipulated double exposures in his grandfather's Spirit Mediums Exposed.
Nearby were drawings from the 1950s of extraterrestrials who presumably arrived by UFO. One photographer, Howard Menger, claimed to have taken photographs of the moon in the 1950s, where aliens who abducted him took him in a spaceship. "The trope was that there are these intelligent creatures in outer space," said Oursler. That was during the Cold War, when the enemy was the Soviet Union, he said, and space invaders—when they weren't spotted by UFO sighters—appeared in movies for teenagers.
He walked over to a vitrine of colored-pencil drawings in a childish hand by the Italian film director Federico Fellini. "You can still get those," he noted, sharing some secrets about the little-known Fellini market.
"He hasn't completely popped," said Oursler. Why Fellini? "These are dream drawings. His dreams, that's all he drew," he explained. Who knew?
The same question applies to much in Oursler's archive that, like his films, pieces together fragments of fantasy (and exploitation) that can feel nostalgic today.
Not so fast, Oursler warned. "Right now, if you were to ask anyone in America if they believed in ESP—extra-sensory perception—you would find that 60 percent of them believe in it. One out of three people in the U.S. does not believe in evolution. Another 70 percent, or some ridiculous number, believes in UFOs. That's just the way it is," he said.
There's still plenty that's left to debunk, Oursler noted. And this selection at Bard begs for a sequel.
"Imponderable: The Archives of Tony Oursler" is at the Hessel Museum of Art's Center for Curatorial Studies at Bard College through October 30.