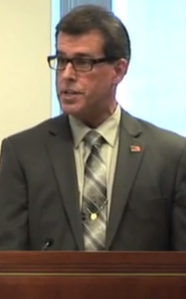 TRENTON — A nominee for the office of the commissioner of transportation cleared a Senate committee today in a unanimous vote Thursday, minutes after the news broke that his predecessor Jamie Fox would be facing bribery charges from the U.S. Attorney's Office.
Richard T. Hammer, who has served as New Jersey's interim Transportation Commissioner since last year, faced tough questions on the near-bankrupt Transportation Trust Fund, an over-budget Hurricane Sandy repair project, and the high cost of building roads in the state from the Senate Judiciary Committee.
Governor Chris Christie issued an executive order halting all non-essential construction projects in the state last week while the legislature tries to hash out a compromise on whether to offset a higher gas tax with cuts to the estate tax or the sales tax. That higher 37.5 cent per-gallon gas tax would go toward the TTF.
Senator Loretta Weinberg (D-37), a supporter of the Senate's estate tax phase-out plan, questioned Hammer about the role his department played in the run-up to that decision. After Hammer said a report on which sites are essential or non-essential will be coming in the next few days, Weinberg criticized Christie's decision not to have the department conduct that research before the work stoppages.
"Everything was shut down without much thought for what they were, or for what the financial implication might be," Weinberg said. "Everything was shut down based upon nothing, other than 'we have contractors who stand by in case there is an emergency.'"
Senator Ray Lesniak (D-20) said he was concerned about funds from the gas tax going "down the drain" after a delay last summer caused repairs to Sandy-damaged Route 35 to go $76 million over budget. That construction ended this summer, a year behind schedule. The delay will likely lead to taxpayers having to pay a bigger share.
"I knew that I had to respond to an emergency sir," Hammer said when Lesniak asked him what he knew about the rationale behind the delay. Hammer noted that he came on a year into the project, and that builders came upon natural gas pipes in need of repair. An investigation from the Asbury Park Press into the Route 35 repairs found $23 million in unexplained cost overruns.
Senator Mike Doherty (R-23) questioned Hammer not on the state of the TTF but on the high cost of building roads in New Jersey compared to other highly populous states in the Northeast. Questioning Rutgers University and the New Jersey Department of Transportation's claim that a mile of road costs $183,757 to build, Doherty pointed to the conservative libertarian Reason Foundation's claim that the figure is closer to $2 million.
"I have not received any of these comments that 'Reason' seems to have against the Rutgers report," Hammer said. "So I can't sit here today and respond to those."
Though chairman Paul Sarlo (D-36) argued that the higher cost-per-mile in New Jersey is the result of high property values, Senator Joe Kyrillos (R-13) and Lesniak said that they would like the DOT to look into any discrepancies between the Rutgers report and other independent sources.
"I think we can certainly agree on that, that there are efficiencies that can be implemented," Lesniak said. "I don't lay that on your doorstep."