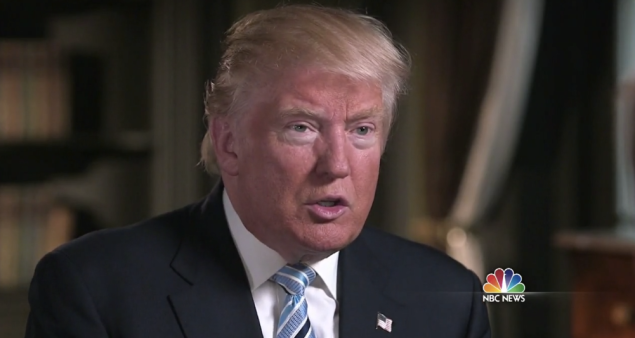 When Sunday morning's political shows began, Donna Brazile was merely vice-chair of the Democratic National Committee and a pundit panelist on This Week with George Stephanopoulos on ABC.
Reacting to hacked emails showing the DNC favoring Hillary Clinton over Bernie Sanders for the presidential nomination, Brazile said she personally apologized to the Sanders campaign Saturday and promised much more.
"The stupidity needs to be addressed and we are going to address it," Brazile said. "This is not just a one-day leak."
She predicted more embarrassing emails would be released in "the next couple days, weeks, months" because, she said, Russian hackers were "in our system for well over a year."
"Will some people have to step down, be removed, resign?" Brazile said. "I'm sure, at the end of the day, yes."
It didn't take even that long. By late afternoon, Debbie Wasserman Schultz—a Congresswoman from Florida—said she would step down next week as the chair of the DNC She will be replaced, at least temporarily, by Brazile.
Wasserman Schultz had to be persuaded to do this by many powerful Democrats, including President Obama, who reportedly called her on the telephone. Wasserman Schultz gave up a speaking slot and many other convention duties.
But, well into Sunday night, she was still holding out to open the convention by banging the gavel and possibly making a speech to delegates Monday afternoon when they gather to formally nominate Clinton to run against Donald Trump.
Her reduced role wasn't small enough for Paul Begala, an old Clinton hand who spoke of Wasserman Schultz in the 8 p.m. hour to Anderson Cooper on AC-360 on CNN.
"Instead of getting on the stage, she should be getting on a plane," Begala said. "There's an 8:35 to Miami. I looked it up."
A more sinister wrinkle came from Robbie Mook, the Clinton campaign manager, in two TV appearances.
"Some experts are now telling us that this was done by the Russians for the purpose of helping Donald Trump," he said on This Week.
When asked by Stephanopoulos about Trump's relationship with Russian President Vladimir Putin—a former spymaster—Mook replied: "What's troubling is how he (Trump) has praised Putin."
Later, speaking with Jake Tapper on CNN's State of the Union, Mook said "Russian state actors" hacked the email system.
"Other experts are saying the Russians are releasing these emails for the purpose of actually helping Donald Trump," he said.
Charging that Trump's people changed the Republican platform last week to go easy on the Russians, Mook also mentioned that Trump said he might not aid NATO allies against Russian military aggression if they don't pay more for the protection.
"When you put all this together, it's a disturbing picture," Mook said.
Tapper stopped him there with "It's a very, very strong charge that you're leveling here. You're basically suggesting that Russians hacked into the DNC and now are releasing these files to WikiLeaks to help Donald Trump."
Mook deflected the question.
"This isn't my assertion," he said. "There are a number of experts asserting this . . . that's what experts are telling us." He didn't get specific about who the experts were and what else they knew.
Brazile had more to say about the emails late Sunday night in what Cooper called an exclusive interview on CNN, where Brazile also was a commentator until Sunday.
One of the emails questioned the religious faith of Sanders and whether he even believed in God and suggested this issue might work against him in Kentucky and West Virginia.
"I also apologized for the insensitivity, the tone and really some of the harsh and what I believe to be toxic words that came from some of the staffers," she said.
One of the mails involved Brazile. Discussing a rift in the party, she wrote: "I have no intention of touching this. Why? Because I will cuss out the Sanders camp."
Commenting on this to Cooper, she said: "That's a friendly way of saying 'I love you.'"
'This election is the Gettysburg of the culture wars.'
Hand me the remote . . .
RELIABLE SOURCES On the CNN media show, host Brian Stelter continued the coverage of the departure of president Roger Ailes from Fox News Channel after allegations of sexual harassment.
Stelter called Ailes "revered and reviled" and led a long panel discussion. Jeff Greenfield said "Roger Ailes did to the media what Donald Trump did to the political process."
Jane Hall said "You would not have Donald Trump without Roger Ailes because he created a bifurcated media environment. He is such a brilliant man."
Jeffrey Lord, a Trump supporter, reacting to speculation that Ailes might directly aid Trump in the campaign, said "Donald Trump could do worse than getting advice from Roger Ailes."
Greenfield said Fox News is a hybrid with "pamphleteers like Sean Hannity and the angry guy at the bar, like Bill O'Reilly. And then you've got 'Fox and Friends.' If ignorance is bliss, it's the happiest show on television."
Hall—who used to appear on a Fox show—spoke more seriously of the visual images Ailes craved.
"I cringed when I saw women in very short skirts next to a fully clothed male anchor," Hall said. "Women knowing that they had to dress in a certain way is demeaning to women."
Gabe Sherman of New York Magazine, an Ailes biographer who has broken most of the stories in this cycle, said more than 25 women have complained about Ailes and "a culture that Ailes enabled that was incredibly hostile to women."
Bill Shine, a top Fox executive, "played an integral role in the cover-up," Sherman said, after Gretchen Carlson opened the scandal by filing a lawsuit after she was fired. The 50-year-old former Miss America charged that Ailes wanted sex, a charge Ailes has denied.
"A lot of the senior executives around Roger Ailes were fully aware of this culture," Sherman said. "They knew exactly what was going on. They did not speak up."
Sherman compared Fox News to the cult of Scientology.
"Roger Ailes didn't build a TV network," Sherman said. "He built a cult of personality."
On the broader subject of Clinton-Trump, Carl Bernstein said "This election is the Gettysburg of the culture wars. It is definitive. It's the seminal battle. The effect of it is going to be felt for the next 30 years."
MEDIA BUZZ Howard Kurtz, the Fox host, devoted an entire three minutes and five seconds in the middle of his show to the Ailes story. He showed a printed quote from Kirsten Powers of Fox in which she said: "I was disappointed that so many senior members of Fox's on-air team rushed to defend Roger in a way that seemed to prejudge an investigation into sexual harassment."
Funny thing, though. Kurtz allowed no discussion by any guest about the subject. And Powers had been on for the preceding segment. Kurtz's show often has more female guests than any other Sunday show and he seems to respect their opinions and intellects. But not for this topic, not this day, not for this sleazy story about Ailes, a master of the dark art of powerful political propaganda.
THIS WEEK Paul Manafort, who seems to be Trump's primary spokesman, was asked by Stephanopoulos whether Ailes is already giving advice to Trump since he resigned Thursday with a $60 million severance package.
In the past, Ailes worked on successful Republican presidential campaigns of Richard Nixon, Ronald Reagan and George H.W. Bush.
"I have no idea where that came from," Manafort said with a chuckle. "So there's nothing I can say to that. Roger certainly is a voice who understands the American people and at Fox he created a news network which really created balanced and fair reporting as far as we're concerned. He's going to be missed there."
FACE THE NATION Host John Dickerson interviewed President Obama on CBS and asked him about how Trump tried, unsuccessfully, during Obama's first term, to prove Obama was not born in the United States.
"It says something about what's happened to the Republican Party over the last eight, 10, 15 years," Obama said.
Regarding Trump's apocalyptic acceptance speech last Thursday, the President said: "Trying to fan fears simply to score political points is not in the best interest of the American people."
Dickerson asked why the President doesn't use a label like "radical Islamic terrorists" to describe ISIS, something the right wing has been braying for.
Obama replied that he'd talked to Muslim allies and American Muslims and learned that such language is heard by them as denigrating Muslims in general.
Obama also spoke of George H. W. Bush, who was president from 1989 to 1993.
"One of the most under-rated presidents we've had," Obama said of the senior Bush. "And a really good man."
Of his son, President George W. Bush, who served from 2001 to 2009, Obama called him "a really good man and he has been very gracious."
On the pundit panel, Ramesh Ponnuru of National Review spoke of how Trump came out of his convention still attacking Ted Cruz, the second-place finisher who gave a bitter non-endorsement speech that was booed in Cleveland.
"He is broadcasting his lack of self-control and his pettiness in a way that is unusual for a major party nominee," Ponnuru said of Trump still attacking Cruz.
FOX NEWS SUNDAY The Clinton campaign is rolling out the surrogates and one was Joe Benenson, Clinton's chief strategist, a man with a salt-and-pepper beard and a wired demeanor.
He was shown an on-screen printout said of a leaked email regarding Sanders that said "Does he believe in a God. He has skated on saying he has a Jewish heritage. I think I read he is an atheist."
It was written by Brad Marshall, the chief financial officer of the DNC (who apologized for it Sunday).
Another, by Wasserman Schultz, said Sanders: "Spoken like someone who has never been a member of the Democratic Party."
WALLACE: "Does Hillary Clinton still have full confidence in Deborah Wasserman Shultz, the DNC chair, and will she stay in her job? Can you assure us she will stay in her job and through the election?"
BENENSON: "I honestly have never had a conversation with Hillary Clinton about Deborah Wasserman Schultz and the chair of the Democratic party.  So, uh, I, I, th-that's the honest truth, Chris, I've never had that conversation."
One of the odd moments of an interesting show was a video of Trump thundering "This is the legacy of Hillary Clinton: Death, destruction, terrorism and weakness." It sort of floated among other elements and added a jolt.
Another good exchange was between host Wallace and Manafort, speaking for Trump.
WALLACE: "Paul, didn't Trump engage in fear-mongering?"
MANAFORT: "Not at all. First of all, Barack Obama is out of touch with America. For him to say people in this country are happy and are walking around with sunshine in their face, is not a reality. It shows he doesn't even get what he's done to this country. Trump's speech was a speech of hope . . . He told the truth. He said 'Look, I recognize your pain. I understand it . . . I know you're afraid to walk the streets.'"
After showing video of Trump saying there is no way to screen Syrian refugees, Wallace said to Manafort: "But, Paul, that just simply is not true." Wallace offered that Trump's latest notion for "extreme vetting" of immigrants and travelers would extend to nations like France, Belgium and Germany because they, too, have had terrorist attacks.
MEET THE PRESS Host Chuck Todd scored a Trump sit-down and asked him exactly what he meant when he told the convention "I alone can fix it." Critics suggested it sounded like strongman talk from nations not like our own.
"I'm comparing myself to Hillary," Trump said.
Asked about Ailes, Trump said "I don't want to comment but he's been a friend of mine for a long time and I can tell you that some of the women that are complaining I know how much he's helped them . . . It's very sad because he's a very good person. I've always found him to be just a very, very good person . . . a lot of people think he's going to run my campaign."
Trump denied that he'd rolled back his plan to ban Muslims, even suggesting that he's made it tougher now because he's not using the word "Muslims" but is defining territories where scary people should be subject to "Extreme vetting."
"I would stop the Syrian migration in two seconds," Trump said.
Accusing Clinton of wanting to greatly increase immigration, Trump said "I think she's crazy. I think she's crazy."
Trump responded to Kentucky Senator Mitch McConnell, the Senate Republican majority leader, who suggested Trump's extreme statements about NATO were a "rookie mistake."
"He's 100 percent wrong," Trump said of McConnell. "If Mitch McConnell says that, he's wrong. We can no longer be the stupid country." Moments earlier, Trump had warned "Our country is going down the tubes."
Interesting exchange between Rachel Maddow and Michael Steele.
MADDOW (regarding Trump): "Hunger for a strongman? Is that what you're talking about?
STEELE: "There really is right now."
MADDOW: "We've seen this around the world. It's not supposed to be us."
STATE OF THE UNION At noon, host Jake Tapper had the bulletin on CNN that Wasserman Shultz would pull back her role in the convention. Reporter Jeff Zeleny seemed right on top of the underlying theme.
"She's trying to hold on and save face here," he said.
Jeff Weaver, campaign manager for Sanders, wondered why the DNC used such an easily-cracked email system.
On the panel, Van Jones offered little sympathy for Wasserman Shultz. He said it happened to him early in the Obama administration. "You fall on your sword," Jones said.
Super delegate Maria Cardona said of the emails "It's like reading someone's diary."
Disclosure: Donald Trump is the father-in-law of Jared Kushner, the publisher of Observer Media.