Looking back into 130 years of archives has become the newfound lifeblood at Turnbull & Asser, and the staple men's shirting brand recently celebrated its illustrious past with the launch of "Turnbull & Asser: 130 Years" at Inert Gallery in Tribeca. The hefty photo tome chronicles the iconic moments in history when distinguished gentleman from Robert Redford to Sir Winston Churchill wore their custom Turnbull & Asser shirts. In addition to their involvement in formidable films such as The Italian Job, The Great Gatsby and Wall Street, the book also includes anecdotes from those who have been at the heart of the brand for many years.
This includes New York Senior Bespoke Manager, Rob Gillotte, who began his role at Turnbull & Asser as their first American employee in 1997. "A shirt is only as smart as the collar," he said of his history of fitting these celebrated gents. "If the collar fits, and is flattering, then other sins can be forgiven. I've made Henry Kissinger look good, and most of the Wall Street guys."
The newest member of the team, Dean Gomilsek-Cole, is the first designer to be hired by the brand in its history. His varied pedigree has ranged from wearable technology innovation at Apple to technical sailing gear design at Henri Lloyd, and he has already begun implementing certain modernizations into the house like cashmere denim oxfords and mackintosh jackets made of weatherproofed shirting fabrics.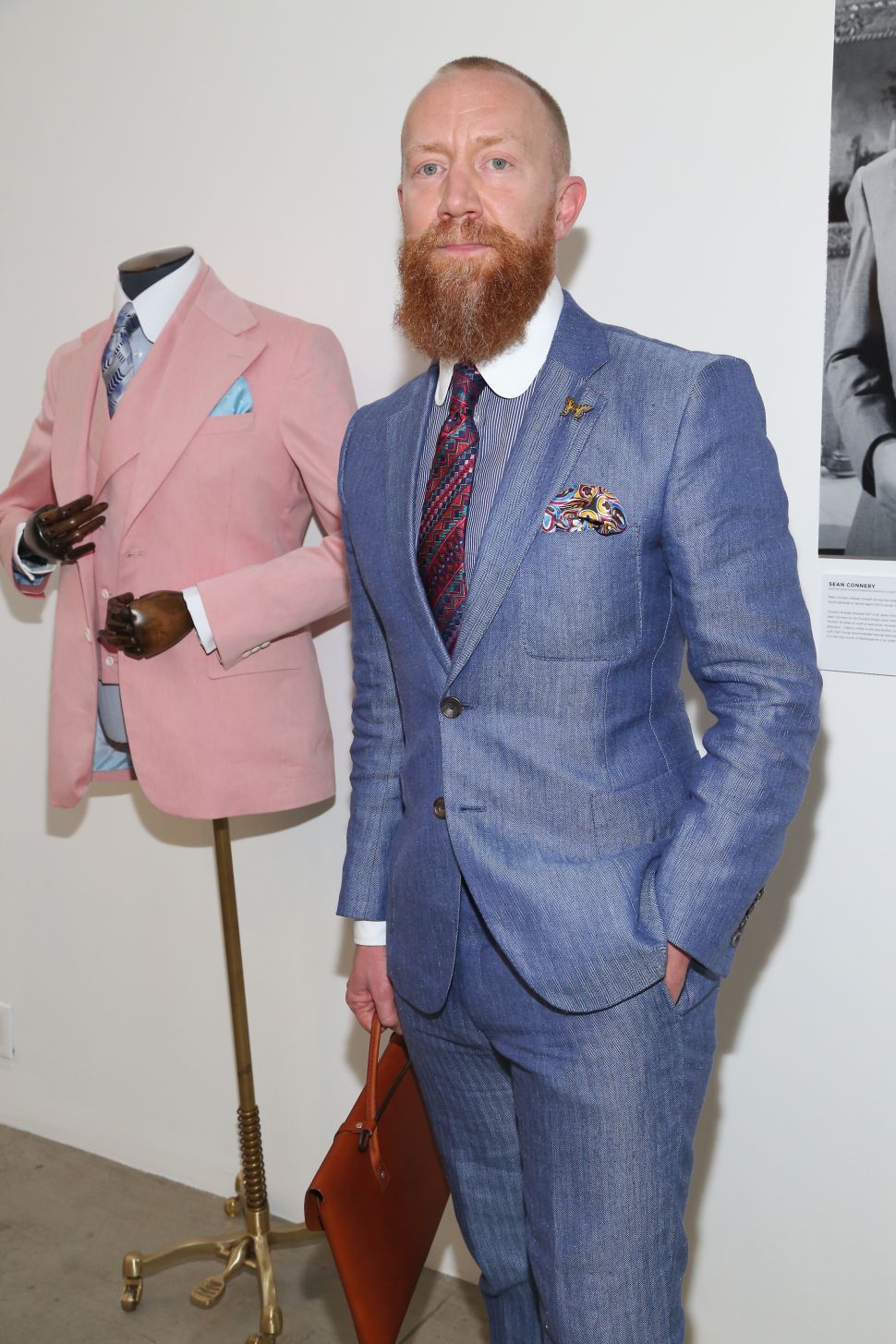 "I think James has brought a breath of fresh air to the brand, which has helped me," Mr. Gomilsek-Cole said of Turnbull & Asser's owner, James Fayed, whose father, Ali Fayed, purchased the company in 1986. "There is pressure not to mess it up, but at the same time there were so many, what we call low hanging fruit. There were some easy wins. There is some amazing stuff in the archive that they just sat on. They had been typically English and not shouted about things."
Among the favorite clients of this new chapter at Turnbull & Asser is Broadway star and fashion world darling Alexander Sharp, who returned from a Vogue photo shoot in London and Dior's couture show in Paris to attend the party. "Growing up in the South of England in the country on a dairy farm, where I went to school everyone was like a farmer kid," he said as we stood admiring a McClaren P1 parked outside of the party. "There was a pretty low standard for fashion. I was pretty ignorant, but I always attempted, for a reason I might now understand, but at the time I did not, to stand out. I guess I've always had a sense of fashion, but I've been quite ignorant about what menswear and fashion means until recently when I've been exposed to that world. It doesn't really change just because its more accessible, I guess it's just literally about, as cliché as it might sound, just your identity, and what do you walk into a room full of people – who are all dressed really fucking well – wearing, that makes you feel confident and comfortable."