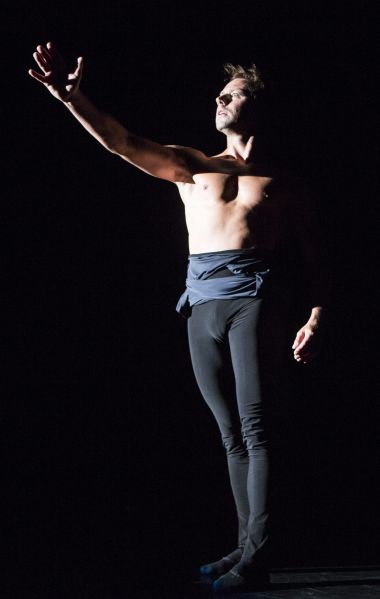 No one's going to tell Twyla Tharp what to do. George Balanchine famously warned against trying to choreograph to Beethoven, but some years ago Tharp took up the challenge and triumphed over the difficulties of the particularly thorny Hammerklavier Sonata—her amazing powers of invention seemed both tethered to the music and to float above it. (Less successful was her treatment of Beethoven's 7th Symphony for City Ballet in 2000.) Now she has upped the stakes with Beethoven Opus 130, the centerpiece of her current two-week season at the Joyce. Although much of it is effective—and its final passage very beautiful—it seems to me more a defiance of the odds, a personal test, than an unmediated response to the music. This late quartet of Beethoven's is one of his most profound masterpieces: it doesn't invite dance, it doesn't require dance—it needs to be left alone.
And it certainly doesn't need to be tampered with. Yet Tharp has chosen to work with only two of its six movements and to supplement them with the great Grosse Fuge, dropped by Beethoven as the final movement when it proved too difficult for his audience. In other words, she made the challenge to herself even more daunting. Talk about Prometheus defying the Gods! Nor were matters helped by the music at the Joyce being canned—a poorly amplified (and uncredited) recording was not a happy circumstance. Maybe we need a law stipulating that ballets set to chamber music deploy live musicians. (For her Hammerklavier, she had the services of a superb pianist, Nikolai Demidenko.)
Tharp begins by giving us four couples—for a minute or two I thought this might turn out to be her response to Balanchine's sublime Lieberslieder Waltzer—but no: its ambitions are larger. The stakes would appear to be Man and Woman, Life and Death. The central figure is one of Tharp's finest dancers, Matthew Dibble, and he is the heart of the ballet's closing section, in which—stripped to the waist and crawling across the dark stage—he's left alone, trapped in some existential anguish. We don't know why things have come to this, but they have: Tharp isn't often nakedly emotional, but here her conviction is palpable. The other dancers, the tall, lithe Kaitlyn Gilliland most conspicuously, are in constant busy play—sometimes too busy. They're all Tharp veterans, they all know what she wants of them, and they're all determined to give it to her—their obvious devotion to her artistic needs reminds me of how, in the glory days, Balanchine's dancers gave him their all. But all this doesn't add up to a work of art remotely on the level of Beethoven's. Could Balanchine possibly have been right?
Beethoven Opus 130 is a new work. Tharp opened her program with a peppy work from 1976, Country Dances: one guy—the inestimable John Selya—and three gals prance around to square-dancy tunes like "Rat Cheese under the Hill" by the Kessinger Brothers and "Cacklin' Hen and a Rooster" by The Skillet Lickers. This is from the same year as Push Comes to Shove, and Tharp is deep in her mission to infuse the demotic with the classical, and vice-versa. The spirit of Country Dances may be hoedown, but the vocabulary is straining towards ballet: these women are aching to be up on pointe; these arabesques are not from the world of Graham or Cunningham. It's a clever and amusing piece, but of no real consequence. My guess is that Tharp revived it for the all-American Selya, a rooster of a guy who's up to coping with the three hens Tharp offers him: Gilliland, Eva Trapp, and the over-grinny Amy Ruggiero. Somehow, today, this work seems over-determined and a little obvious, but no harm done.
For me, the highlight of the program was the revival of Brahms Paganini, which she made in 1980, after a long time spent on the film of Hair. (Coming up were The Catherine Wheel and Nine Sinatra Songs.) Brahms made two sets of variations on Paganini's irresistible theme, and for the first set Tharp created an astounding extended solo for a male—it blasts onto the scene, and its energy and variety never let up. This is sheer brilliance, and the third of Tharp's leading men, Reed Tankersley (a standout in her recent 50th Anniversary Tour) never lets his concentration or his vitality waver, yet never appears pushed, whether he's thrusting his hips, churning his torso, or exploding in virtuoso pirouettes. Crisp yet casual in Ralph Lauren's all-white sporty clothes, he's cool even when he's frenzied.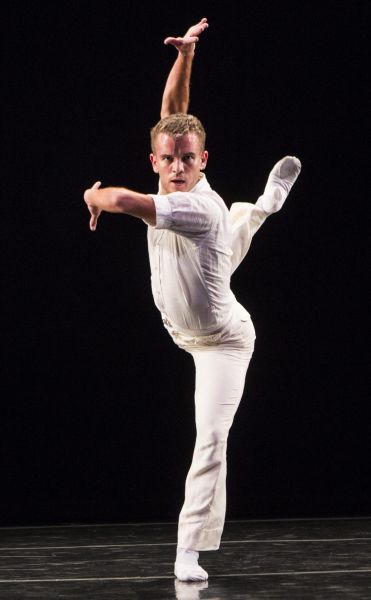 For the second set of variations he's joined by the gang, once again by the here commanding and mysterious Gilliland, plus Ruggiero, terrific Daniel Baker, Ramona Kelley and Nicholas Coppula. This section, too, is seething with activity—it's as if Tharp, after her layoff, wants to give us everything at once. But the result isn't chaos; it's exuberance and joy. When will we see it again? It's one of a dozen or more Tharp works that should be taken up by dance companies everywhere, to supplement the inevitable In the Upper Room and Nine Sinatra Songs. Brahms Paganini is a piece to be savored again and again.