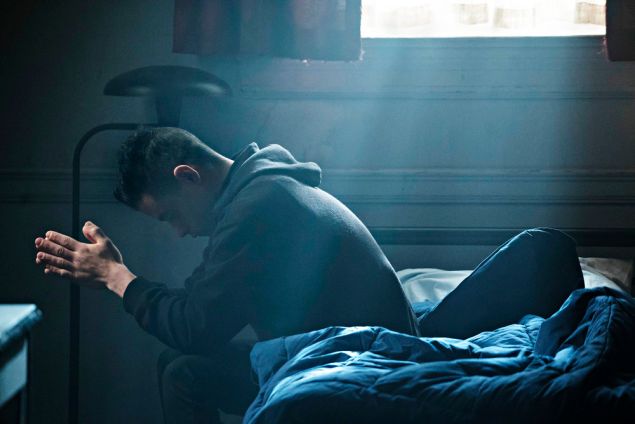 Welcome to our TV Fashion column, where TV Ate My Wardrobe's Emma Fraser discusses the trends in television apparel. This week: What is really hiding under Elliot's signature black hoodie in Mr. Robot. 
If you were to dress up as Elliot from Mr. Robert for Halloween it wouldn't be a particularly hard costume to construct; black everything (jeans, tee, sneakers and backpack) with the hoodie being the most important component. Keep an FSociety mask handy so you don't have to keep repeating who you are meant to be with an optional head bandage for a season 2 reference and you're set.
Control is a big buzzword this season as Elliot attempts to stop the scream in his mind from coming back with varying degrees of success using Adderall as a temporary band-aid to his all encompassing problem. Repetition provides some stability with Elliot going about the same daily routine to try and quell what is inside. Clothing wise Elliot has not strayed from the same signature look and when he has worn a different neutral toned shirt for work, the black hoodie is never far away.
This season the all black ensemble has even stretched as far back to the violent incident with the window when he was a kid; this doesn't necessarily mean that Elliot was wearing this similar getup when this actually took place as he is an unreliable narrator and in another flashback of young Elliot last season we saw him in a green polo. What this does is ties everything to his current unstable state of mind and the black hoodie becomes his entire style narrative both past and present.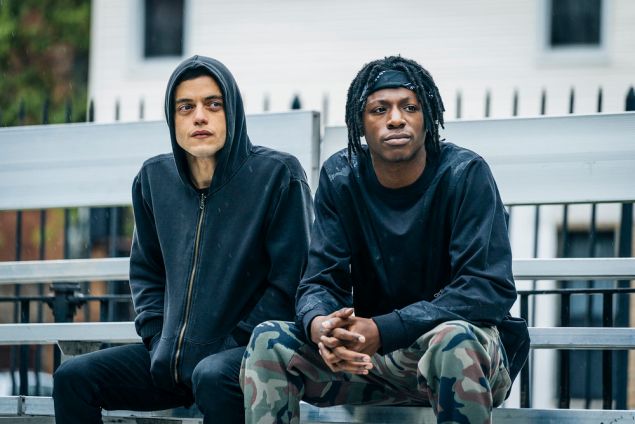 Clothing comfort can come in wearing the same thing or at least a version of the same thing – for laundry reasons I hope Elliot has a wardrobe full of black hoodies – and this garment is the ideal item to disappear into as the hood acts a shield from the world. Elliot flips between hood up and hood down with regularity and there is a twofold element to this as it hides his face as well as blocking out the world to him; it is his form of blinkers. Another Elliott (with an extra 't') is famous for wearing a hoodie of a different color; it all comes back to E.T. at the moment with a lesson in how to make an everyday piece of clothing into something iconic.
In the terrific Adderall infused sequence from last week's episode we see multiple versions of Elliot doing the same thing on repeat in his attempt to keep Mr. Robot at bay and there is a certain amount of joy in his sleep deprived state. Part of this includes a series of Elliots walking or skipping down the same street as he goes about his routine; slight differences in each comes in the form of hood up/hood down, looking up to the heavens and his walking style. It makes this already arresting visual even more so.

Elliot isn't completely performing the same action day in day out and there is a sense of relief in this experience even if it is contingent on a drug that will eventually wear off. Mr. Robot isn't the lightest of watches and it sometimes feels weighed down by its self-seriousness particularly at the start of this season; however this sequence delivers in giving both Elliot and the audience a respite even if it is only temporary. Plus it also delivers on the fandom creativity front including Elliot does "Abbey Road."
In contrast to Elliot's all black attire on the red carpet Rami Malek's suits and shirts are awash with color from egg plant to striking blue tones. Working with stylist Ilaria Urbinati has made Malek one to look out for and come Emmy Sunday (September 18) he will be on the most anticipated red carpet list (putting early money on Dior). A list that doesn't always include a whole lot men as the differences in tuxedos isn't always that great. This summer his appearances at Comic-Con and a couple of other Mr. Robot events has taken a turn for Elvis in Blue Hawaii with a dash of Magnum, P.I. and if there is one way to separate Elliot from Rami wearing bold Hawaiian shirts is it.
The black hoodie is not the only signature style item that nods to this need for control as Angela has her own wardrobe choice that reflects this state of mind. The buttoned up blouse look isn't a shift away from how Angela dressed last season; the difference now is how much her wardrobe costs as everything looks far more expensive and these clothes reflect her new position.
Her shoes are no longer literally covered in blood, but what will this job cost her in the long run?The number of buttons done up on her shirt is not the only weapon in Angela's arsenal in projecting an image of power to both herself and those around her. Self-help mantras start after a one night stand (and a confrontation of another kind) and are in the first person as Angela repeats these positive affirmations as instructed by the soothing voice; "I am confident," "My confidence is powerful," "I recognize myself as exceptional," and "I will follow my dreams no matter what." This last one is particularly worrying in terms of how far Angela will remove herself from who she was and what she wanted to achieve last season.
This shifts to speaking in front of the mirror while Angela gets ready for her big dinner "You are likeable. You are attractive. You are beautiful." Angela's got the feeling herself soundtrack playing with Jerry Townes and "Just Say the Word" which abruptly stops when she sees that dinner is for four and not two as expected. For all of these affirming statements Angela is still out of her depth and working all the angles combined with power dressing is only going to get her so far at this point. Remove emotions is the advice she gets; how exactly does one dress for that?
Emma Fraser is the creator of TV Ate My Wardrobe and spends most of her time writing about TV, fashion and costuming; Abbi and Ilana's Broad City style, the wigs on The Americans and Mindy Lahiri's pajamas are just as vital as talking about '90s/'00s teen shows. Emma has a MA in Film and Television and she probably holds Angela Chase responsible for this path. You can find her on Twitter @frazbelina.