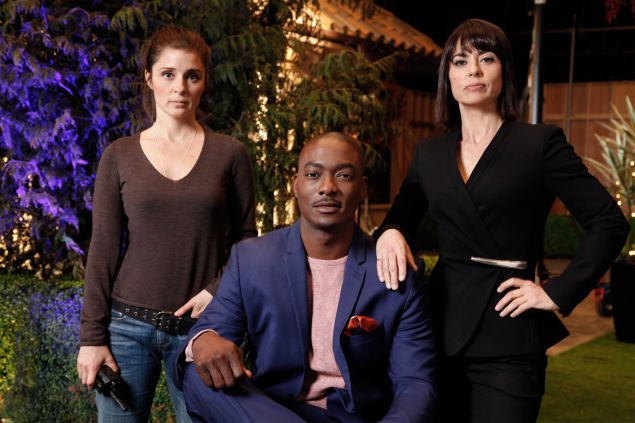 There's no other way around it: UnREAL is very, very good. I tried hard to deny it. "A TV show about reality TV? Nonsense!" I exclaimed, while probably putting down some Proust or something.
But now, time for honesty. I don't read Proust. And UnREAL is undeniably great. There's something about how the show is layered that makes you feel clever. Yes, the show benefits from two great sources of drama (both the contestants and the production crew), but you always feel in on the joke. The Everlasting chaos is meticulously organized, and it's a wonderful wink to the onset conflict—also organized for the viewer's enjoyment. The second season has, thus far, hit harder, gone further, and evolved into a slow–burning exploration of the intricate and perilously balanced power dynamics on the show.
There's only five episodes left, marking the halfway point in the season. So we're breaking it down, episode by episode.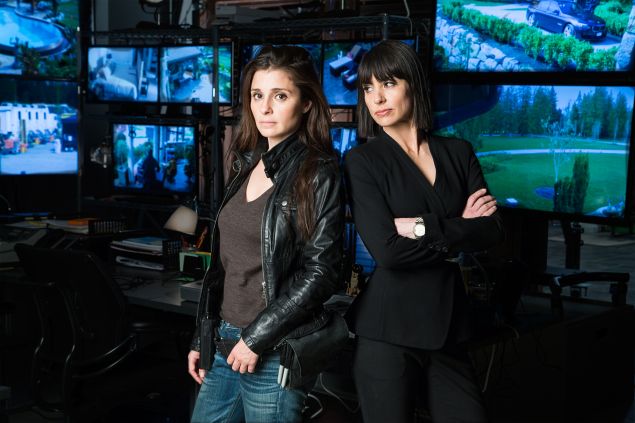 And on the first episode of UnREAL ("War"), my TV gave to me….
ONE MANTRA
"Money Dick Power"
The season opens with Rachel (Shiri Appleby) and Quinn (Constance Zimmer), solidifying their newly formed friendship and professional partnership with matching tattoos of their decided upon words to live by: money, dick, power. The perpetually classy ladies, high on hope for their careers (and probably also a lot of coke), drunkenly pitch their latest Everlasting season: a black suitor, the first in the show's history. Rachel hopes to expand the show's social impact, and Quinn, well. Quinn wants the ratings, and the handsome, famous quarterback Darius Beck (B.J. Britt) wants to repair his image after a messy interaction with a female reporter.
Despite some pushback from Gary (Christopher Cousins), the reluctant president of the network, Darius is approved and history is made. However, the quarterback is less focused on finding a wife than he is on drinking with his entourage—including Chet (Craig Bierko). Yes, Chet makes his triumphant return to the show, having coerced Darius and his friends with empty promises and lots of booze. Recently returned from a retreat that can only be described as Lord of the Flies–esque (there's a lot of stabbing and running around), Chet has lost weight but gained some serious crazy eyes. Quinn isn't too pleased by his return.
Rachel, on the other hand, thrives in her newly promoted position. She ruthlessly manipulates Madison (Genevieve Buechner) into prying into one contestant's love life. Everyone cries, Madison even throws up in some kind of adrenaline–induced fervor. The end result? Madison becomes even more off–puttingly annoying, and we see Rachel's transformation into a mini–Quinn. Welcome, Rachel, to the ranks of high–powered women who are literally falling apart at the seams (Liz Lemon and Selina Meyers welcome you with outstretched arms).
And on the second episode of UnREAL ("Insurgent"), my TV gave to me….
TWO CRINGEWORTHY MOMENTS
"Romeo, where art…oh"
The first cringeworthy moment must be awarded to Tiffany (Kim Matula), the daughter of an NFL team owner. Convinced that she'd been put on the show only to help her father's career, she decides to eliminate herself by hooking up with Romeo (Gentry White), Darius's cousin/manager. It's a move that falls right into the ever–shifting balance of power between Quinn and Chet. Frustrated by Chet's return, Quinn pursues the romantic, sappy version of Everlasting that she knows is well–received, while Chet produces his own sex–filled version of the show. The two produce two separate episodes, one in which Tiffany is seen making a genuine romantic connection with Darius, and the other in which she makes a connection (albeit, not as romantic) with Romeo.
The furious competition between the two results in Rachel losing most of her newly anointed powers, with Quinn trying desperately to beat Chet. Frustrated, Rachel boldly approaches Gary and asks that she be in charge of the whole show, citing her two out of control bosses. Instead, Gary anoints Coleman Wasserman (Michael Rady)—a documentary maker and novice to reality television—the new show runner.
"A Confederate State"
In an unexpected (but completely welcome) move, UnREAL gets political. Everlasting pits Ruby (Denée Benton), a heated Black Lives Matter activist, against Beth Ann (Lindsay Musil), an Alabama native with bold opinions and an even bolder Confederate flag bikini. Rachel cajoles her into wearing the piece, knowing that it will offend both Ruby and Darius—and, you know, everyone else watching. Initially, Beth Ann flees with embarrassment, but later confronts Darius and sheds the bikini altogether, to demonstrate her remorse. Or something. Meanwhile, Jay (Jeffrey Bowyer-Chapman) urges Ruby to keep calm and not lash out at Beth Ann, in hopes to keep her on the show for as long as possible to promote her platform.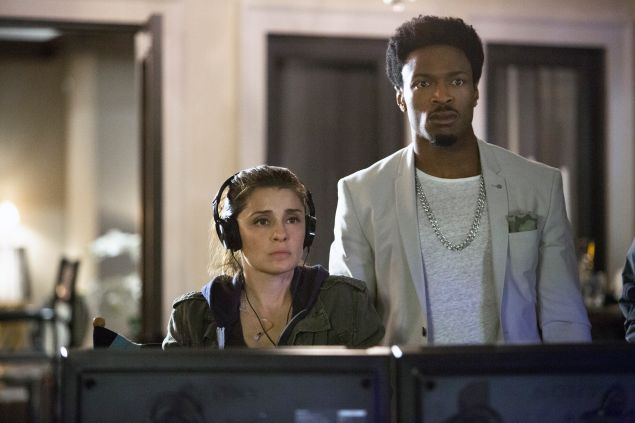 And on the third episode of UnREAL ("Guerilla"), my TV gave to me….
THREE BREAKING POINTS
 "Drag Me Down"
With Quinn fuming at her essential replacement on the show, it's no surprise that she's dedicated to pushing the contestants harder than ever. And, thanks to her manipulations, Brandi (Monique Ganderton) brutally takes down Chantal (Meagan Tandy) during an obstacle course gone wrong.
The accident lands Chantal into a hospital (well, a hastily prepared hospital set, but I digress), and Brandi into complete isolation. When Brandi gets the chance to apologize to Darius, she reveals a long history of abuse and trauma. Then, enter Brandi's mother. Or rather, enter an actress playing Brandi's mother. She, along with Quinn, inform Darius that Brandi is a pathological liar—a slight (or massive) fib that sends Brandi home, and also sends her straight onto Darius's back, after she lunges at him after he accuses her of lying. Thus, breakdown number one.
"Backstabber"
The second breakdown is a slower one. Less immediate. Fewer quarterback attacks. It's Quinn's revelation that the show she's worked on for years finds her pretty replaceable. Her main evidence being that she's been replaced. She's working with a suitor that doesn't want to be there, her nasty ex, and an employee that so recently tried to take her job. By the end of the episode, Gary has commended Coleman on his hard work on an episode Quinn painstakingly made, and tells Quinn of Rachel's betrayal.
 "Baby Love"
And finally, the ultimate breakdown. We discover Chet's lost custody over his son. His ex–wife maintains sole custody, and he finds himself edged out of his son's life. In desperation, we see him take his son—and remain unsure as to whether he's actually allowed to do so. Coleman rebuffs Chet's vision for the show, and Chet finds himself creatively and emotionally alone. Not physically though. He's got his probably kidnapped son to keep him company.
 And on the fourth episode of UnREAL ("Treason"), my TV gave to me….
FOUR HURT FEELINGS
"(You're) Stealing My Baby"
Remember when I was like, "oh yeah, Chet probably stole his baby?" Jokes on you, because I knew he kidnapped his baby the whole time. But you know who didn't know? His wife. Who promptly sends the police after him. Rightfully so, I might add. Regardless, I can't quite decide as to whether the hurt feelings belong to Chet's wife, Chet himself, or his child. Maybe all three.
"(You're) Hurting My Back"
Turns out, Darius isn't just on the show to clean up his image. He's also using it as a rehab of sorts, a break from rigorous physical activity. His back is badly hurt, and he needs the time to heal. In a rare selfless moment, Rachel attempts to keep Darius healthy by keeping him on the sidelines during a football–themed challenge. Quinn and Chet, however, realize that a hurt back is a prime opportunity for drama. An injured Darius results in an ambulance, a potential hospitalization, and hordes of crying contestants. Chet arranges for an unsuspecting Darius to be tackled by the girls, and his back sustains yet another injury.
Then, in a not so rare selfish moment, Rachel convinces Darius to get an epidural to stay on the show. The epidural clears away any lingering pain, but also clears away any measure of what physical activity Darius simply can't do. One wrong move, he's been warned, and he could end up paralyzed.
So Darius emerges with a semi–healed back, and Romeo emerges with a strained managerial and familial relationship. Darius rebuffs Romeo and his suggestion that they leave the competition, and Romeo then lashes out at Rachel, criticizing her for risking Darius's life for a television show. And you know what? He's got a point.
"Point and Shoot"
The production crew has long referred to Yael (Monica Barbaro) as the hotter, less crazy version of Rachel. However, Yael proved herself of more than capable of making some Rachel–level mistakes. She takes to flirting with Jeremy in what is surely a move to manipulate him into a competitive advantage.
I'm not quite sure how this will play out, but rest assured, it will lead to more hurt feelings from Everlasting's most emotional player (onscreen and off): Jeremy.
 "Bad Blood"
Despite the flood of hurt on "Treason," Quinn emerges as the most tragic figure of all. She's informed by Madison that her father has passed and, in true Quinn fashion, she swallows her pride and continues her work.
When Rachel approaches Quinn to give her condolences, she's brutally rebuffed. Quinn hasn't recovered from Rachel's betrayal, but perhaps it goes even deeper than that. The two women were supposed to stick together, and their relationship is some twisted version of a mother and daughter. Quinn and Rachel are inexorably tied, and always competitive, but they're meant to fight against the oppressive nature of the show together—not fight each other. Rachel's turn to Gary marked a moment in which she turned her back on her mentor, and signified a dispute that is sure to reverberate throughout the season.
Oh, and Chet declares his love for her just before he's carted off by the police. Take a day off, Quinn. You deserve it.
 And on the fifth episode of UnREAL ("Infiltration"), my TV gave to me….
FIVE BETRAYALS
This wouldn't be UnREAL if there weren't some grade–A betrayals. Now, these betrayals are so complicated and intertwined, I couldn't even come up with clever subheads. UnREAL, you win this time.
"Quinn–Rachel"
Quinn warns Rachel about Coleman in a rare moment of empathy. Quinn worries that Coleman might end up being Rachel's Chet—a man who takes more than he gives, and reaps the rewards from the strong woman in his life. Rachel dismisses Quinn, and takes her spot at the Image Awards as Coleman's date. Rachel and Coleman happily network, until Quinn shows up on her own and charms her way straight to John Booth (Ioan Gruffudd), the network's newest owner.
Then, with some machinations of her own, she skillfully evades Rachel and produces some great (albeit morally horrible) television. More on that to come.
"Yael–Darius"
I want to chalk this one up to a misunderstanding. Yael, you're supposed to sleep with the suitor, not an angsty cameraman. Honest mistake.
Yael is chosen by the fans (or, in another words, chosen by Quinn) to compete for a one–on–one date with Darius. Rachel lets the status of Yael and Jeremy's relationship slip to Dominique (Elizabeth Whitmere), Yael's competition. Dominique confronts Darius in front of Yael and the rest of the girls, revealing her indiscretions. Darius uses the opportunity to go rogue, selecting Ruby for a wild card night together.
"Darius–Ruby"
This one stings the most. Darius and Ruby had an increasingly serious connection, one that is solidified by a night shared together. However, after a horrifying exchange with Ruby's father (more on that later, I promise), Darius realizes that he is not what Ruby is looking for. Try as she might to change him, Darius will never be capable of being a true advocate for the black community, and his fear of never living up to her expectations leads to her dismissal from the show.
Usually, a contestant's exit from the show is some strange combination of funny and pathetic. Ruby's exit, however, was different. Ruby and Darius had a real connection, one that wasn't feigned for cameras or viewers. Their breakup, too, was one based off real emotion. Ruby, always so composed and intelligent, breaks down after her elimination, an indicator of the depth of her feelings, and the potential she and Darius shared as a couple.
"Jeremy–Rachel"
This episode begins with Yael brandishing a picture of Rachel, pinpricked with bullet holes—Jeremy's target practice. The photo kicks off what is to be the most violent episode of UnREAL thus far, and perhaps the most devastating for Rachel. Coleman, Jeremy's new boss and Rachel's new love, is understandably miffed by Jeremy, and subsequently demotes him.
Chet tries to take Jeremy's rage and transform it into something productive, a lesson on masculinity and success. However, the lesson backfires when Jeremy corners and attacks Rachel. It's the explosion any man like Jeremy inevitably has—he has always been possessive, angry, and deflective. Rachel, the target of the rage, bears the physical and emotional brunt. Chet eventually pulls Jeremy off, leaving Rachel slumped in the corner. In the long history of betrayals between the two, this is the rawest, the most frightening. We've seen Rachel embattled, yes, but never defeated. Her hollowness after the fact is perhaps most disturbing, and hints at a darker second half of the season.
"Quinn–The Whole Damn Show"
And finally: the way it was always supposed to be, Quinn versus the world. Furious at Rachel, Chet, and Coleman, Quinn strikes out on her own and puts more cameras in the suitor's room, undetected by everyone on the show. She captures an intimate moment between Ruby and Darius, which makes for good television as it is.
However, she makes it so that Ruby's father, a long–time activist, walks in on his daughter mid–coitus. Quinn works over Rachel's objections that all cameras be removed from the father–daughter exchange by telling her what she already knows: Rachel lives for the show. She lives for the drama, and she lives for the manipulation. They are one in the same.
Ruby's father, horrified, tells his daughter he is ashamed of her, and inadvertently gets her eliminated. It's a heartbreaking scene for everyone except for Quinn, who emerges with exactly what she wanted.