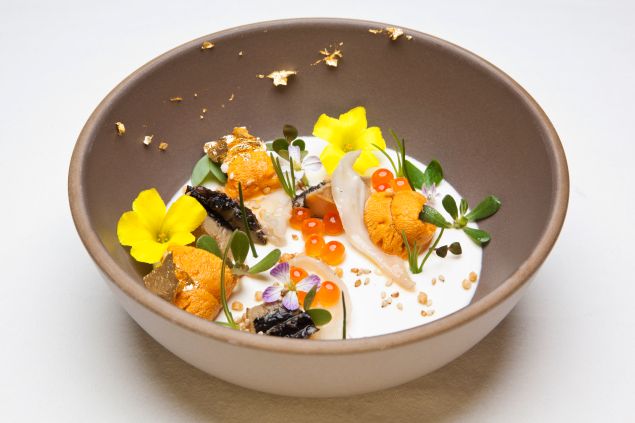 "Did you see the article in the Post?" Providence chef Michael Cimarusti asks, referring to columnist Steve Cuozzo's recent declaration that fine dining is back in New York. "Suck it, hipsters? I love that. I thought it was great. Honestly, two of the three restaurants he mentioned are the two places I want to go the most when I get back to New York."
It's no shock that, even 3,000 miles away, Cimarusti is excited by the thought of visiting Günter Seeger and Le Coucou. Even as Los Angeles has become the king of casual and inexpensive dining, Cimarusti (whose resume includes stints in New York at Larry Forgione's An America Place and Siro Maccioni's Le Cirque) has continued to carry the torch for fine dining in Hollywood. Providence, celebrating its 11th anniversary this summer, has become a standard-bearer for exquisitely composed tasting menus that balance classic technique and a forward-looking approach to sourcing sustainable seafood.
Cimarusti is in his LeBron James phase, with Providence—a restaurant Los Angeles Times critic Jonathan Gold has ranked No. 1 in the city three years in a row—making the case as the G.O.A.T. Cimarusti's also opened the buzzing Connie & Ted's, a more casual hot spot inspired by New England seafood shacks. (The chef, who moved to L.A. to work at Wolfgang Puck's Spago, grew up in New Jersey and says he'd love to expand Connie & Ted's to the East Coast.)
And his newest venture is the Cape Seafood and Provisions market which, Cimarusti proudly notes, has partnered with the Monterey Bay Aquarium to ensure all the seafood the store sells is green- or yellow-rated.
As passionate as Cimarusti is about preserving the idea of fine dining and the sense of place that comes with eating at Providence, he feels perhaps even more strongly about serving the right kind of fish.
"Nowadays, with many restaurants cooking farm-raised fish—to me, they have all the elegance, beauty, flavor and excitement of an airline chicken breast," Cimarusti says. "Farm-raised loup de mer and branzino and dourade have really become the airline chicken breast of the restaurant world because they're ubiquitous and deliver as much flavor and quality and integrity. Even the lowliest of wild fish trumps that stuff."
So, last year, Cimarusti partnered with Santa Barbara fishermen to launch a Dock to Dish program that created California's first restaurant-supported fishery. This adds an element of surprise and improvisation to Providence's menu.
"Like, for instance, yesterday, we got line-caught local California halibut—a really big one actually—and we got a bunch of beautiful vermilion rock cod," Cimarusti says. "The first time we got the halibut, a couple weeks ago, we played with different techniques. We tried cooking it at low temperature, we tried poaching it, we tried steaming it, we tried just a quick sear. Today, we're actually going to try doing it with a very light cornmeal crust, literally just like dusting it with cornmeal and some spices and some algae and seeing if that works."
As for the vermilion rock cod, "Honestly, that's an easy one. It's such an amazing, delicious, versatile fish. I really love cooking it in a nonstick pan with almost no fat whatsoever. You just start it out with a little bit of fat just to get the ball rolling, then the fish is in there and the skin is nice and flat—you take paper towels and dab all the fat out of the pan. Fat is a very good conductor of heat, whether it's butter or olive oil or whatever. If you take all the fat away and have just the skin of the fish against the pan itself with no buffer in between, you get a different kind of crispness and a different kind of sear, and that really seems to concentrate the flavor of the fish."
It's one of Cimarusti's "favorite fish of all time." He admits he probably wouldn't have ordered it if it weren't for Dock to Dish.
Knowing where his food comes from is vital to Cimarusti's sense of being.
"We found a couple sources for domestic shrimp, harvested either in the Carolinas or in the Gulf by American fisherman, that are not treated, not processed, never leave the country," he says. "Yes, it might be a couple dollars more a pound than farm-raised shrimp coming from Asia or wherever else. But they are harvested sustainably and they are delicious and wholesome and sweet and do all of the things you want a shrimp to do. To me, those couple of bucks you might save buying imported shrimp, there's no value in that. In the long run, it's not the better choice for the environment, it's not the better choice for the American economy, it's not the better choice for the American fisherman."
Toto, we're not at Le Bernardin anymore.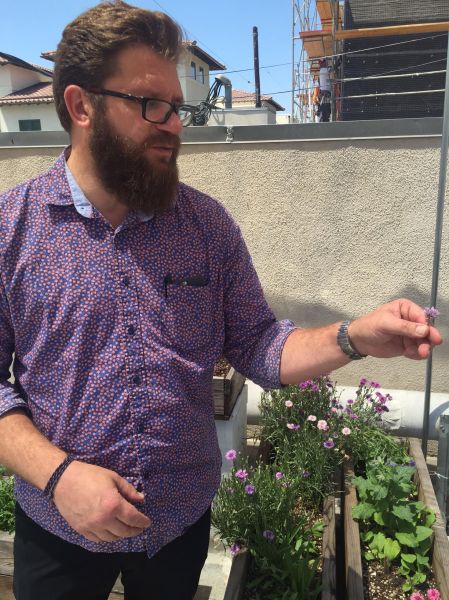 The chef is a man who thinks about the macro issues of what he's doing, but he also sweats the small stuff. So we head up to Providence's rooftop garden, overlooking Providence's fig tree, to check out the microgreens and herbs.
"These are borage blossoms," Cimarusti says, handing me an edible flower. "They kind of taste like shellfish. Obviously, you can buy borage, but it's hard to come by, and expensive. They're so fragile and so delicate. If you can grow it, you can come up here—if you need 50 for the night's service, you can pick 50 and then hopefully tomorrow the plant will make 50 more. That's the goal—that's the hard part—being able to have enough. Sometimes, we're able to plug those holes at the farmers market."
Cimarusti then shows me salad burnet, strawberry spinach, Thai basil, Greek basil (which Providence uses for dessert), mache, yarrow, red amaranth, nasturtium and mizuna.
"These are red radish sprouts," he points out. "A little peppery. Beautiful color, but they also have flavor because they're grown in soil as opposed to hydroponically."
Then we get to the wasabi arugula, which snaps, crackles and pops.
"It really has a kick, it really does taste like wasabi—it's crazy," Cimarusti says. "The craziest thing about it is that the flowers are so sweet, they smell and taste like honey. They don't have the pungency."
We also try a peppery sunchoke that has "a little bit of a numbing quality" and then some "super pungent" chive blossoms.
Having this herb garden—which uses recycled water like melted ice from the kitchen, and which Providence's cooks tend daily and urban-farming pioneer Dan Allen's Farmscape team helps maintain during weekly visits—adds an element of surprise and improvisation to Providence's menu.
During a recent dinner at the restaurant, I ate a Santa Barbara spot prawn.
"The night you came in, we had amaranth on that dish, we had salad burnet on that dish, we had little basil buds on that dish," Cimarusti says. "Today, there's not enough salad burnet up there, so we have to substitute it with something else."
Whatever Cimarusti uses, you know the ingredient will be at its peak.
You don't get to the top by chasing trends, just like you don't stay No. 1 by resting on your bed of edible flowers.
"It's just frustrating to go out and buy all the little things, little flowers, young plants, herbs to finish dishes," Cimarusti says. "They're so perishable, freshness is so key, and their flavor just wanes so quickly. It makes so much more sense to try to grow them if you can. We would grow a whole lot more if we had more space."
The chef would love to have his own urban farm someday. He's totally down with the idea of getting his hands dirty in order to create a pristine dining experience for his guests.
And while he might at times sound like he's on a crusade to spread the gospel of sustainable seafood, customers at Providence don't feel like they're in the middle of a sermon. The waitstaff are trained to tell you where ingredients are from and how they're prepared, but "we don't talk to guests about why we make the choices and stuff like that," Cimarusti says. "Rather, I hope that by giving people the information we give them while they're sitting at the table, that it will hopefully spark something in them and hopefully they'll taste the difference between the type of fish we have and farm-raised fish. And hopefully it will help them make better decisions when they're out buying fish for themselves."
But back to "Suck it, hipsters." Fine dining in L.A. is different than fine dining in N.Y. Providence is a place where you'll see people rocking cool sneakers and streetwear. It's where we witnessed the mayor having dinner on the same Friday night there was a guy with a backwards Yankees cap in the room. Toto, we're not at Le Bernardin anymore.
"I guess that is L.A.," Cimarusti says. "It's part of the energy of the city. When I go back to New York and I go to places like Daniel or wherever, I do kind of want to play the part, wear a suit, maybe not a tie but a nice pair of shoes, dress up a little bit. Because I have so much respect and love for this style of dining and cooking and this type of restaurant, I just wouldn't feel comfortable [dressed casually], but I think Angelenos are just different. It's a different vibe. I feel like in L.A., there's such a dearth of fine-dining restaurants and everything is casual and so I feel like people, even when they come to a restaurant like this, they feel like whatever they wore to the place they went last night is good enough here too."
So, yeah, maybe a restaurant like Providence, in a city where taco trucks, fly-by-night pop-ups and tiny informal restaurants can dominate the conversation, is swimming against the tide. But you don't get to the top by chasing trends, just like you don't stay No. 1 by resting on your bed of edible flowers.
"If we were just standing still, I wouldn't want to be a part of that," Cimarusti says. "There's no fun and there's no challenge in that. Luckily, I feel blessed to have a loyal clientele that has stuck with us for 11 years for all the evolutions, and they still enjoy coming to the restaurant. That's reason enough to keep stirring the pot."