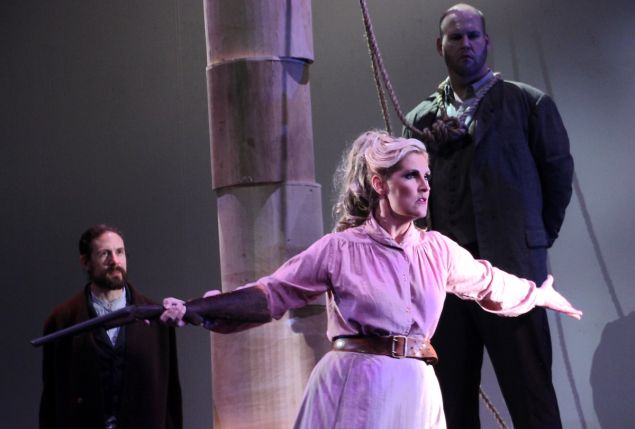 Of all the output of that most popular of all opera composers Giacomo Puccini, his 1910 melodrama Girl of the Golden West is surely the wild card: gorgeously crafted yet unappreciated, with a happy ending that leaves audiences heartbroken. The paradoxical nature of this opera held true this weekend when a rare revival of the challenging piece arrived not at Lincoln Center but in a smallish venue in East Harlem, presented by a company you probably never heard of.
The group is called Apotheosis Opera, and if not everything about Friday night's performance of Girl at El Museo del Barrio was pure gold, the company succeeded in the most basic mission of opera: music and drama grabbed the audience by the heart and never let go.
The premise of Girl is admittedly odd. During the California Gold Rush of 1849, Minnie, a saloon owner, falls in love with Sacramento dude Johnson, only to discover that he is in fact the notorious bandit Ramirez.
What elevates this story is Puccini's sweeping use of harmonies based on the whole tone scale, a soundscape evoking the vast expanses of the American West. The music captures as well the loneliness of the frontier: the miners' homesickness for their families a continent away, as well as the longing of the offbeat, damaged characters of Minnie and Johnson for human connection. In the end, it's not a love story, but rather a sad reminder that you can never go home again. Yes, the lovers go off into the sunset together, but they leave behind the bereft miners, who have lost their beloved Minnie.
For the two difficult leading roles, Apotheosis fielded committed, full-voiced singers who lacked only the ultimate in star power to bring these oversized characters to life. Soprano Stacey Stofferahn's Minnie began a little cautiously, then sent her confident, bright high B's and C's sailing in the dramatic second act. As Johnson, Nicholas Simpson sang with reliable power if too prim a tone for this hot-blooded character. More Italianate in style was baritone John Dominick III as the lustful Sheriff Rance, undaunted by the part's mercilessly high tessitura.
Though the opera was originally written to an Italian libretto, this production used a casual and idiomatic English-language version by Kelley Rourke that amped up the show's immediacy. Lucca Damilano's production kept the human drama front and center.
Had Matthew Jenkins Jaroszewicz's conducting simply prevented the large orchestra from falling into chaos, that would have been miracle enough. But the young maestro led with nuance and sensitivity throughout, which under the circumstances should have been impossible.
Doing the impossible, though, is a major bullet point in any opera company's mission statement. Of all the exciting new companies springing up all over New York, Apotheosis Opera belongs near the head of the class.