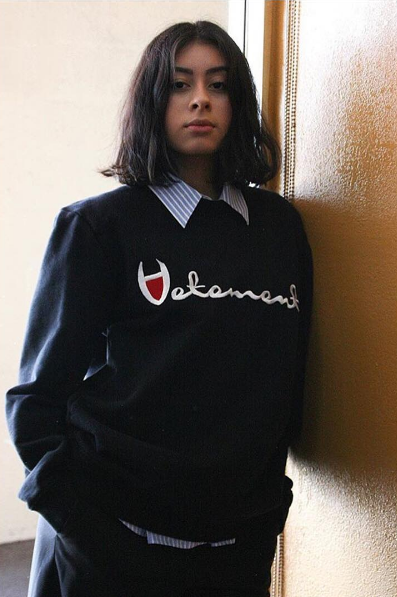 On Sunday, after a short break from the menswear presentations, the fashion show circuit is off again for couture season. The opulent week in Paris is looked at as the pinnacle of fashion design and generally sets the tone for the ready-to-wear shows to come. As such, designers presenting on that rarefied stage are pretty much universally revered. But, as with other weeks this year, the tumultuous state of fashion has things in flux.
This season, the Chambre de la Syndicale schedule will still be of importance, there are quite a few off-schedule shows on the line-up. Even with shows on the schedule, there are quite a few that don't make the haute-couture designation, but still warrant your attention. So, understanding the basics of couture, here are five non-haute couture names you need to look out for this season.
1. Vetements
Undoubtedly one of the buzziest brands in fashion right now, Vetements was invited to show during couture week as a guest member of the couture calendar. That invitation definitely caused quite a bit of conversation, but the brand later clarified that they would not be showing couture but their own "interpretations of couture." So far, the only thing we know about that interpretation is that it includes collaborations with 18 different brands. Among the selected, expect to see Hanes, Manolo Blank, Juicy Couture and Levi's.
2. Proenza Schouler
https://www.instagram.com/p/BHNglm8h2xD/?taken-by=proenzaschouler
Though they could have had an official spot on the couture calendar, had they taken the Dior job they were reportedly offered, the Proenza boys are going rogue.  In collaboration with MAC, the brand will debut their cruise 2017 collection in the City of Light. Sadly though, no images will be available until the clothes hit stores. So what you will be seeing images of? The Lauren Santo Domingo-hosted fete that they are celebrating at afterwards.
3. Brioni
https://www.instagram.com/p/BDSSgM8Nmux/?taken-by=brioni_official
If you think couture week is too focused on women, you're in luck: Brioni is bringing the boys. Before this week, there hadn't been much seen from the Justin O'Shea-helmed Italian brand, and then they dropped a Metallica-fronted campaign. Come next week O'Shea will debut his first collection for not only the brand, but his first collection period. Thankfully he had LVMH Prize winner Grace Wales Bonner on his side to help round out the Brioni design team.
4. Giles Deacon
Giles Deacon hasn't had the easiest run in the fashion industry, despite being an industry favorite. This season sees the London-based designer give things a different go, by showing during couture season. The former Ungaro designer will debut a collection that focuses on bespoke, red carpet and one-off pieces, in a move that sees a slight rebrand as Giles Deacon Couture. All this in an effort to be the "go-to business for special daywear and evening wear." The new show schedule will also allow the designer to show closer to his delivery dates as pieces will hit stores in September.
5. J. Mendel
Like Deacon, this season's couture showing is just the beginning for Gilles Mendel. The J. Mendel designer hopes that after this presentation as a guest member of the couture calendar (Deacon did not get that designation), he will return season-after-season and build a presence in Paris. What you can expect from his showing? Couture furs and luxurious evening wear. And if you happen to be one of his top clients, you might expect a trip to see the show yourself.