Just because a government official asks for something doesn't necessarily mean he or she has the authority to demand it.
According to a post on her Facebook page, Wall Street Journal reporter Maria Abi-Habib,prevailed over Customs and Border Protection officials at the Los Angeles International Airport after refusing to turn over her cell phones. Abi-Habib arrived in LAX after a flight from Frankfurt. While waiting in line to go through customs, she says an official found her, moved her to the head of the line and then escorted her into an interrogation room, where a second person joined them.
"They grilled me for an hour—asking me about the years I lived in the US, when I moved to Beirut and why, who lives at my in-laws' house in LA and numbers for the groom and bride whose wedding I was attending," she wrote in the post. She explains that she answered the questions in a friendly way, until they asked for her electronic devices.
"But then she asked me for my two cellphones. I asked her what she wanted from them. 'We want to collect information' she said, refusing to specify what kind. And that is where I drew the line," she writes. "I told her I had First Amendment rights as a journalist she couldn't violate and I was protected under. I explained I had to protect my sources of information."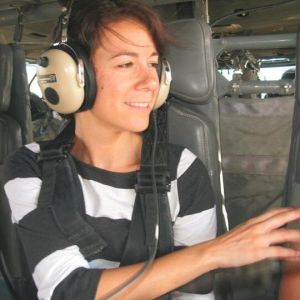 Her post includes a tearsheet she was given when they asked for her devices, explaining what happens when a traveler's electronic devices are seized. The same document may be read on the DHS website. It cites four pieces of U.S. code for authority to search any person entering the U.S.: powers of immigration officers and employees, examination of merchandise, boarding vesses and search of persons and baggage.
"So I called their bluff. 'You'll have to call The Wall Street Journal's lawyers, as those phones are the property of WSJ,' I told her, calmly," she wrote. "She said she had to speak to her supervisor about my lack of cooperation and would return."
After 30 more minutes of waiting, Customs released Abi-Habib without taking possession of her phones. She wrote, "I have no idea why they wanted my phones—it could have been a way for them to download my contacts." As a person who has done a lot of reporting in places where the U.S. is involved in contacts, they might have thought she had information that would be helpful in finding or identifying individuals sought by the U.S. military or intelligence community.
A 2014 post about journalists entering the U.S. by the Committee to Protect Journalists explains two recent court cases that should have made experiences like that Abi-Habib had unusual. Catherine Crump, a law professor at the University of California at Berkley, says in that post, "I think there is significant doubt as to whether the government's policy of conducting suspicionless searches of cell phones and laptops at the international border is constitutional."
So maybe they realized they didn't have the authority, or maybe it just wasn't worth the bother. A Department of Homeland Security spokesperson declined to confirm Abi-Habib's account, writing, "Due to the restrictions of the Privacy Act, CBP does not discuss individual travelers."
UPDATED: With comment from DHS, July 21, 2016 2:35 PM.