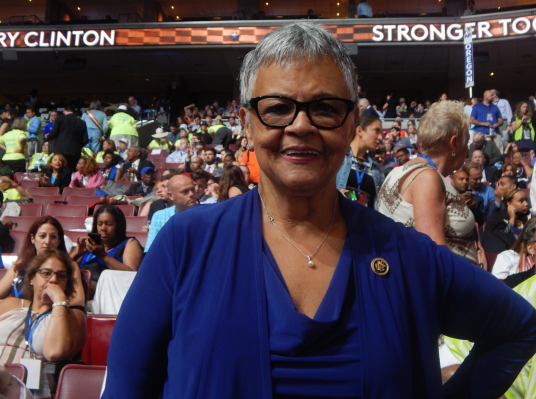 PHILADELPHIA — U.S. Representative Bonnie Watson Coleman of New Jersey's twelfth district said Thursday that she expects Hillary Clinton's acceptance speech for the Democratic nomination for president will offer a counterpoint to her opponent Donald Trump's call for Russia to hack into the DNC's emails.
Amid reported evidence that the hack leading up to a surprise email dump from Wikileaks on the eve of the convention came from inside Russia, Trump countered speculation that the hackers acted on behalf of Russian President Vladimir Putin by saying he hopes Putin does order a hack on the Democrats.
Watson Coleman said from the convention floor that she thinks Clinton's speech will go against the grain Trump's overtures to Putin, his xenophobic rhetoric, and statements earlier this month where the Republican nominee said that as president he may not honor agreements with NATO allies in the event of Russia crossing their borders.
"We're going to be respectful of our allies, we're going to be protective of our citizens, and we're going to ensure that the rights of individuals and communities whatever their color, age, gender, sex, whatever the issue is," she said. "There's going to be equal rights for people here."
She echoed Clinton's running mate Tim Kaine, who said during his speech Wednesday night that Clinton's most important quality is that she is ready for the job — "lista" in the former Virginia governor's Honduran-by-way-of-Richmond Spanish. She also believes economic inequality will also feature in Clinton's speech tonight.
"We're going to hear that she's ready. We're going to hear that we have a collective responsibility, that government has a purpose in lifting up those that need to be lifted up. That we're going to steer this course continuously in the right direction."