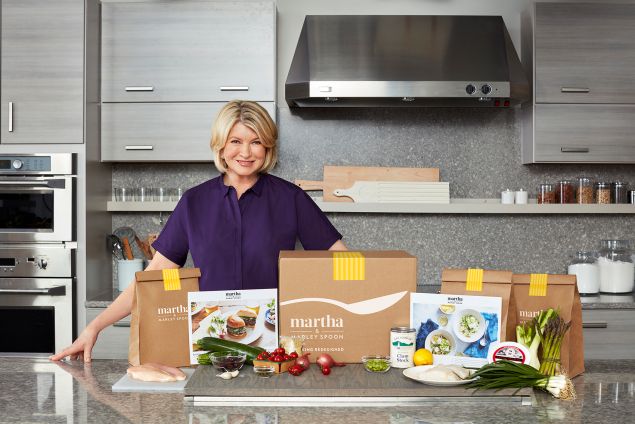 Since this article was published, I have reviewed even more subscription meal services. Go here to check out the Observer's full guide to 10 of these companies, which includes an infographic that will help you decide which is right for you based on your diet and other preferences. 
The recipe delivery subscription service space is crowded to say the least. With more and more people opting to have recipes and the pre-portioned ingredients to match delivered to their doors on ice, the industry's players are struggling to earn (and keep their) pieces of the pie, and they're taking different approaches to do so. Some of the bigger names like Blue Apron (APRN) and Hello Fresh are using their millions in VC funding to pay for prime time TV commercials and flood social media with targeted ads. Others like Peach Dish, for example, are focusing on locally-sourced ingredients and a heart-warming farm-to-table narrative to earn customers.
Read also: Martha Stewart's New Wine of the Month Club Is Exactly What You Need for Summer
Now, shortly after launching in the U.S., German company Marley Spoon is taking a new route, adding a friendly face that evokes feelings of the home more than any other. We're talking about Martha Stewart.
The newly named Martha & Marley Spoon offers customers the same experience as the others in the space, the only difference being that the recipes are from Martha Stewart's own cookbook.
"Our everyday lives demand better weeknight cooking solutions. Families are busier than ever, and it is incredibly important that everyone has the ability to cook wholesome dinners that can maximize quality time together every night of the week," she said in a release.
SEE ALSO: We Tried Blue Apron, Hello Fresh and Their 4 Competitors—One Was Clearly the Best
I gave Martha & Marly Spoon a try, and I have to say, I was pretty impressed. The meals I tried were delicious, and unlike many of these other services (and I've tried a lot of them), they were very simple to make as well. The website says all meals can be cooked in 40 minutes, but I never spent more than 20 cooking. I'd definitely rank this company in the top tier of recipe delivery startups.
Like the other services, Martha and Marly Spoon has a menu that changes weekly. You select which meals and how many servings you want, and they'll be delivered to your door. The prices are  on par with most other services of this type—about $10 per serving.