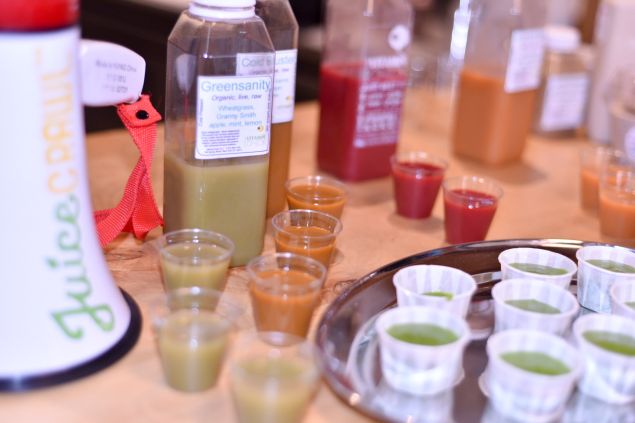 Abstaining from alcohol is especially hard during the sunny, sociable days of summer. So, casting around for something fun and interesting to do involving selected sips and other people, I signed up for the Summer Solstice Crawl on www.juicecrawl.com. Boasting of up to 30 different juices in a time a span of three hours, costing between $40-55, including a souvenir mason jar, this was a challenge I had to take. As a health nut too, this seemed the perfect way for me to get my juice on in a social setting.
Meeting up at the Athleta store in the Flatiron district to pre-game with a mini boot camp workout was a fun way to bring us all together. Our small but boisterous of group of eight made our way to our first location, Terri on 23rd street between 6th and 7th. An array of juices had been set up for us on a table presented in plastic Solo cups, the only thing missing was a ping pong ball to engage in a game of juice pong. Before each new "shot" of juice was presented, Crawl creator, Anna Garcia, would announce what the group would be trying next. Surprisingly I felt invigorated after my first few shots of juice, Lady in Red, which contained carrots, beets, pineapple and orange. Then Spice of Life, made with pineapple, apple, mint, and jalepeno for a surprisingly tasty kick.   The mood was festive and fun, and everyone was happy to be there, regular crawler, Eve Gottiesman was quick to praise the monthly event.
"It's something fun to do on a Sunday afternoon, it's different, healthy and a good way to jump start the work week. It's a great alternative to going to bars." Her mother, Barabra Gottiesman, was equally enthusiastic.
"This is such a fun and great idea! I'm ready for some more juice!"
After everyone had their fair share of "shots", the next stop was The Juice Shop on 20th and The Avenue of Americas. Usually steering away from green juices that taste lackluster and not so sweet, we savored shots of a smoothie called Dr Feelgood, containing spinach, parsley, peach, kale and pineapple. I found myself liking the slimy, cool texture and taste. Mr. Almond was the crowd favorite featuring, almond butter, dates, bananas, almond milk. pumpkin spice, vanilla and himalayan salt. So delicious I ordered a full pint of it to go. Loading up on not only juice samples, but hearty cups of veggie pad thai. I felt alert and full of energy on juice alone and ready to take on another boot camp class.
As with many great concepts, the juice crawl developed unintentionally. It was supposed to be a one time event. Garcia was told by her doctor that she was pre-diabetic. Working as a professional trumpet player and a computer coder made it only natural that she spent a lot of sedentary time on the job, it was the wake up call she needed.
"In my family, this was as normal as getting the flu. My diet consisted of hot pockets, Swedish Fish, white bread and pints of Guiness which is sadly healthy for a trumpet player. I needed to something, anything to get healthy."
Taking her condition seriously considering both her grandfather and father each suffered from three heart attacks a piece, despite their healthy regimes, Garcia knew she needed a remedy and a lifestyle change stat. Only 29 years old at a petite 5'5, she turned to a juice fast to get a jump start.
"It may not work for everyone, but for some reason, worked for me. Maybe it was the fasting, maybe it was a placebo effect, maybe it was the vitamins, but I felt better. Better enough to realize that I needed to change."
She also wanted to spread the word to her friends, and still be social without pounding down alcoholic beverages.
"I decided to hold an event with juice, which helped me transition to a healthy lifestyle.  My first Juice Crawl was with friends on my birthday." Realizing how much fun it was, and that she could very well be on to something, she went corporate. Now over a year and 21 juice crawls later, there's no stopping her.
Holding the event once a month, and also having options for private parties, she travels to Brooklyn and Manhattan. Even holding one event where participants went on a night crawl wearing wireless headphones, juicing it up and dancing it out on the street. Garcia makes it clear that the juice crawl is for everyone. "It's to create a space for people to be social and healthy. I have all types of people who participate, people in recovery, people recovering from a hangover the night before, juice lovers, juice curious, people who love the brands on the crawl and people who have never heard of them."
Are juice crawls a sign of what's to come socially when planning a fun night out, that you can actually remember the next morning? Cindy Feinberg, CEO of The Recovery Coach thinks so. "It's an excellent way to meet healthy minded people, and a great alternative to alcohol."
The next event is August 7th, celebrating Friendship day, but that doesn't mean there won't be one sooner. Garcia consistently books private events, and is considering taking The Juice Crawl nationwide. Tight lipped about franchising, it's a very realistic possibility, and one that's going to happen sooner than later. As for her health, Garcia is now in the clear. Given a clean bill of health and swearing by a Vegan diet, she has no intentions of stopping the crawls anytime soon.
"Hundreds of people have been exposed to healthy juice shops and restaurants. Most attendees love it. It's not anti-alcohol, or even against junk food. It's just a way for people to taste a lot of different things, and meet new people and have a little fun. It's also keeping me focused on my health."
For more information on how to be involved in the next event go to www.juicecrawl.com